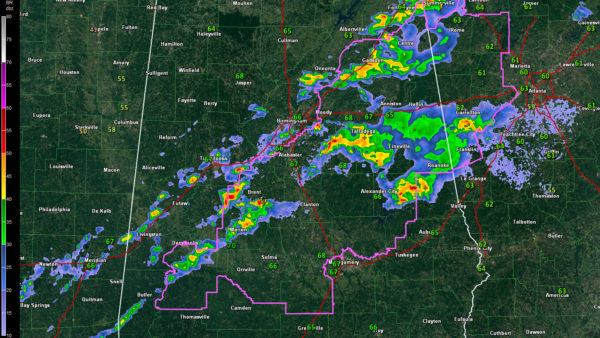 A cold front is pushing southeastward through Alabama at this hour.
It is just north of I-59. Dewpoints are already dropping over the Northwest Corner of the state, like at Muscle Shoals, where they have fallen to 52F.
Showers and storms are fairly numerous ahead of the front. There is one severe storm left, but it is about to pass into Georgia. It is just east of Woodland in Randolph County.
Storms are heavy northeast of Marion and along highway 280 from Goodwater to Dadeville. Another heavy storm is just south of Fort Payne.
The tornado watch continues for a large part of Central Alabama, but the threat of severe weather is over for the most part.
Lows overnight will range from 46 near Hamilton to the lower 50s in the I-59 Corridor to near 60F around Montgomery and Troy. A secondary front will bring a few isolated showers to the area during the early morning hours. Showers will be south of I-85 by early afternoon. Highs will be around 60F across much of the area.
We will be dry for a few days. Our next chance of rain will come next Wednesday night, but those rainfall amounts will be light. The next chance for significant rain will be Monday and Tuesday the 25th and 26th. Rainfall could be heavy during that episode. There will be storms with that event, and there could be severe weather over South Alabama.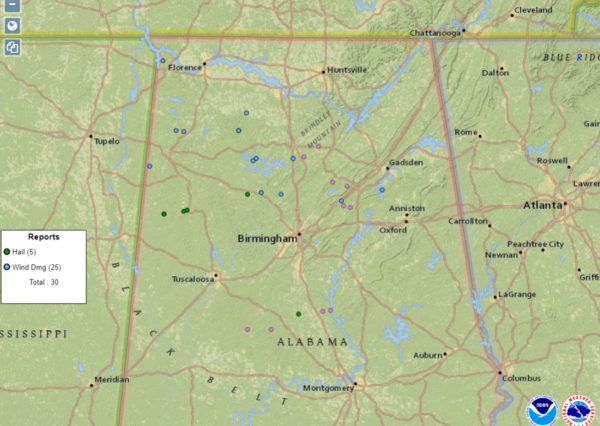 It has been a stormy day across Alabama. There have been five large hail reports and 25 wind damage reports so far. Some of those wind damage reports will be tornadoes for sure. NWS Survey Teams will be out working tomorrow.
Category: Alabama's Weather, ALL POSTS
Bill Murray is the President of The Weather Factory. He is the site's official weather historian and a weekend forecaster. He also anchors the site's severe weather coverage. Bill Murray is the proud holder of National Weather Association Digital Seal #0001
@wxhistorian