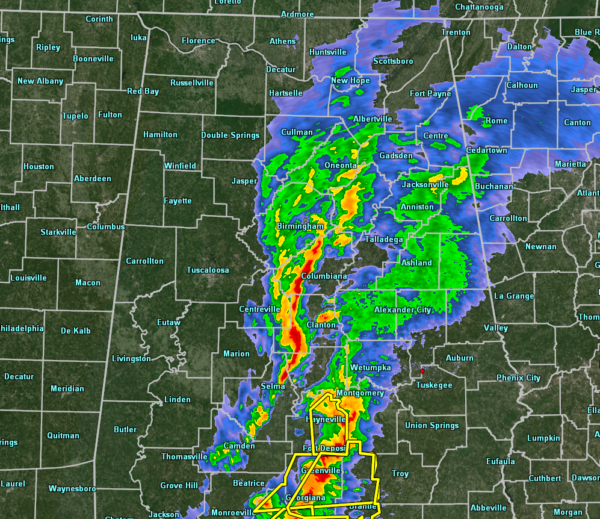 The severe weather threat is really starting to fall off for much of North/Central Alabama as much of the heavier rainfall with gusty winds are now south of the I-20 corridor in the eastern parts of the area. The front part of the line that was the stronger part earlier this morning has really weakened with only light to moderate rainfall falling. The more intense storms are south of the area but will be moving into Pike and Barbour counties soon.
More counties are expected to be dropped from the Tornado Watch soon, including Shelby and Dallas counties.
Instability continues to drop this morning, with values less than 1,000 J/kg along and east of the line of storms. Bulk shear continues to be in the 55-65 knots range. Helicity is still up in the 300-600 m2/s2 range out along and ahead of the line. STP values are only in the 1.0-2.0 range at this point ahead of the line. This goes to show that we're losing the punch needed to keep these storms strong as we are now reaching the coolest time of the day.
These storms will be out of the state before the daytime heating starts to increase the instability ahead of the line.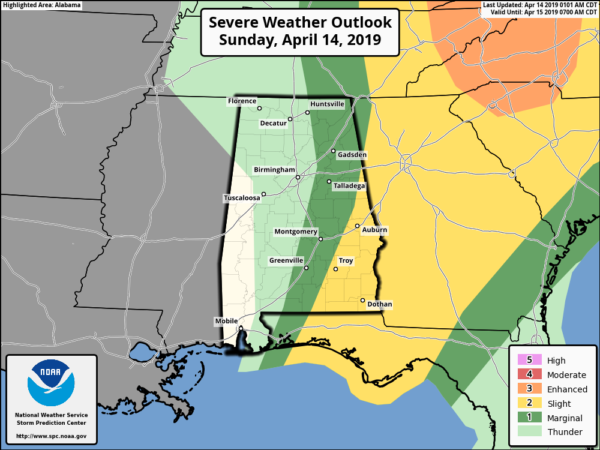 SPC has really trimmed back on the risk levels for today, confining the Slight Risk to the extreme east and southeastern parts of Central Alabama with a Marginal Risk stretching to the west from that, but staying in the eastern half of the area.
Storms should be out of the area by 9:00 am to 10:00 am this morning. We could have a few more showers develop along the cold front as it moves through, but there is no risk of severe storms with those.
Category: ALL POSTS
Scott Martin is a meteorologist, graphic artist, musician, husband, and a father. Scott is a member of the National Weather Association and the Central Alabama Chapter of the National Weather Association. Scott is also the co-founder of Racecast Weather, which provides accurate forecasts for many racing series across the USA.