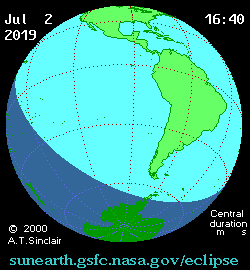 July 2nd brings us another total solar eclipse, but you don't have to travel to South America to experience it.
The path of totality travels over the southern Pacific Ocean then traverse parts of Chile and Argentina over about 6 minutes. A partial solar eclipse will be visible in portions of Bolivia, Peru, Ecuador, Paraguay, and Uruguay, and parts of Brazil, Colombia, Panama, and Venezuela.
San Francisco's Exploratorium is sending crews to the National Science Foundation's Cerro Tololo Observatory in Chile.  Live telescope views begin at 2:23 pm CDT (3:23 pm EDT/12:23 pm PDT) and commentary in English and Spanish begins at 3 pm CDT.
The European Southern Observatory will livestream the eclipse as seen from the La Silla Observatory near the Atacama Desert in Chile. That broadcast starts at 2:15 pm CDT (3:15 EDT)
Category: ALL POSTS, Spacey Stuff
Tony Rice is a NASA/JPL Solar System Ambassador and the voice and brains behinds the weekly Astronomy Report on the WeatherBrains podcast. He grew up in Southern California where he watched the Space Shuttles being build and landed nearby and was hooked. Tony brings weather and space together to communicate the excitement of space exploration and promote a greater appreciation for Earth sciences.