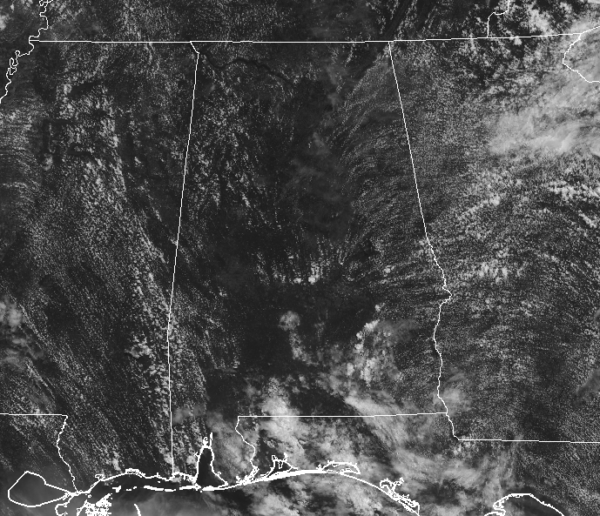 CONDITIONS AT 11:20 AM: We have mostly clear skies across Central Alabama as we are approaching the midday hour, but we do have a few isolated showers popping up over portions of Pike County and down over the southern parts of the state. No lightning at this point, but that will probably change shortly. I'm sure you already know this, but its a hot one out there across Central Alabama. Temperatures are in the upper 80s to the lower 90s across the area, with Birmingham at 91 degrees. The hot spot is Uniontown at 92 degrees while a few locations are tied at 88 degrees as the cool spots.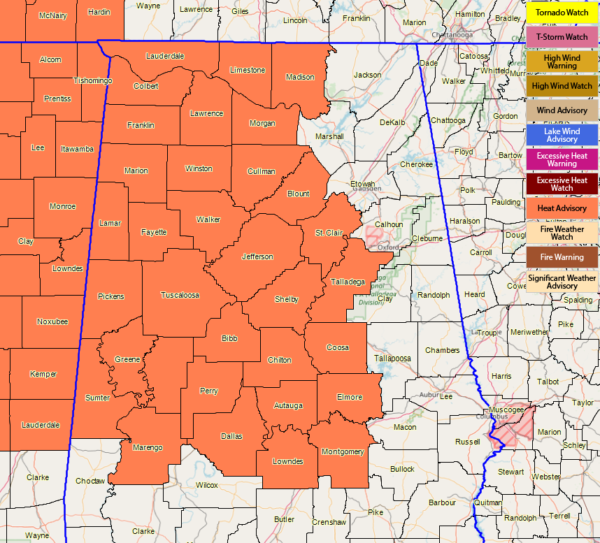 HEAT ADVISORY: Much of Central Alabama has been placed in a Heat Advisory throughout the afternoon and into the evening hours due to the combination of heat and high humidity levels producing dangerous heat levels. Counties included in the advisory are Autauga, Bibb, Blount, Chilton, Coosa, Dallas, Elmore, Fayette, Greene, Hale, Jefferson, Lamar, Lowndes, Marengo, Marion, Montgomery, Perry, Pickens, Shelby, St. Clair, Sumter, Talladega, Tuscaloosa, Walker, and Winston. Several counties in North Alabama are in the advisory as well, including Colbert, Cullman, Franklin, Lauderdale, Lawrence, Limestone, Madison, and Morgan counties.
Temperatures will top out in the mid to upper 90s for much of the area and heat indices exceeding 105 degrees today. Take extra precautions if you work or spend time outside. When possible, reschedule strenuous activities to early morning or evening. Wear lightweight and loose-fitting clothing when possible and drink plenty of water. Know the signs and symptoms of heat exhaustion and heat stroke.
REST OF TODAY: The low (aka Invest 92L) that will eventually start the tropical mischief over the Gulf of Mexico is currently located over the eastern parts of the Florida panhandle. We also have a surface boundary that is draped over the south-central parts of the area. While locations north and west of the I-59 corridor will mainly stay dry with partly to mostly sunny skies, there will be a very slight risk of an isolated shower or storm during the afternoon hours. South and east of that corridor, rain chances increase as you move southeast especially for locations south of the boundary and closer to the low. There is a decent chance of scattered showers and storms all of the way down to the I-85 corridor, with scattered storms becoming more likely south of that. It will be a nasty hot day outside with highs reaching the mid to upper 90s across much of the area, with the extreme eastern parts of the area staying in the lower 90s due to the extra cloud cover.
TONIGHT: Invest 92L will be crossing the shoreline around Apalachicola this evening and moving over the very warm waters of the Gulf. The surface boundary will be a little farther south over the extreme southern parts of Central Alabama and the extreme northern parts of South Alabama. A slight chance of an isolated shower or storm will remain for a few hours after sunset for locations south and east of the I-59 corridor, while chances will be higher south and east of a line from Montgomery to Alexander City to Roanoke. Those should dissipate by midnight, although one or two stray showers may linger for just a little bit longer. Lows will be in the mid to upper 70s.
WEDNESDAY: We'll have to see what occurs with Invest 92L as it will be out over the northern Gulf of Mexico and how quickly it gets organized to know for certain about what will in Central Alabama. For now, we know that more moisture will begin to move up into the area which will increase our scattered showers and storm chances somewhat during the afternoon and evening hours. Rain chances at this point look to be around 30-60% from northwest to southeast across the area. Skies will be partly to mostly clear where it's not raining with highs in the lower to mid-90s. With the added moisture levels, heat indices will be back up around or exceeding 105 degrees.
THE TROPICS: Invest 92L will move over the northern Gulf of Mexico later this evening off of the coast of the Florida Panhandle around Apalachicola. From there, we'll have to watch and see how quickly it gets organized. The NHC expects a tropical depression to form by Thursday and may eventually become Tropical Storm Barry. Expected track has it slowly moving westward over the northern Gulf over the next few days. No matter what strength it reaches, there will be heavy rainfall and dangerous rip currents along portions of the Gulf Coast later this week. We'll continue to have updates on the blog throughout the rest of the week and weekend on Invest 92L.
BEACH FORECAST CENTER: Get the latest weather and rip current forecasts for the beaches from Fort Morgan to Panama City on our Beach Forecast Center page. There, you can select the forecast of the region that you are interested in.
ALREADY OFF TO A HOT START IN 2019! ADVERTISE WITH THE BLOG!: We have enjoyed over 10 MILLION page views on AlabamaWx.com so far in 2019! Don't miss out! We can customize a creative, flexible and affordable package that will suit your organization's needs. Contact Bill Murray at (205) 687-0782.
E-FORECAST: Get the Alabama Wx Weather Blog's Seven-Day Forecast delivered directly to your inbox by email twice daily. It is the most detailed weather forecast available in Central Alabama. Subscribe here… It's free!
CONNECT WITH THE BLOG ON SOCIAL MEDIA: You can find the AlabamaWx Weather Blog on the major social media networks:
Facebook
Twitter
Instagram
WEATHERBRAINS: Don't forget you can listen to our weekly 90 minute netcast anytime on the web at WeatherBrains.com or on iTunes, Stitcher, or Spotify. This is the show all about weather featuring many familiar voices, including the meteorologists at ABC 33/40.
Category: Alabama's Weather, ALL POSTS, Tropical
Scott Martin is a meteorologist, graphic artist, musician, husband, and a father. Scott is a member of the National Weather Association and the Central Alabama Chapter of the National Weather Association. Scott is also the co-founder of Racecast Weather, which provides accurate forecasts for many racing series across the USA.