Drought conditions are worsening across the middle of Alabama, and no real relief is in sight. Let's look at the forecast together…
MAP DISCUSSION: The presence of an upper-level trough over the Southeast is not helping matters for now. Surface high pressure remains completely control of the southeastern United States. A surface low over Saskatchewan will travel east over the Canadian provinces into midweek. As it does, a trailing surface trough and frontal system till push through the Plains. The front will make It as far as western Tennessee by Tuesday. It will bring an increase in showers and storms to parts of the area Tuesday, Wednesday and Thursday. Spoiler alert: don't get your hopes up too much.
FOR YOUR SUNDAY (AND MONDAY: It's a good supply more of the same, just hot and hazy with almost no real chance of any cooling showers. Highs will be in the lower 90s. Lows will be around 70F.
MIDWEEK: Showers and storms will edge into Northwestern Alabama on Tuesday. They will edge a little deeper into Alabama during the day on Wednesday. By Thursday, it will begin to wash out over Central Alabama. Rain chances northwest of I-59 will be in the 30-50% range. Increasing clouds and showers will limit highs to between 88-90 northwest of I-59, with higher readings to the south.
BEWARE THE NORTHWEST FLOW: With a lingering upper trough over the Southeast, we will be susceptible to any disturbance-invoked thunderstorm complexes. Oh wait, we couldn't be that lucky.
INTO THE WEEKEND: High pressure will begin to build back in across Alabama and the Southeast. This means showers and storms will become more isolated again for Saturday. Watch out for a convergence of several factors producing an increase of showers and storms on Sunday and Monday, and hopefully into that next week.
VOODOO TERRITORY: That same trend may continue into the following week according to the GFS. The model is outputting some decent rainfall amounts in the 16 day period. Here is the GFS total precipitation for the next two-plus weeks: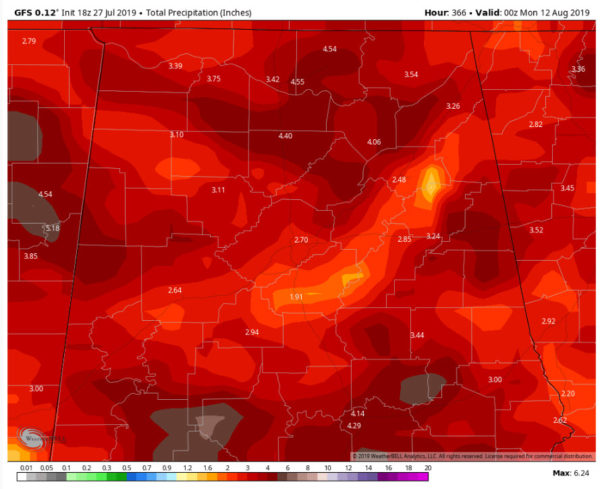 It shows widespread 2-4 inch amounts with some isolated 4-6 inch amounts. Fingers crossed.
TROPICS: We will be tracking a tropical wave into the Bahamas by midweek. There is some small chance that it could form a surface low and become a tropical cyclone as it rounds the Bermuda High later in the week. Should pose no threat to the U.S.
GULF COAST WEATHER: Gorgeous weather along the beautiful beaches of Alabama and Northwest Florida for the week ahead. Perfectly perfect weather through Thursday with no chance of rain. Highs will be in the 90F range, with lows in the middle 70s. Rain chances return by the weekend, but even those will be just normal 20-30 percent chances each day. Water temperatures are running 87F degrees. Rip currents won't be much of a threat this week, with waves running 1 foot or less.
Click here to see the Beach Forecast Center page.
E-FORECAST: Get the ABC3340 seven-day forecast delivered directly to your inbox by email twice daily. It is the most detailed weather forecast available in Central Alabama. Subscribe at. It's free!
WEATHERBRAINS: This week, the panel will entertain Joseph Trujillo, who has been making some amazing advances in outreach to the Spanish speaking community about weather information. Check out the show at www.WeatherBrains.com. You can also subscribe on iTunes. You can watch the show live at live.bigbrainsmedia.com You will be able to see the show on the James Spann 24×7 weather channel on cable or directly over the air on the dot 2 feed.
ON THIS DATE IN 1945: New York City was shrouded in fog on the morning of July 28, 1945, as Lt. Col. William Smith piloted his B-25 Mitchell Bomber toward Newark, New Jersey from Bedford, Massachusetts. Controllers urged him to land because of the fog, but he received military clearance to continue his mission. As he descended to look for a landmark, he found himself in the canyons of skyscrapers over Manhattan. As he tried to weave and dodge the buildings, the bomber crashed into the north side of the Empire State Building at 250 mph, leaving a gaping hole in the world's tallest structure. As debris rained down on the streets below, hysterical New Yorkers believed their city was under attack. Fourteen people died in the crash, including the crew of three. I will have a deeper dive into this story at 9 a.m. on AlabamaWX.

Category: Alabama's Weather, ALL POSTS
Bill Murray is the President of The Weather Factory. He is the site's official weather historian and a weekend forecaster. He also anchors the site's severe weather coverage. Bill Murray is the proud holder of National Weather Association Digital Seal #0001
@wxhistorian