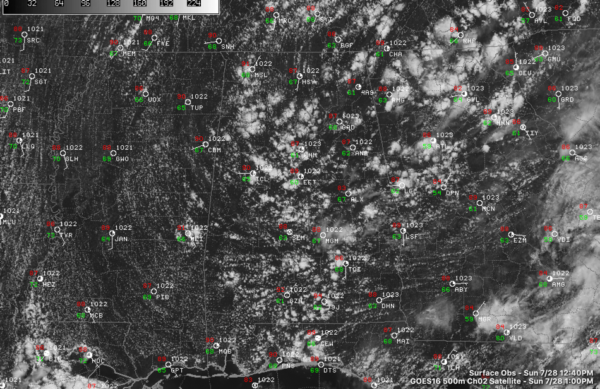 A fairly typical Sunday afternoon is in progress across Central Alabama. Skies are partly cloudy with lots of fair-weather cumulus clouds dotting the skies. Some of them are managing to build a little vertical development along the ridges especially, but a pronounced cap is presenting a challenge to them becoming showers. A few strident updrafts might make a shower or two this afternoon mainly along and north of I-59 between 1-5 p.m. One was near Auburn at 1 p.m., with another north of Eldridge in Marion County.
Highs will range from near 90F over North Alabama, to the lower and middle 90s for Central Alabama, including places like Tuscaloosa (94F), Birmingham (95F), and Anniston (92F). Skies should be clear, if not a little hazy, for tonight's meteor shower. Lows will drop into the middle 60s along US-278 between Hamilton, Cullman, and Gadsden, and into the upper 60s across the rest of Central Alabama.
RINSE, REPEAT FOR MONDAY: Tomorrow should look a lot like today with just an outside chance of an isolated afternoon shower. Temperatures should be similar.
RAIN CHANCES RAMP UP A BIT: Don't get your hopes up, from a surface low over the Northern Plains and Central Canada will shift east into Midweek, edging a front closer to Alabama. This will increase rain chances over Northwest Alabama for Tuesday, and nudging them southeastward deeper into Alabama Wednesday and Thursday. Rain chances will still only be in the 30-40% category. High temperatures will back off a couple of degrees with the extra clouds and showers.
Category: Alabama's Weather, ALL POSTS
Bill Murray is the President of The Weather Factory. He is the site's official weather historian and a weekend forecaster. He also anchors the site's severe weather coverage. Bill Murray is the proud holder of National Weather Association Digital Seal #0001
@wxhistorian