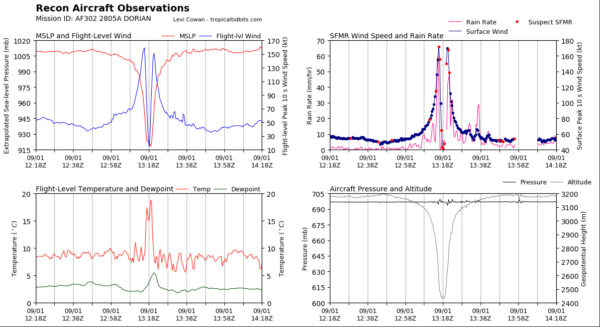 A very sobering vortex data message from the Air Force Reserve Hurricane Hunter Aircraft investigating Dorian. The crew found a central pressure of 921 millibars (dropping rapidly).
The maximum inbound surface wind was 155 knots or 178 mph, but the outbound was 170 knots, or 195 mph.
The eye is circular and 13 nautical miles in diameter.
073
URNT12 KNHC 011400
VORTEX DATA MESSAGE AL052019
A. 01/13:18:40Z
B. 26.47 deg N 076.59 deg W
C. 700 mb 2392 m
D. 921 mb
E. 015 deg 16 kt
F. CLOSED
G. C13
H. 155 kt
I. 325 deg 8 nm 13:15:30Z
J. 044 deg 159 kt
K. 327 deg 6 nm 13:16:00Z
L. 170 kt
M. 153 deg 7 nm 13:20:30Z
N. 241 deg 151 kt
O. 142 deg 9 nm 13:21:00Z
P. 11 C / 3049 m
Q. 20 C / 3034 m
R. 5 C / NA
S. 12345 / 7
T. 0.02 / 1 nm
U. AF302 2805A DORIAN OB 15
MAX FL WIND 159 KT 327 / 6 NM 13:16:00Z
Here is a slide from Eric Blake on reading a vortex data message: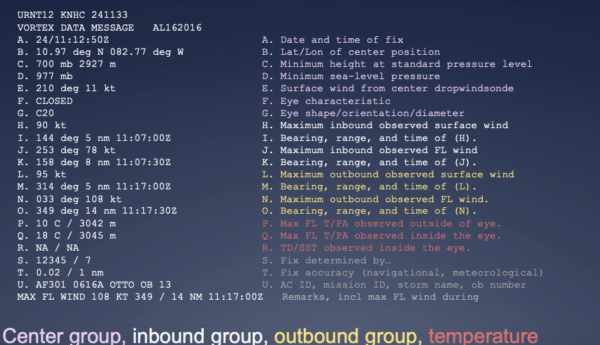 Bill Murray is the President of The Weather Factory. He is the site's official weather historian and a weekend forecaster. He also anchors the site's severe weather coverage. Bill Murray is the proud holder of National Weather Association Digital Seal #0001
@wxhistorian