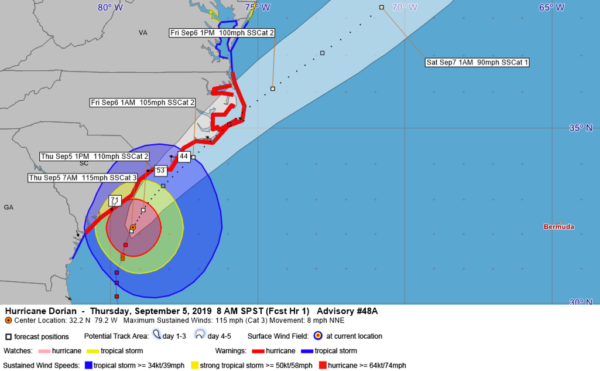 Here are some notes just after 7:30 a.m….
…Dorian has remained steady-state in intensity overnight. Top winds are still 115 mph making it a category 3 hurricane. The central pressure has remained level.
…The center of Dorian is now 100 miles east of Savannah. They have had tropical storm force gusts all night, with a recent peak gust of 44 mph. Their winds are offshore now and tides should diminish. Peak surge overnight was around 3.5 feet at Fort PUlaski.
…Hurricane warnings are in effect for all of the South Carolina and North Carolina coasts.
…The northern eyewall is just offshore of Charleston now. Winds are probably peaking for Charleston. CHS recorded a gust to 60 mph around 6:25 a.m. CST and just had once to 63 mph. Their winds will diminish slowly later today, but tropical-storm-force winds will continue with hurricane gusts along the coast for a few hours. Tides are still rising at the Cooper River Station, running nearly 3 feet above normal. They should begin falling slowly today.
…A buoy 10 miles SSE of Beaufort, SC reported sustained winds of 60 mph with a gust to 92 mph.
…Gusts to strong tropical storm force are impacting the coast between Charleston and Myrtle Beach and some hurricane-force winds will affect this area over the next several hours. Myrtle Beach and the Grand Strand will see their winds increase to tropical storm force through the morning, with hurricane-force winds scraping the South Carolina coast until this evening. …Winds at Myrtle Beach will be reaching tropical storm force over the next few hours, reaching strong tropical storm force late this afternoon and gusting to hurricane force starting around sunset.
…Tides along the Grand Strand will run 5-8 feet from the Isle of Palms to Myrtle Beach.
…At Wilmington, winds will begin approaching tropical-storm-force soon. Winds have been gusting to tropical storm force in stronger squalls through the early morning hours. Winds will start reaching strong tropical-storm-force late this afternoon and increase to hurricane force this evening. Their tides will increase dramatically this afternoon and peak this evening. Areas from Myrtle Beach through the Outer Banks will see 5-8 foot storm surge. THIS IS A LIFE-THREATENING STORM SURGE EVEN FOR THIS AREA…
…The center of Dorian will pass just southeast of Wilmington around midnight tonight. Winds will peak around 85 mph there, diminishing to below tropical-storm-force there tomorrow morning as Dorian accelerates to the northeast.
…The eye will make landfall near Morehead City, North Carolina around 2-4 a.m. CDT. Tropical-storm-force winds and increasing tides will be affecting this area after by mid-afternoon. They will reach hurricane force around midnight, Peaking around 90 mph with higher gusts. Tides will increase dramatically with the onshore flow and reach 5-8 feet above normal, including at the head of tidal water basins well inland in places like New Bern. Winds will diminish there by noon tomorrow.
…For Cape Hatteras and the Outer Banks south of Duck, tides of 5-8 feet and hurricane-force winds of 90mph with higher gusts will impact the area starting late this evening and continuing through the pre-dawn hours. The center should be near Hatteras around 8 a.m. tomorrow. THIS IS A POTENTIALLY DEVASTATING SURGE SITUATION FOR THE OUTER BANKS… Winds over the Outer Banks will diminish by late tomorrow afternoon and we will say goodbye to Dorian.
…The Hampton Roads area will see tides of 2-4 feet above normal, which will cause flooding.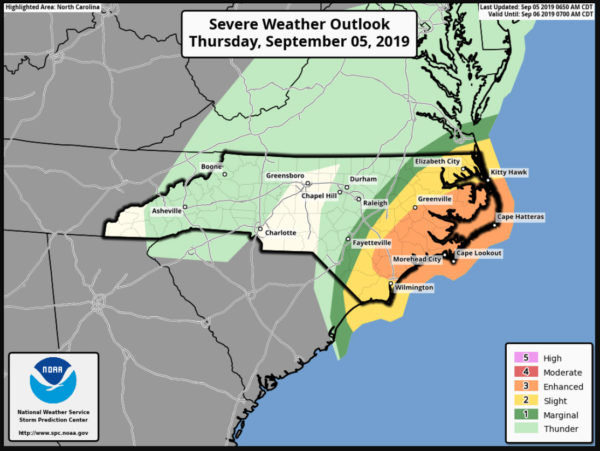 …Numerous tornadoes have been reported and this will continue today over parts of extreme eastern South Carolina and eastern North Carolina.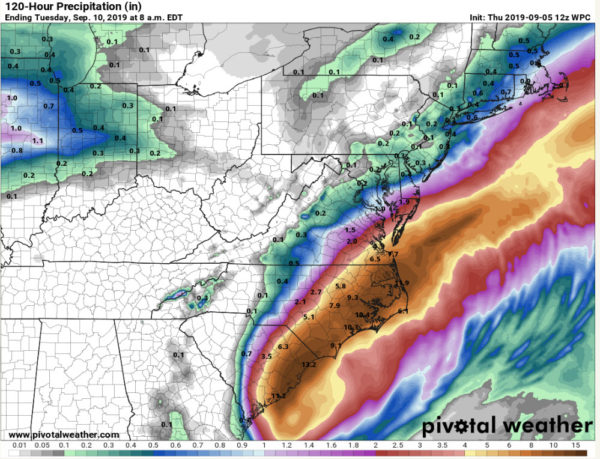 …Heavy rains of 5-10 inches will affect eastern South Carolina, eastern North Carolina, and southeastern Virginia. A serious flash flood threat exists in these areas.
Bill Murray is the President of The Weather Factory. He is the site's official weather historian and a weekend forecaster. He also anchors the site's severe weather coverage. Bill Murray is the proud holder of National Weather Association Digital Seal #0001
@wxhistorian