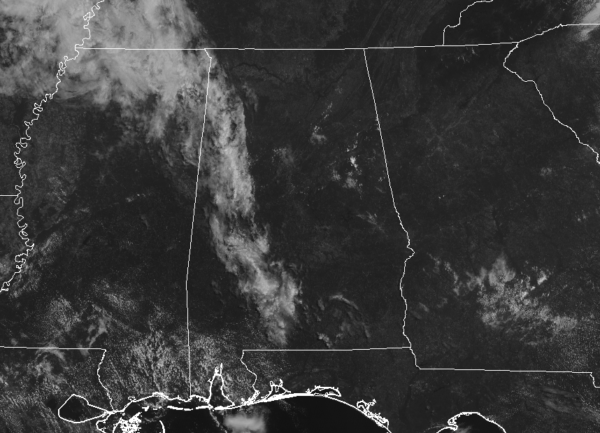 We have some cloud cover over the western parts of the area with only a few rogue clouds over the eastern parts. At this point, we have no rain showing up on the radar, but I have a feeling that will change as we get into the afternoon hours. Temperatures are already up in the mid-80s to the lower 90s, but those are expected to climb into the lower to mid-90s later this afternoon.
Speaking of this afternoon, NWS Birmingham has placed the northeastern quarter of Central Alabama in a Marginal Risk for severe storms with the main window from 1:00 pm to 8:00 pm today. Some stronger storms will have a small potential of producing isolated damaging wind gusts up to 60 MPH due to downbursts. The Marginal Risk includes locations east of a line from Birmingham to Alexander City to Valley in Chambers County. Isolated to scattered showers and thunderstorms are possible for nearly the rest of Central Alabama excluding locations west of a line from Hamilton to Tuscaloosa to Selma, where hot and dry conditions will continue. All activity should die off after we lose the heating from the sun at sunset, but a few isolated showers may linger into the late-night hours. Lows will be in the upper 60s to the lower 70s for most.
Wednesday will be hot and dry across Central Alabama. We'll have plenty of sunshine and only a few passing clouds. Afternoon highs will be right back up into the lower to mid-90s. The good news is that the GFS is projecting daytime highs dropping back down into the 80s starting on Sunday and staying that way through much of the rest of the month, with the exception of a couple of 90s on the 20th and 21st.
Once again, we apologize for all of the downtimes that the blog has experienced over the past 48 hours due to the site redirects. We look to be good to go for now, so hopefully, we won't have this issue anymore for a while.
Category: Alabama's Weather, ALL POSTS, Severe Weather
Scott Martin is a meteorologist, graphic artist, musician, husband, and a father. Scott is a member of the National Weather Association and the Central Alabama Chapter of the National Weather Association. Scott is also the co-founder of Racecast Weather, which provides accurate forecasts for many racing series across the USA.