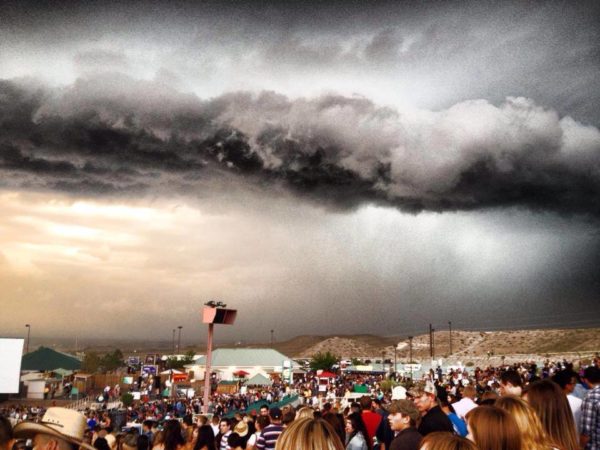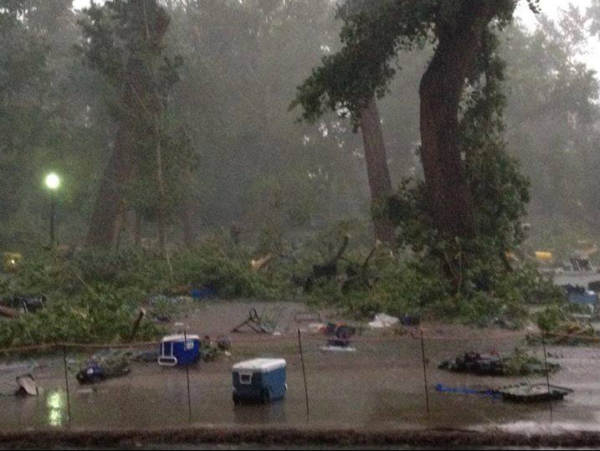 Dark clouds loom overhead above Isleta Amphitheater in Albuquerque during the July 2013 Luke Bryan concert (top), abandoned coolers and lawn chairs are left behind following a downpour at the ABQ Biopark concert series (bottom). No animals or humans were harmed in the storm (Photo Credits: Rachel Licano, Pablo Q. DeWyse).
You may have heard about Hurricane Dorian in the weeks prior… what about Hurricane Green Chile? Monsoon thunderstorms may not be a result of a hurricane, but may produce as much wind and rain as a Category 1 hurricane. Monsoon season is usually referred to a contrast in land/ocean heating that bring torrential rain across Asia, Australia, and Africa, however, can also be used to describe an increase in summer precipitation across the southwestern United States. More than half of New Mexico's precipitation amount occurs between the June and September months. A typical monsoon pattern usually shows an area of high pressure to the east of New Mexico. Since high's are typically characterized by clockwise flow, this results in moisture being transported from south to north from the Gulf of Mexico and into New Mexico and Arizona.
The National Weather Service classifies the start of monsoon season through 3 consecutive days above a certain dew point threshold (47 degrees Fahrenheit or greater for Albuquerque, 55°F for Phoenix, 54°F for Tucson), reflecting the amount of surface moisture aloft that might fuel thunderstorms and produce a measurable amount of precipitation. Generally, warmer temperatures can enhance monsoon season precipitation by creating more instability in the atmosphere for thunderstorm growth, but this is not a straightforward forecast. If it gets too hot, less moisture is available and the ground dries out.
But, a late start to monsoon season can mean as late as mid-July for northern and central New Mexico. With only about 2 weeks left in the monsoon season, the Albuquerque International Sunport has collected 2.56" through September 15th, 2019, making it one of the top 20 driest monsoons on record so far. The monsoon is not constant throughout the season and may consist of a pattern of moisture surges ("bursts") and dry "break" periods. The 2013 monsoon season was in the top 10 wettest monsoons for Albuquerque with 7.16" between July and September. Above, a storm in July 2013 that caused 2 inches of rain accumulation in downtown Albuquerque, widespread power outages, and a peak wind gust of 89 mph recorded near the Albuquerque International Sunport from a wet downburst.
To learn more about the monsoon and other North American weather phenomena, please click here!
© 2019 Meteorologist Sharon Sullivan
AlabamaWX is pleased to partner with the Global Weather and Climate Center team for outstanding posts about our atmosphere. Visit them at https://www.globalweatherclimatecenter.com for more great information!
Category: ALL POSTS, Partner News Stories