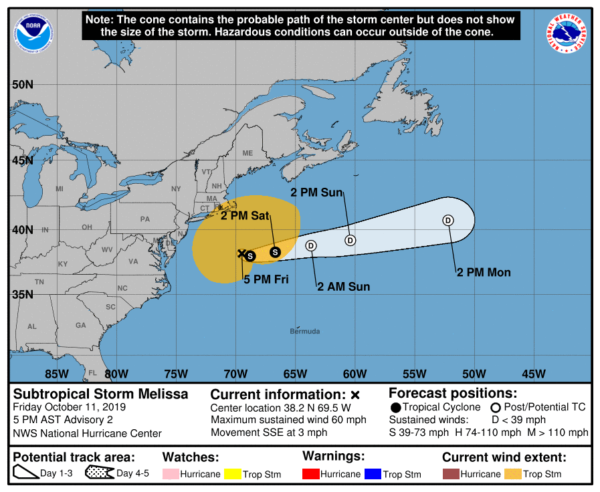 SUMMARY OF 400 PM CDT INFORMATION
LOCATION…38.2N 69.5W
ABOUT 210 MI…335 KM S OF NANTUCKET MASSACHUSETTS
MAXIMUM SUSTAINED WINDS…60 MPH…95 KM/H
PRESENT MOVEMENT…SSE OR 150 DEGREES AT 3 MPH…6 KM/H
MINIMUM CENTRAL PRESSURE…997 MB…29.44 INCHES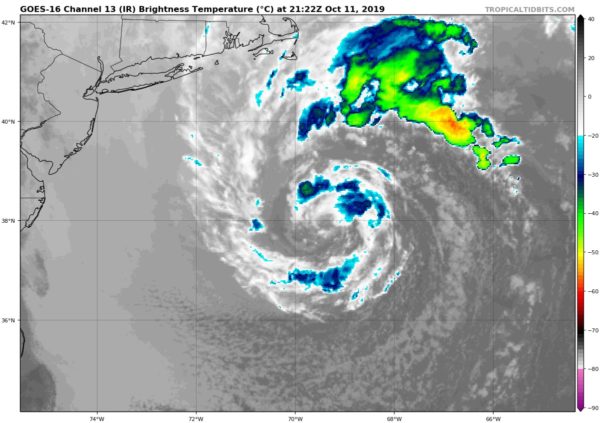 Melissa continues to churn south-southwest of New England. A late-morning scatterometer overpass indicated that the large wind field remains in tact with only a slight decrease in maximum winds, while satellite imagery continues to show banding surrounding the circulation center. A recent Hebert-Poteat intensity estimate from TAFB also suggests some slight weakening, and the intensity will be lowered to 50 kt for this advisory.
Strong upper-level westerly winds will cause Melissa to weaken over next couple of days, and the storm is forecast to become post-tropical by Saturday night. The post-tropical cyclone is then expected to be absorbed by an approaching front in 3 to 4 days.
For the past few hours, Melissa has been moving slowly south-southeastward as the cyclone remains in weak steering flow under an upper-level trough. Later tonight, an approaching mid-latitude trough currently crossing the upper Midwest will begin to force an eastward motion, with a gradual increase in forward speed Saturday through Monday. This motion will continue until the cyclone is absorbed by the cold front. The NHC track forecast was adjusted a little to the right due to a southward shift in the guidance and lies on the northern edge of the consensus aids.
Ongoing hazards from wind and coastal flooding will continue to be covered by non-tropical products from local National Weather Service forecast offices.
Gale-force winds that extend well northeastward of Melissa into the central Atlantic are not included in the wind radii, since they are associated with a frontal boundary.
KEY MESSAGES
1. The expected magnitude of wind and coastal flooding impacts along portions of the U.S. east coast from the mid-Atlantic states to southeastern New England has not changed.
2. Melissa is expected to gradually weaken and begin moving away from the U.S. east coast by tonight, resulting in a gradual decrease in wind and coastal flooding impacts.
Scott Martin is a meteorologist, graphic artist, musician, husband, and a father. Scott is a member of the National Weather Association and the Central Alabama Chapter of the National Weather Association. Scott is also the co-founder of Racecast Weather, which provides accurate forecasts for many racing series across the USA.