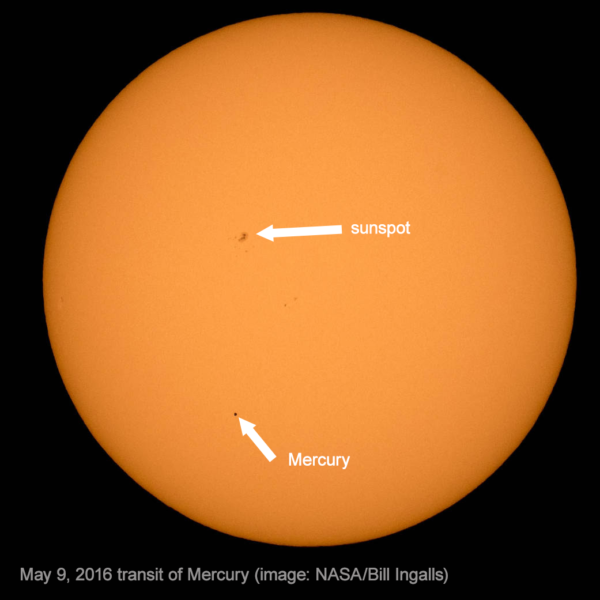 On Monday, Nov 11, Mercury will pass in front of, or transit the face of the Sun. The entire event, from first to last contact, will take about 5.5 hours.
If you kept the eclipse glasses from the August 2017 great American eclipse, now is the time to find them. Check them for before use and discard if there are any folds, scratches or especially pinholes. Even the tiniest amount of sunlight passing through can cause serious eye damage.
If you need a pair of glasses, you probably won't find them at your local home improvement store, but they are much easier to find online. No need to outfit this whole family either, this is a long event and there is plenty of time to share.
You can watch Mercury slowly make its way across the face of the Sun too. It will appear as a small black dot at about the 7 o'clock position moving in slow curve nearly across the center of the Sun, existing around the 3 o'clock position 5.5 hours later. The path Mercury takes across the Sun is as flat as its orbit but the Earth's rotation makes it look curved to us. The closer you are to the Equator, the more curved that path looks.
The show begins at 6:36 am CST and ends just after noon CST. The entire transit will be visible from points east of the Mississippi River and Great Lakes, everyone else will join the show in progress.
Transits aren't just interesting to watch, they have scientific value as well. In the early 1700s Edmund Halley, yes the one of comet fame, suggested that the Earth-Sun distance could be calculated from parallax shifts during the transit of Venus in 1761 and 1769.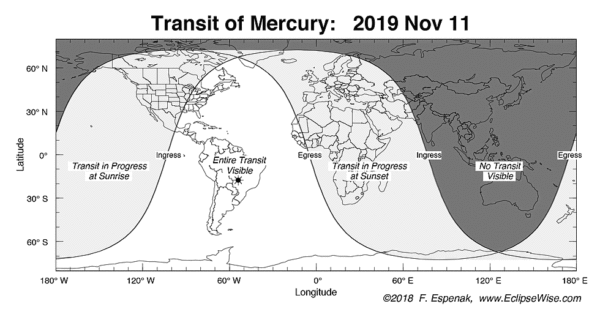 Southern and North Eastern states will see the entire transit. Everyone west of the Great Lakes and Mississippi River will join the transit in progress at sunrise.
Category: ALL POSTS, Spacey Stuff
Tony Rice is a NASA/JPL Solar System Ambassador and the voice and brains behinds the weekly Astronomy Report on the WeatherBrains podcast. He grew up in Southern California where he watched the Space Shuttles being build and landed nearby and was hooked. Tony brings weather and space together to communicate the excitement of space exploration and promote a greater appreciation for Earth sciences.