Astronomical winter arrived at 10:19 p.m. CST last night. We weather humans all know that meteorological winter started on December 1st. It won't feel like winter during the week ahead, with above normal temperatures expected across Alabama. That will change just in time for the New Year, but let's enjoy it while it's here.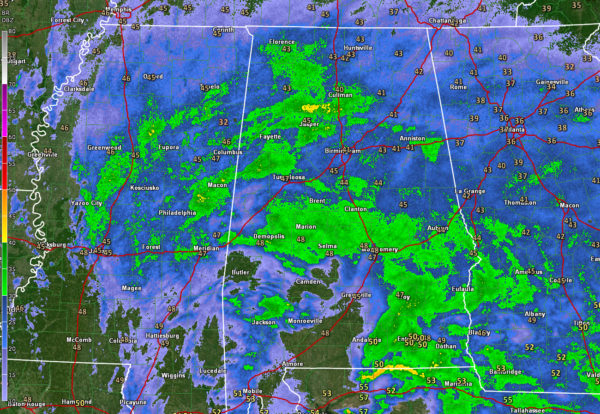 UPPER LOW, WEATHERMAN'S WOE: That old adage really doesn't capture the totality of the subject. It's really everyone's woe. Our big upper low is centered near Shreveport, Louisiana this morning. It will be lumbering across South Alabama by tomorrow. It is bringing a dreary, cloudy, wet and even windy weather to Alabama for your Sunday. A strong low-level jet will develop across eastern Alabama today ahead of the low, and this will lead to gusty surface winds at times, especially for eastern sections. It will be cloudy all day and rain will be heavy at times. Temperatures will be chilly, with highs in the lower 50s across the entire area today. Rainfall amounts should total 2-3 inches across Central Alabama by Monday night. Some rivers are rising over western Alabama as a result. Lows tonight won't drop very much, only a couple of degrees from afternoon highs.
RAIN ENDS ON MONDAY: Rain will end Monday morning, with just a few leftover showers. Highs on Monday will warm back into the upper 50s despite barely any clearing until late in the day. Skies should be mostly clear by Tuesday morning when lows will bottom out in the lower 40s mostly.
CHRISTMAS EVE: Santa should find few problems weather-wise across the U.S. as he makes his appointed rounds Tuesday evening. Our low-pressure system will be departing to the east off the coast of Florida, taking its adverse conditions with it. A trough over the western states will bring higher elevation snows and lower elevation rains to that part of the country. Here in Alabama, the day will be a delight, with a good supply of sunshine and highs in the upper 60s.
CHRISTMAS DAY: Wednesday will look a lot like Tuesday, with warm temperatures and a good supply of sun. Highs will be in the upper 60s.
WEEKEND OUTLOOK: Another trough and upper level low will be barreling our way by the weekend. Expect increasing clouds by Thursday and Friday, with increasing rain chances late Friday into Saturday. Like this week, it looks like a soaking rain will be likely Saturday afternoon, Saturday night, and into Sunday morning across Central Alabama.
VOODOO TERRITORY: Look for another wet weather system around Friday, January 3rd. The low will be in a position to cause severe weather, but instability values look like they will bee non-existent.
GULF COAST WEATHER: Rain will be tapering off later today across the beautiful beaches of Alabama and Northwest Florida. It will remain breezy through early Monday as well. Surf will be high through tonight as well. It will be a mild week, with highs near 60F on Monday, but increasing into the upper 60s to near 70F for the remainder of the week. Lows will be in the upper 40s and lower 50s. Water temperatures along the coast are running around 56F. Click here to see the Beach Forecast Center page.
WEATHERBRAINS: Two shows were recorded this week. The first is already out in the wild for your consumption. The second, recorded Thursday evening, will be posted Monday. Check out the show at www.WeatherBrains.com. You can also subscribe on iTunes. You can watch the show live at live.bigbrainsmedia.com You will be able to see the show on the James Spann 24×7 weather channel on cable or directly over the air on the dot 2 feed.
ON THIS DATE IN 1989: Snow in Tampa and Daytona Beach? Yes, it really happened on this date as Florida experienced its most widespread snowstorm in history. Two inches fell in Savannah, one of only three times that snowfall in the city required a ruler for measurement. Charleston SC picked up 3.9 inches of the white stuff. Follow my weather history tweets on Twitter. I am @wxhistorian at Twitter.com.
Category: Alabama's Weather, ALL POSTS
Bill Murray is the President of The Weather Factory. He is the site's official weather historian and a weekend forecaster. He also anchors the site's severe weather coverage. Bill Murray is the proud holder of National Weather Association Digital Seal #0001
@wxhistorian