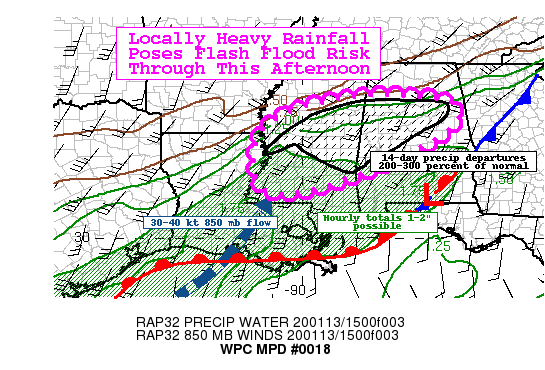 Summary… Moderate to locally heavy rainfall this afternoon poses a localized flash flood risk. Hourly totals up to 1 inch and total amounts through 9:00 pm of 2 inches with some locally higher amounts are possible.
Discussion… Overrunning showers and embedded thunderstorms this afternoon are showing signs of intensifying with recent infrared satellite cloud tops cooling in the last hour or so. This is in response to a weak shortwave trough moving through a zone of deeper moisture and interactions with a lingering/washed out surface boundary in place providing the better focus and forcing for ascent.
The most recent mesoanalysis shows upwards of 500 J/kg of most unstable instability (MUCAPE) in place and this is expected to gradually increase through the afternoon as the warm front slowly lifts north. The blended total precipitable water product shows values of 1.3 to locally 1.5 inches and this should continue to nudge up. The Rapid Refresh model has been consistent this afternoon showing a surge in 850 MB moisture transport associated with 30-40 kt 850 MB flow, with its axis pointed at central Mississippi initially then turning toward central/north-central Alabama later this afternoon into the evening hours.
Hi-res guidance shows some larger variability with the axis and magnitude of the forecast rainfall through 9:00 pm with overall lower confidence. But the potential exists for hourly totals of 1 to locally 1.5 inches (recent observation Macomb, MS of 1.28 inches in 1 hour… matching radar estimates) at times this afternoon into the evening hours. This activity will be moving over more saturated soils, where the latest Advanced Hydrologic Prediction Service 14-day departures are 200-300 percent of normal and the latest National Water Model streamflows are much above normal to very high. As such, the additional rainfall, albeit progressive and not quite to 1-hour flash flood guidance values, could lead to localized flash flooding, particularly for the more susceptible or urban areas.
Category: Alabama's Weather, ALL POSTS, Severe Weather
Scott Martin is a meteorologist, graphic artist, musician, husband, and a father. Scott is a member of the National Weather Association and the Central Alabama Chapter of the National Weather Association. Scott is also the co-founder of Racecast Weather, which provides accurate forecasts for many racing series across the USA.