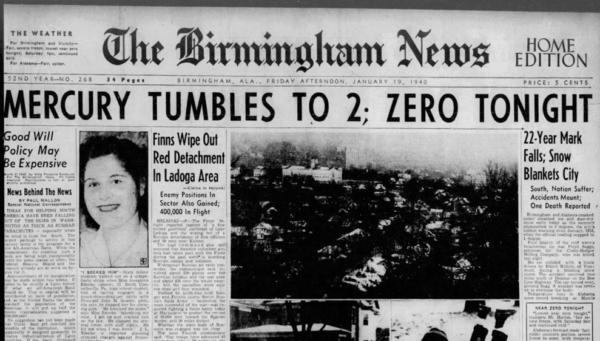 On this date in 1940, Birmingham sat in the deep freeze under a fine layer of snow on the first day of the city's most protracted cold wave. The mercury fell to 2F at Birmingham, the coldest in the city since 1918.
At 3 p.m. the day before, it had been 35F, but jusst nine hours later, at midnight, it was down to 14F, and the mercury continued in free fall through the morning hours. By 9 a.m., the temperature bottomed out at 2F, the coldest reading in 23 years in the Magic City. It was -5F that cold morning in Muscle Shoals, and -8F on top of Monte Sano, with a heavy blanket of snow.
There was a mantle of white as far south as Calera in Shelby County. Officially at Birmingham, famed Weatherman E.B. Horton reported 0.5 inches of snow with a trace on the ground that morning. But the snow, which had started out as sleet the previous afternoon and changed to a fine, dry snow during the evening was not the concern. It was the cold. Mr. Horton was calling for 0F overnight in Birmingham.
During the day in Birmingham, the mercury struggled to reach a high of 20F.
There was great fear that cabbage crops would be lost in South Alabama. Mobile's prized azaleas and camellias were bagged to protect them from the extreme cold. Nationally, it was 13F on the Texas coast. Memphis measured -3F, its coldest since 1918.
A Birmingham attorney tried to test the ice on the frozen fountains of Woodrow Wilson Park (known as Linn Park today) and got a nasty, freezing surprise when he plunged through the still thin ice.
The two weeks beginning with the Arctic invasion that arrived on the night of the 18th still rate as the coldest 14 day period in Magic City history with an average temperature of 22.5F. When it comes to prolonged cold waves, Whether you look at 10, 14, 21, or 30 day periods, you won't find a colder time in Birmingham than January-February 1940.
Category: Alabama's Weather, ALL POSTS
Bill Murray is the President of The Weather Factory. He is the site's official weather historian and a weekend forecaster. He also anchors the site's severe weather coverage. Bill Murray is the proud holder of National Weather Association Digital Seal #0001
@wxhistorian