Conditions at 11:45 am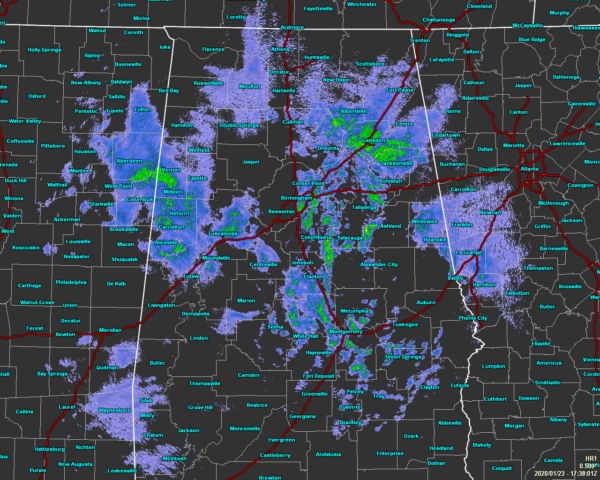 We have scattered showers across a good bit of Central Alabama as we have reached the midday hour on this cold and damp Thursday. Not everyone is seeing rain at this point, but by the time it is all said and done, everyone in the area will have received some. Temperatures were only in the lower 30s to the upper 40s across the area. Demopolis was the warm spot at 47 degrees while the cold spot was Cullman at 37 degrees. Birmingham was only at 39 degrees.
A Cold January Rain Through The Day
Rain at times throughout the day and cloudy when raindrops are not falling. With the colder air in place, thunder is not likely. Highs will only make it into the mid-40s to the mid-50s. Rain chances will be a little less along and south of I-85. Skies will remain cloudy and rain will continue to be likely through the late night and overnight hours. Temperatures won't move much as lows will be in the lower 40s to the lower 50s.
Drying Out On Friday
Rain will be exiting the area during the morning hours with the western half of the area staying dry. Clouds will be decreasing slowly throughout the day and afternoon highs will be warmer, reaching the upper 40s to the lower 60s across the area. Skies will be partly cloudy during the evening and late-night hours with temperatures in the lower to upper 40s around 6:00 pm and dropping to the upper 30s to the lower 40s by midnight. Overnight lows will be in the lower to mid-30s.
On This Day In Weather History
1780 – The coldest day of the coldest month of record in the northeastern U.S. A British Army thermometer in New York City registered a reading of 16 degrees below zero. During that infamous hard winter, the harbor was frozen solid for five weeks, and the port was cut off from sea supply.
1971 – The temperature at Prospect Creek, AK, plunged to 80 degrees below zero, the coldest reading of record for the United States.
Category: Alabama's Weather, ALL POSTS
Scott Martin is an operational meteorologist, professional graphic artist, musician, husband, and father. Not only is Scott a member of the National Weather Association, but he is also the Central Alabama Chapter of the NWA president. Scott is also the co-founder of Racecast Weather, which provides forecasts for many racing series across the USA. He also supplies forecasts for the BassMaster Elite Series events including the BassMaster Classic.