Instability values have increased to over 1,000 joules/kg over eastern Mississippi and West Alabama and storms over eastern Mississippi have become supercellular.
Moisture and instability will continue to increase ahead of the storms and wind shear becomes stronger the further east they go into Alabama.
As a result, the storms could produce additional tornadoes, and perhaps significant ones, into western Alabama.
A tornado watch will be issued soon. Let anyone in the red highlighted area who may be unaware of the weather know what is happening.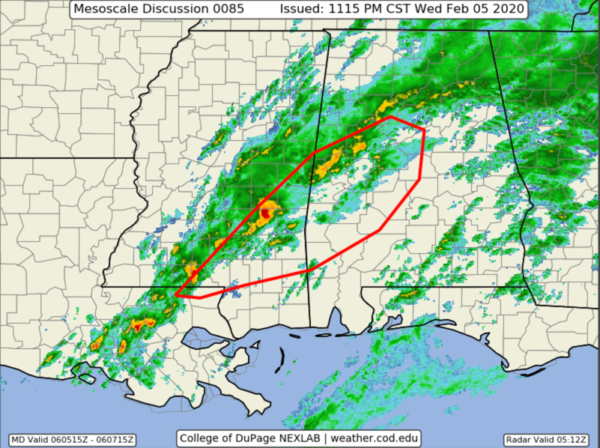 MESOSCALE DISCUSSION 0085
NWS STORM PREDICTION CENTER NORMAN OK
1115 PM CST WED FEB 05 2020
AREAS AFFECTED…SOUTHERN AND EASTERN MISSISSIPPI INTO WESTERN
ALABAMA
CONCERNING…TORNADO WATCH 24…
VALID 060515Z – 060715Z
THE SEVERE WEATHER THREAT FOR TORNADO WATCH 24 CONTINUES.
SUMMARY…STORMS HAVE TRANSITIONED INTO SUPERCELLS, AND A NEW
TORNADO WATCH WILL BE NEEDED FOR THE AREA.
DISCUSSION…STRONG SHEAR ACTING FOR A PROLONGED PERIOD ON STORMS
ALONG THE COLD FRONT HAS RESULTED IN A TORNADIC SUPERCELL, NOW OVER
JASPER COUNTY, MS. THE ENVIRONMENT AHEAD OF THIS ACTIVITY IS
FAVORABLE FOR A CONTINUED TORNADO THREAT, WITH INCREASING LOW-LEVEL
SHEAR INTO AL. IN ADDITION, BOUNDARY LAYER MOISTURE CONTINUES TO
INCREASE, WITH PWAT VALUES OVER 1.75″ EAST OF THE COLD FRONT.
FINALLY, MIDLEVEL LAPSE RATES ARE FAVORABLE FOR ROBUST UPDRAFTS,
WHICH MAY AID TORNADO, AND POSSIBLY SIGNIFICANT TORNADO THREAT.
LARGE-SCALE LIFT WILL ONLY INCREASE WITH TIME, AND ADDITIONAL
SUPERCELLS ARE POSSIBLE BOTH ALONG AND EVENTUALLY AHEAD OF THE
FRONT. AS SUCH, AN ADDITIONAL TORNADO WATCH IS LIKELY.
..JEWELL.. 02/06/2020
Category: Alabama's Weather, ALL POSTS, Severe Weather
Bill Murray is the President of The Weather Factory. He is the site's official weather historian and a weekend forecaster. He also anchors the site's severe weather coverage. Bill Murray is the proud holder of National Weather Association Digital Seal #0001
@wxhistorian