No Weather Xtreme Video this morning due to the overnight severe weather coverage.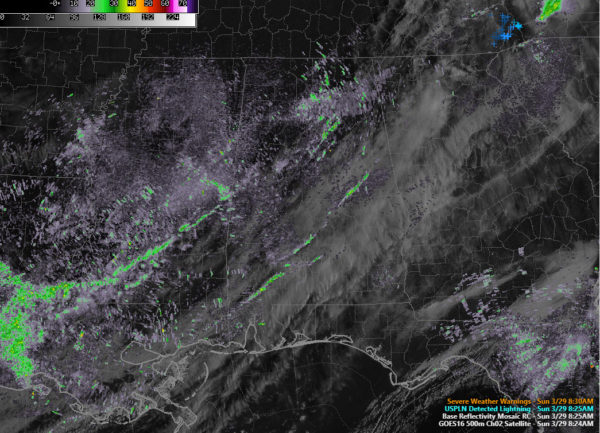 RADAR UPDATE AT 8:30 AM
A thin line of showers, the remnants of last nigh's line of storms, continues pushing eastward this morning. It is located from east f Lineville in Clay County to near Alex City in Tallapoosa County to near Prattville in Autauga County.
SEVERE WEATHER OVERNIGHT
Alabama came out lucky last night as just a handful of wind damage reports were received across the northwestern part of the state. Trees were reported down in parts of Fayette, Winston, and Cullman Counties, as well as Colbert Count in the northwestern part of the state.
CLEARING SKIES
A thin line of clouds, moving though the I-59 Corridor at this time, marks the cold front. There are a few light showers aloong it as well. Skies behind this line as well as behind it all the way to southern Illinois are clear. It will be a beautiful day for everyone once the clearing line arrives. Highs today will range from 74F near Hamilton to 76-78F in the Tusacalooas-Birmingham-Anniston area to 80F in Montgomery. A nearly perfect day. Lows tonight will be in the 50s area-wide.
EARLY WEEK RAIN/SEVERE THREAT
By tomorrow morning, a surface low will be developing over North Texas with a warm front moving northward from the Gulf Coast. An isolated shower or storm can't be ruled out during the afternoon, but the best rain chances will come starting Monday evening. Raini will increase overnight, especially in areas northwest of I-59. A surface low will develop over Central Mississippi that will move east across Central Alabama on Tuesday. The presence of warm, moist unstable air for areas along and south of the track of the low will produce the threat of severe weather, mainly south of the UUS-80/I85 Corridor, for places likeDemopolis, Selma, Montgomery, Tuskeegee, Auburn, and Troy late Tuesday morning and Tuesday afternoon. The main threats will be damaging winds and hail, with a couple of tornadoes possible.
MIDWEEK
Wednesday will feature clearing skies with dry weather into Thursday. Highs will be in the 60s Wednesday and upper 60s to lower 70s Thursday. Lows will be in the middle 40s.
NEXT RAIN CHANCES
As a surface low moves into the Great Lakes by late in the week, showers and storms will increase again by Friday afternoon and evening. The front should be weakening as it moves across Alabama, like the one last night and this morning. Severe weather shouldn't be a big threat, but there could be a few strong storms Friday and Saturday.
VOODOO COUNTRY
It looks like next Sunday and Monday will sort of be a repeat of this system, with a secondary low tracking across southern parts of the area bringing more rain and a threat of severe weather to South Alabama.
WEATHERBRAINS
We will be joined by Dr. Roger Waxler tomorrow night on the show. He is at the University of Mississippi and is pioneering using acoustic signals to tells us when and where tornadoes touch down. Watch live at live.bigbrainsmedia.com or on the dot 2 channel or your cable system.
ON THIS DATE IN 1991
A downburst struck the Birmingham metropolitan area. Just after 415 a.m., trees were blown down and buildings damaged in Bessemer. Winds gusted to 69 mph at the NWS Office on West Oxmoor Road. This was the beginning of a powerful microburst that produced a damage path between 0.25 and 0.50 of a mile wide and 7-8 miles long. Parts of Homewood, Mountain Brook, and Crestline suffered the most severe damage, with hundreds of large trees blown down. Numerous homes, vehicles, and other structures were damaged or destroyed. The Birmingham Zoo, Birmingham Botanical Gardens, and Birmingham Country Club were especially hard hit. Damage totaled $5 million. Miraculously, no one was injured or killed in the Birmingham area.
Category: Alabama's Weather, ALL POSTS
Bill Murray is the President of The Weather Factory. He is the site's official weather historian and a weekend forecaster. He also anchors the site's severe weather coverage. Bill Murray is the proud holder of National Weather Association Digital Seal #0001
@wxhistorian