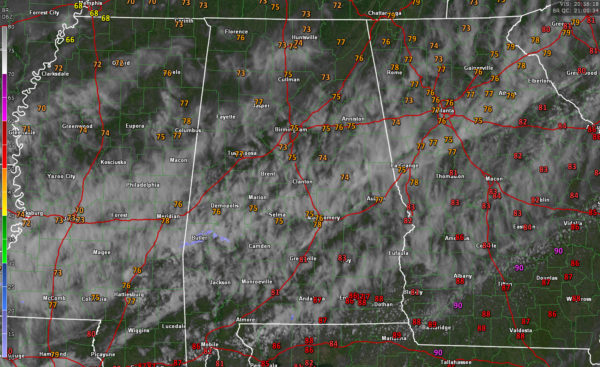 A very nice day is in progress across North and Central Alabama. Temperatures are in the 70s over the northern half of the state, with lower 80s over South Alabama.
A few light showers are still occurring near a cold front that is draped across South Central Alabama. They extend from Choctaw County through Marengo County then east northeast through the Montgomery area then over to near Auburn.
The front is running out steam, becoming parallel to the upper flow, and is poised to move back northward tomorrow as a warm front.
That west southwesterly flow across the Central part of Alabama is very moist at mid-levels, up around 18,000 feet above the ground. This is resulting in mostly cloudy conditions across the middle of the state.
Skies have been mostly sunny over the northwestern third of the area, but mid-level clouds are starting to move in there as well.
It will be partly to mostly cloudy tonight across the area. While it should be mostly dry, think you will see some returns on radar and don't be surprised to see a sprinkle or two overnight. Lows tonight will be mostly in the middle 50s.
Broad low-pressure over the Four Corners region of the southwestern United States will gradually coalesce into a surface low on Monday over the Texas Panhandle. This low will track across Central Alabama ono Tuesday. Its exact track will determine which areas get just rain and some thunder, and areas which could have strong to severe thunderstorms late Tuesday morning and afternoon.
At the present time, the most likely track appears to be along the US-0/I-85 Corridor, from Demopolis to Montgomery to Auburn. Areas to the north will receive rain, starting late Monday afternoon or Monday evening. Areas along and south of the track will be moderately unstable, with 1,000-1,500 joules/kg CAPE south of US-80/I-85. Bulk shear with the strong, so organized storms are likely. Hail and damaging winds will be the highest threat, with isolated tornadoes possible.
We will keep refining this forecast tonight and tomorrow.
Wednesday and Thursday will be dry and mild. Some rain will return over the weekend, but the coverage is uncertain.
Category: Alabama's Weather, ALL POSTS
Bill Murray is the President of The Weather Factory. He is the site's official weather historian and a weekend forecaster. He also anchors the site's severe weather coverage. Bill Murray is the proud holder of National Weather Association Digital Seal #0001
@wxhistorian