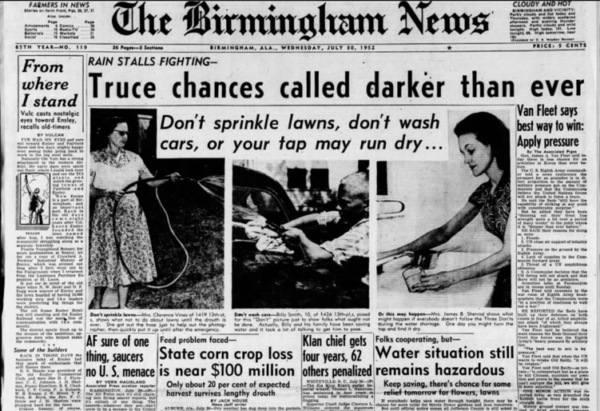 July 1952 was a terrible month for heat and forest fires in Alabama. It goes down in the record books as tied for the fifth hottest month in history at Birmingham with a mean temperature of 96.1F. The heat actually started to crank up in June, which still ranks as the second hottest June ever in the Magic City at 94.6.
The heat began over the Southwest U.S. that May, and by early June, the Midwest was broiling, with sweltering readings over Kansas and Missouri. The mercury reached 100F on seven days at St. Louis. But by the end of the month, a sprawling Bermuda High had gotten in on the action and gripped in the Mississippi Valley, the Tennessee Valley, and the Southeast in an inescapable oven. It hit 90F on the 3rd of June and never looked back. Every day through July 1st would post a 90F high, including 100F on 27th and 102F on 28th.
There would be a brief respite in the form of a cold front on the 9th that dropped the morning low at Birmingham to a refreshing 56F! That and the 59F the following morning make the overall heat of the month even more amazing. And the heat and drought were on from there on out. Birmingham got 0.81 inches from a cooling storm on the 7th and 0.12" the following day, but the rest of the month only measured 0.18" The 1.11" for the month ranked as the driest July until 1983 which still stands at 0.30" as the driest.
Birmingham would hit 106F on the 25th and 29th. Nashville would hit 107F on the 27tth and 28th. St. Bernard, Alabama registered 110F for the highest reading measured in the state during the event. Tennessee, Alabama, and Mississippi were the hardest hit agriculturally by the ensuing drought, which cost over a half-billion in 1952 dollars.
Forest fires would break out across Alabama. On this date, major blazes were burning in several locations across North and Central Alabama. Over 1,000 acres were burning in Colbert County, and major fires were being fought near Pell City and in Jefferson, Shelby, and in Talladega County, where thousands of acres burned. Over 100 volunteers were battling to save the town of Cropwell in St. Clair County from an advancing wall of fire on this date. State foresters were on 24-hour watch.
Above normal temperatures would continue into August, but nothing like June and July. And the rains returned. Birmingham got 8.18 inches of rain in the month, mostly between the 6th and 9th as a slow-moving front approached the area.
Category: ALL POSTS, Met 101/Weather History
Bill Murray is the President of The Weather Factory. He is the site's official weather historian and a weekend forecaster. He also anchors the site's severe weather coverage. Bill Murray is the proud holder of National Weather Association Digital Seal #0001
@wxhistorian