The center of Hurricane Sally is located some 105 miles south of Mobile at this hour.
Conditions are deteriorating along the coast with water levels rising and coastal flooding being reported across a wide area from the Mississippi Coast, across the Alabama coast, and into the Panhandle.
Water is crossing Bienville Blvd on Dauphin Island according to Brett Adair.
Here is a photo from Orange Beach from Alison Spann at WLOX.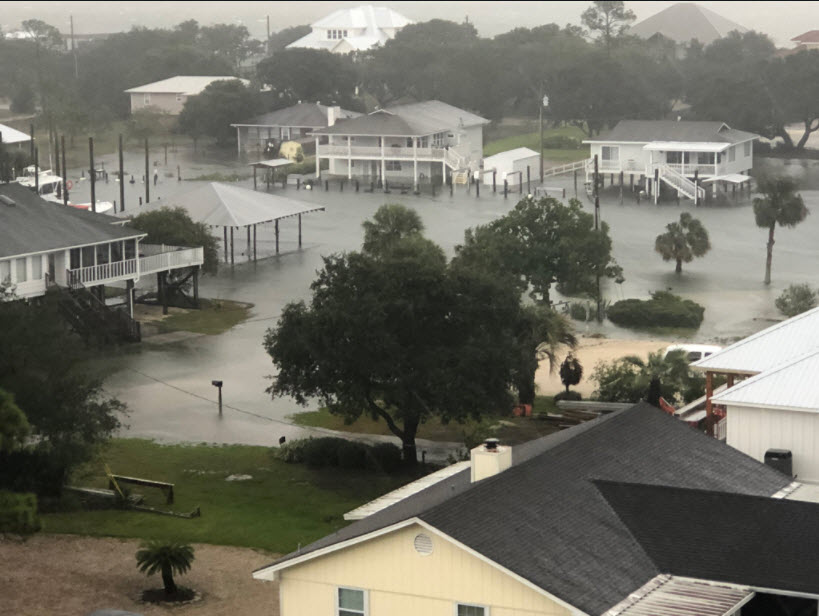 Winds are increasing. Fairhope is gusting to 40 mph now, Mobile to 43 mph.
Convection continues to build and try to wrap around the center. But the hurricane seems to have wrapped in a little dry air this morning, which helps to throttle its intensification.
The latest pass through the center from the northeastern quadrant by the NOAA Hurricane Hunter plane indicated that max flight-level winds were in the 78-knot range. The best observations of surface wind were near hurricane force. Pressures seemed to have dropped just a bit. The last vortex data report from 12:46 p.m. showed a pressure of 981 mb and the NHC used 982 in the 2 p.m. advisory.
Thick cloudiness has overspread South Alabama. Temperatures are in the upper 70s in the Florida Panhandle and coastal Alabama, with lower 80s in South Alabama. Inland instability values are still low, so the activity lifting through the Panhandle and into South Alabama right now is not producing any tornadic activity. Activity just south of the Alabama coast could produce waterspouts as well. And the feeder band nearing the coast now from Destin back to Panama City is stronger and these low topped supercells could produce tornadoes this afternoon in the Panhandle and Coastal Alabama.
A tornado watch remains in effect for coastal Alabama and the Florida Panhandle.
Very heavy rains continue as strong winds push really moist air into the area.
Some storm total rainfall reports:
Mobile Airport: 1.95 inches
Pensacola Airport: 3.49 inches
Destin: 3.94 inches
Panama City/NW Florida Beaches Airport: 3.14 inches
Tyndall AFB Panama City: 4.84 inches
Flash flooding is occurring in Bay County. Flash flood warnings are in effect for parts of Walton and Bay Counties.
Category: Alabama's Weather, ALL POSTS, Tropical
Bill Murray is the President of The Weather Factory. He is the site's official weather historian and a weekend forecaster. He also anchors the site's severe weather coverage. Bill Murray is the proud holder of National Weather Association Digital Seal #0001
@wxhistorian