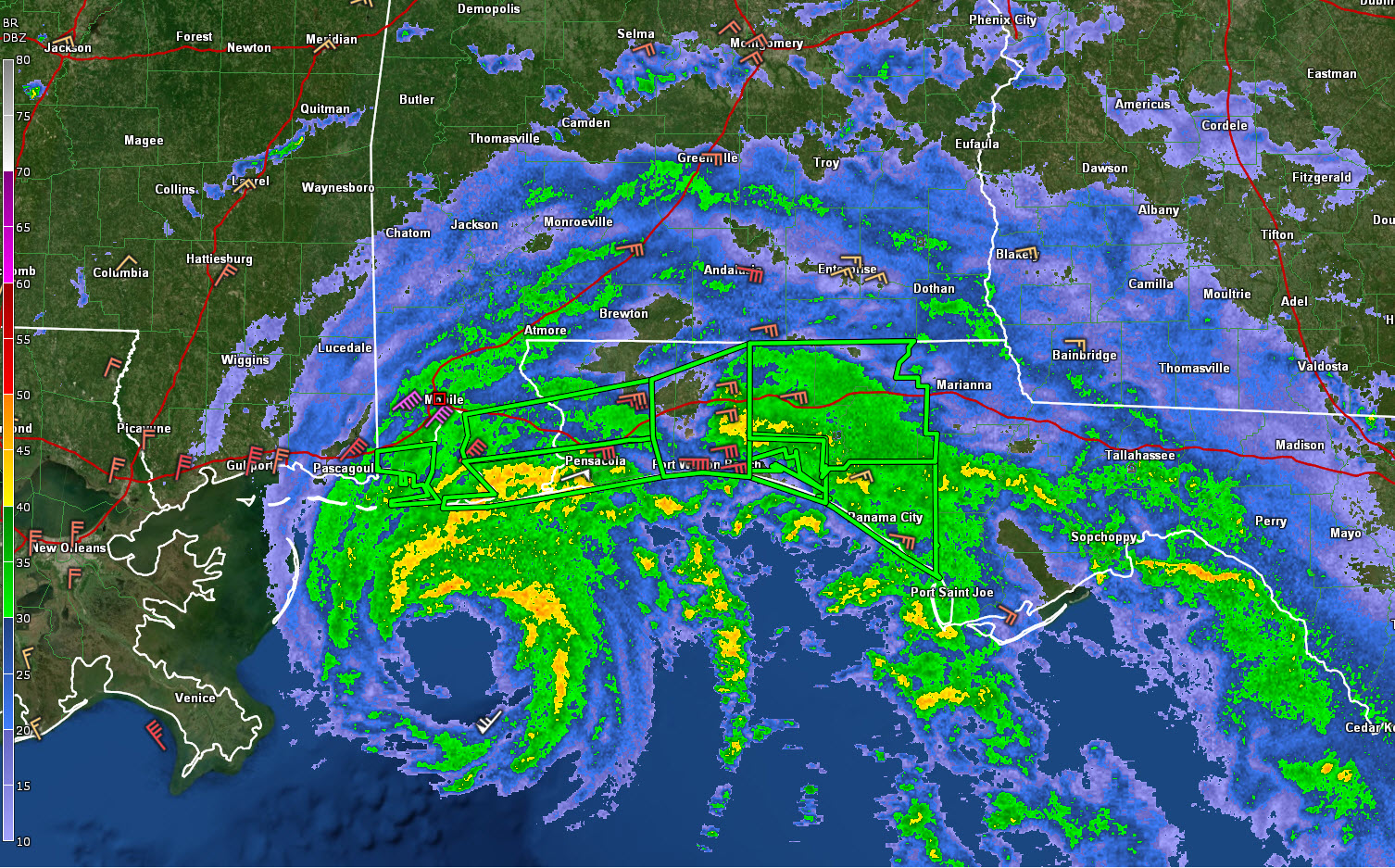 The center of Hurricane Sally is now some 75 miles south of Mobile at this hour. it continues to move slowly northward and should increase its forward speed tonight and tomorrow and make a turn to the northeast.
This will carry it across the coastline Wednesday morning somewhere between the Alabama/Mississippi border and Frt Walton Beach, most likely over Mobile Bay or Baldwin County, Alabama.
Winds are increasing with tropical storm-force winds now being experienced from St. Bernard Parish in eastern Louisiana across southeastern Mississippi, southwestern Alabama, and much of the Florida Panhandle.
Some current wind reports:
Mobile…NE 31 G 57 mph
Brookley Field (Mobile)…NE 31 G 50 mph
Fairhope…NE 35 G 51 mph
Pascaguola…NNE 24 G 39 mph
Pensacola Naval Air Station…ENE 31 G 58 mph (Peak gust 63 mph)
Pensacola…ENE 15 G 30 mph
Hurlburt Field Mary Esther…E 31 G 45 mph
Destin…E 21 G 35 mph
Buoy 4201 South of Orange Beach reporting 58 knot gusts now…67 mph
Andalusia in South Alabama is reporting easterly winds at 16 gusting to 35 mph.
At the Birmingham Airport, winds are ENE at 10 mph gusting to 19 mph.
Wind advisories have been issued for South Central Alabama in addition to hurricane and tropical storm warnings for coastal and some inland counties.
Rain has overspread the southern third of the state. Showers extend from Demopolis to Selma to Montgomery to Eufaula.
6.42 inches of rain so far a short while ago at Orange Beach.
Flash flood warnings blanket thee entire coastline from Dauphin Island to Mexico Beach. Numerous reports of flash flooding in Walton County, Florida.
A tornado watch has been reposted for Mobile/Baldwin and all of the Florida Panhandle counties. As more unstable air moves inland tonight tornado threat will increase
Water levels are rising too. Here are some late storm surge values:
Mobile – State Docks dropping a bit to .7 feet as winds turn to NE in Mobile.
Shell Beach LA… 4.8 feet
Waveland MS…2.8 feet
Pascagoula MS…2.6 feet
Dauphin Island… 2.4 feet
Pensacola…3.7 feet
Panama City…2 feet
For the rest of the state, moderate will spread up into South Alabama tonight and heavy rain will spread northward tomorrow morning. By noon, it will be as far north as Montgomery. Other rain will break out of parts of Central Alabama during the morning.
Flash flood watches cover a wide area: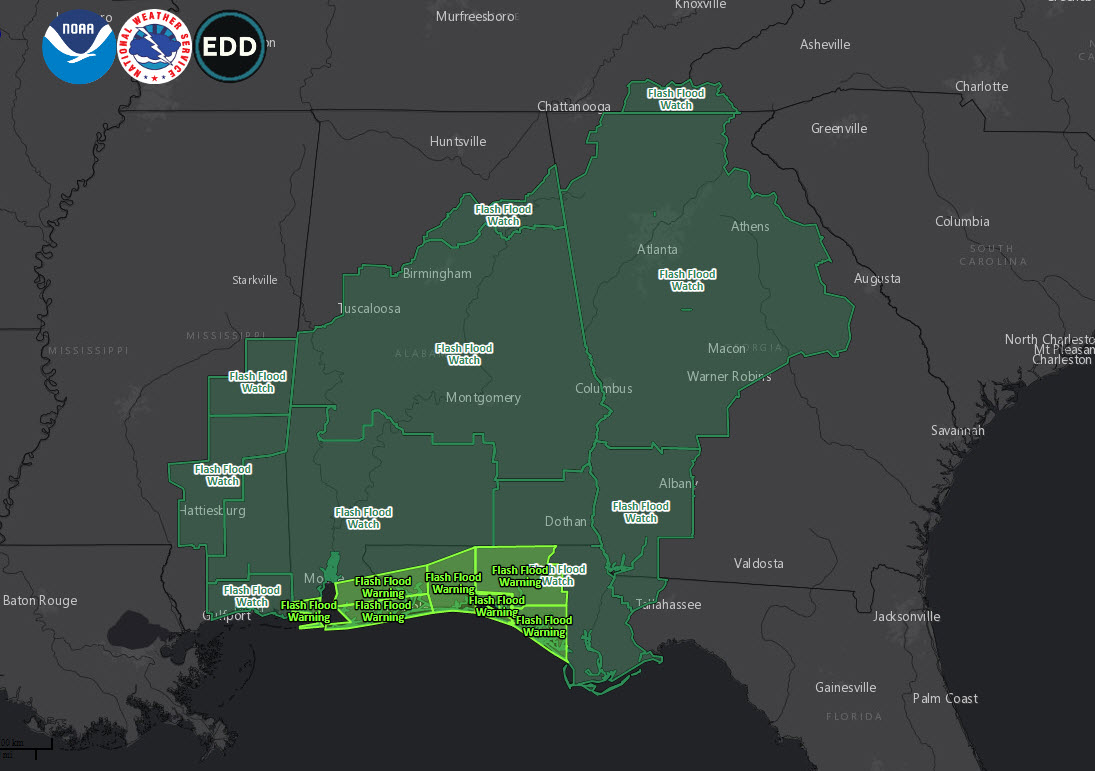 It would be cloudy and breezy, with winds averaging 15-20 mph with gusts to 25 mph across North Central Alabama in places like Tuscaloosa, Birmingham, and Anniston. Winds will of course be stronger to the south, where wind advisories are in effect.
Central Alabama peak wind gusts will look like this.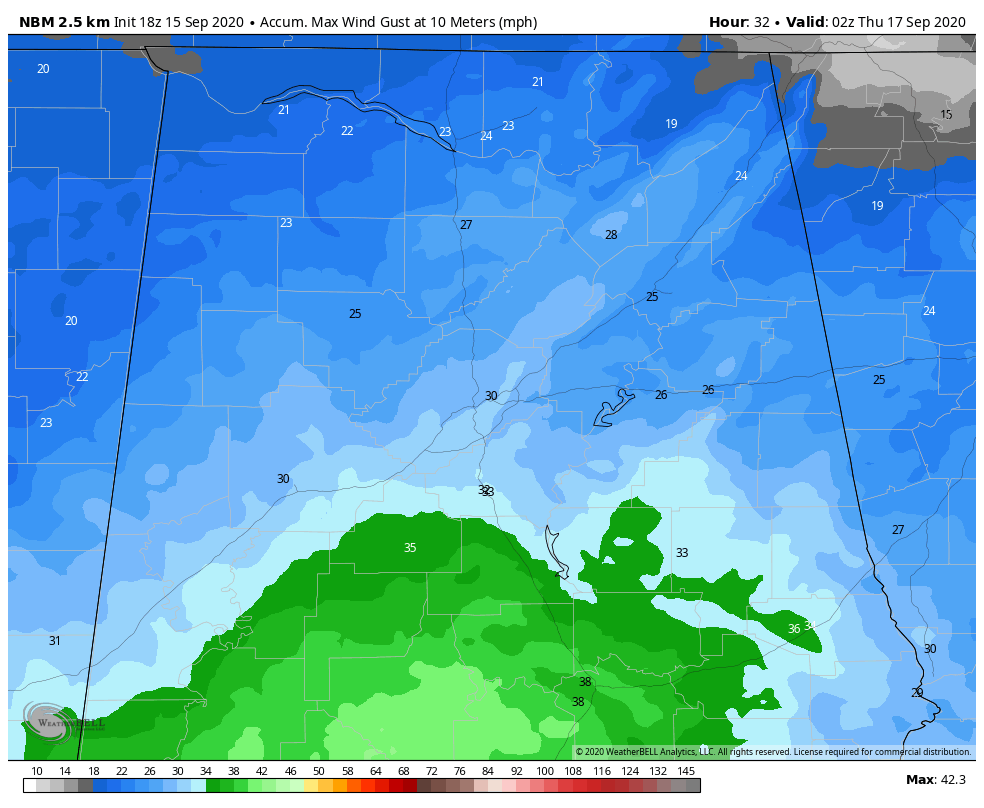 Moderate rain will ride up into Cental Alabama during the afternoon with the heaviest rain moving through South Central and East Central Alabama during the late afternoon and evening, and into Georgia after midnight.
Rainfall totals should look something like this: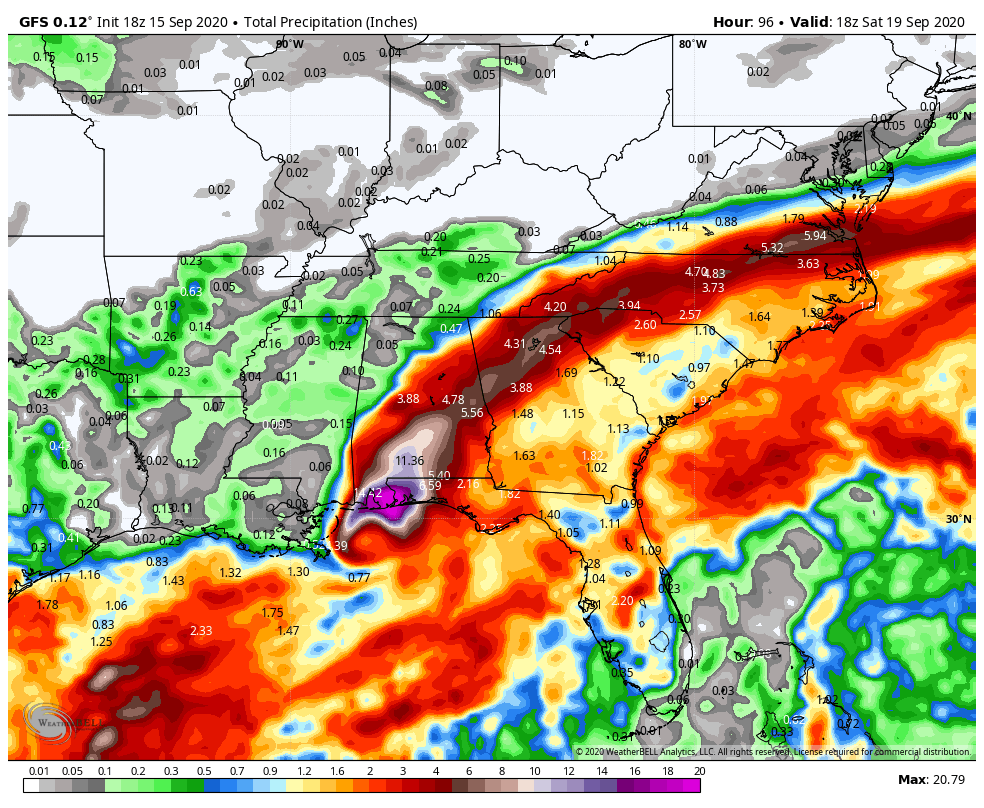 Severe weather in the form of a few brief tornadoes will be possible south of I-85 tomorrow.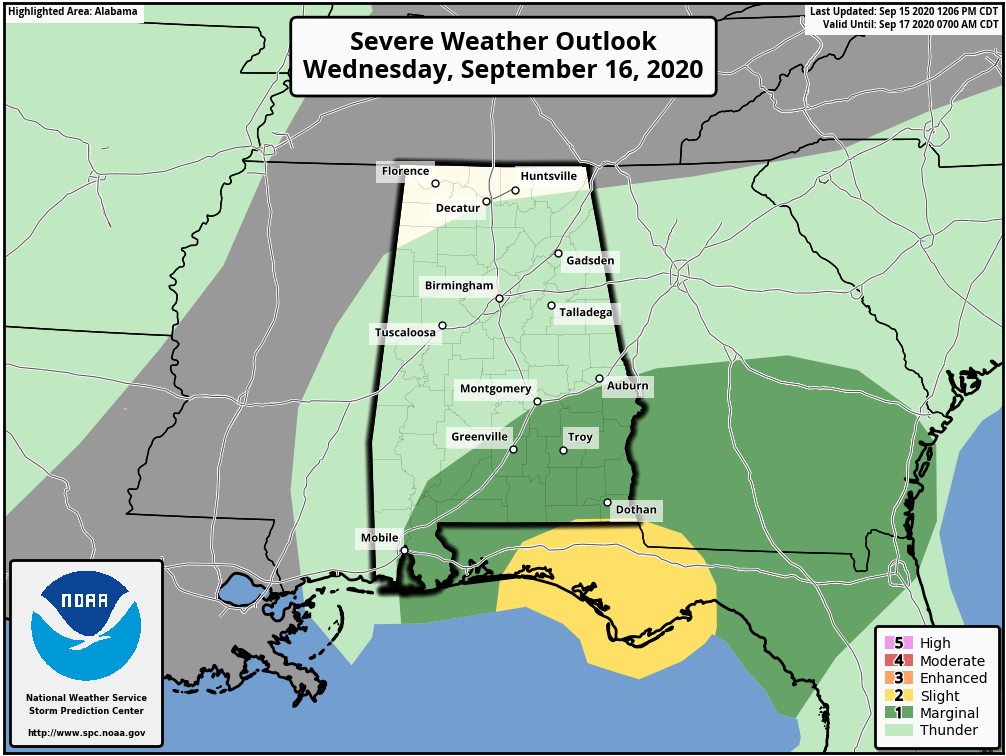 Category: Alabama's Weather, ALL POSTS, Tropical
Bill Murray is the President of The Weather Factory. He is the site's official weather historian and a weekend forecaster. He also anchors the site's severe weather coverage. Bill Murray is the proud holder of National Weather Association Digital Seal #0001
@wxhistorian