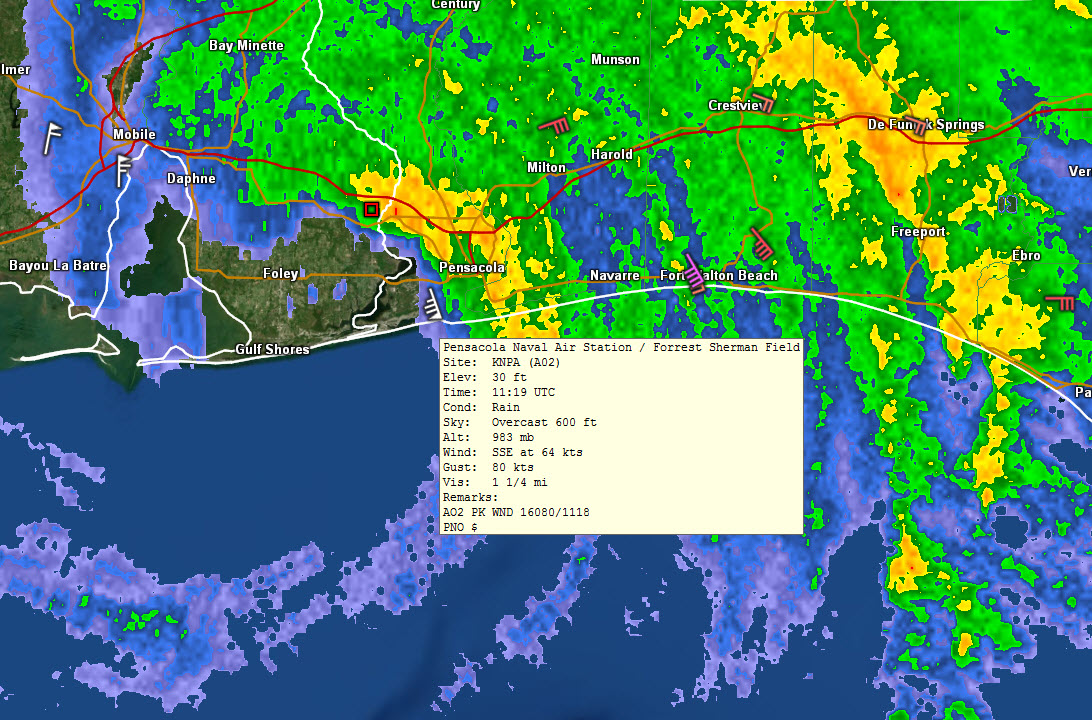 Winds just gusted to 92 mph at the Pensacola Naval Air Station.
PENSACOLA NAS,FL (NPA) ASOS (Caution: Maintenance Check Indicator) reports gust of 80.0 knots from SSE @ 1118Z KNPA 161119Z AUTO 16064G80KT 1 1/4SM RA OVC006 A2903 RMK AO2 PK WND 16080/1118 PNO $
24.8 in of rain measured at NAS Pensacola.
Winds just gusted to 82 mph at the NWS in Mobile.
4.74 inches of rain since midnight at Fairhope and 6.92 inches since midnight at Robertsdale. 6.25 inches since midnight at Foley.
The eyewall is moving through Pensacola right now. Gulf Shores is still in the calm. Winds will increase to 50-70 mph along the coast, with gusts to 90 mph again as the southern side of the storm comes ashore.
In Mobile, the eastbound I-10 Bayway is closed due to an overturned semi-truck on bridge.
There is significant damage in Gulf Shores.
The Shrimp Basket has been damaged.
Trees are down all over Mobile and Baldwin Counties. Trees are reported down and through homes in Elberta and Robertsdale just to mention two reports. There are probably hundreds.
There is damage in downtown Mobile. There are reports of damage to the Renaissance Hotel and there is landscape and architectural debris downtown.
The Mobile radar is down.
Bill Murray is the President of The Weather Factory. He is the site's official weather historian and a weekend forecaster. He also anchors the site's severe weather coverage. Bill Murray is the proud holder of National Weather Association Digital Seal #0001
@wxhistorian