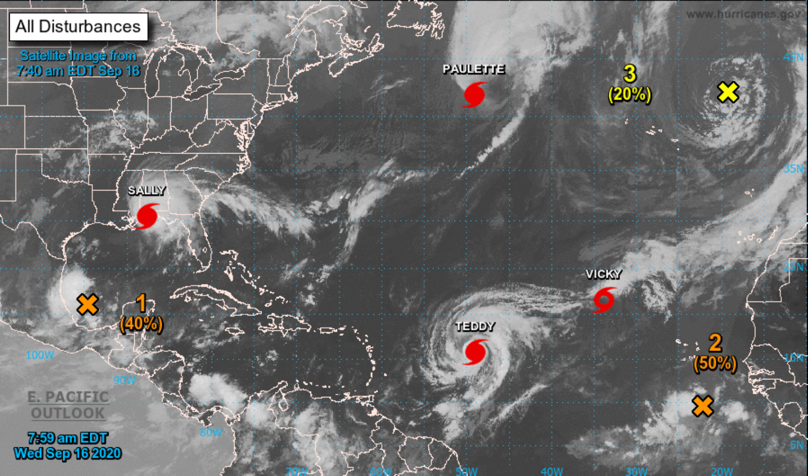 Even as we try to urge Hurricane Sally to get a move on over South Alabama and western Florida, Hurricane Teddy is now a category two hurricane and is expected to become a category four later this week. Teddy could impact Bermuda early next week. Of course, Bermuda just came through Hurricane Paulette, which brought winds of 100 mph and a direct hit on Monday.
Could Teddy get shunted back to the west, toward the United States? It doesn't appear likely, but not impossible.
Paulette is still a hurricane southeast of Newfoundland and is expected to become a powerful post-topical cyclone later today.
Tropical Storm Vicky is expected to weaken over the eastern Atlantic over the next couple of days.
There is a system over the southwestern Gulf of Mexico that the NHC is getting more interested in. They give it a 60% chance of development over the next five days. Most members of the European Ensemble move some sort of system northward over the western Gulf over the next ten days.
The system in the far eastern Atlantic will likely become a tropical cyclone in coming days. It should turn to the northwest.
Bill Murray is the President of The Weather Factory. He is the site's official weather historian and a weekend forecaster. He also anchors the site's severe weather coverage. Bill Murray is the proud holder of National Weather Association Digital Seal #0001
@wxhistorian