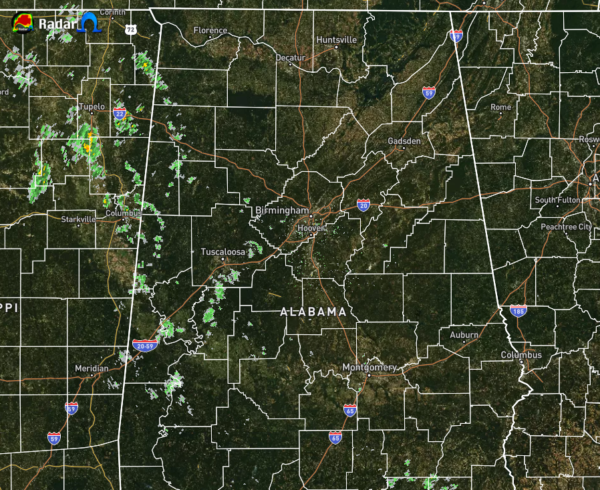 WEATHER FOR YOUR TUESDAY
At 12:00 pm, radar shows some scattered shower activity over the west and west-central parts of Central Alabama, but with the dry air in place over the area, most of what is being shown are probably not reaching the ground at this time. Otherwise, skies are mainly cloudy across Central Alabama. Temperatures as of noon were in the mid-60s to the lower 70s. Birmingham was at 72 degrees leading the way as the warm spot. Demopolis was the cool spot at 64 degrees.
Some scattered showers may be possible for locations west of a line from Jasper to Alexander City to Clayton in Barbour County, as the far reaches of Beta starts to get closer to the area. The rest of Central Alabama will stay mostly cloudy and dry. Highs will be in the lower to mid-70s. For tonight, we'll keep a chance of scattered showers in the forecast for the western half of the area as Beta inches even closer. The rest of the area will be dry and mostly cloudy. Lows will be in the upper 50s to the lower 60s.
THIS WEEK
Wednesday will be mostly cloudy throughout the day with the better chances of rain from Beta moving into the area late in the evening and through the night-time and overnight hours. No severe storms are expected as the air will be too cool and stable, but showers will be possible as early in the late morning hours. Highs will be in the 70s.
Thursday and Friday will be wet at times as a good bit of Beta's rain shield will slowly be moving through the area until the center of circulation dissipates over Mississippi. It will be cool on Thursday with highs in the lower to mid-70s for most of Central Alabama. As a southern flow starts on Friday, highs will be warmer reaching the upper 70s to the lower 80s. The air will be a little more unstable with the added heat on Friday so some thunder will be possible, but severe weather is not expected.
THE CENTRAL ALABAMA WEEKEND
While temperatures will be around our seasonal averages, scattered showers and a few rumbles of thunder will occupy portions of the radar screen for Central Alabama on both days. Don't cancel any plans as it will not be a washout, but have an umbrella handy just in case. Highs will be in the lower 80s on both days.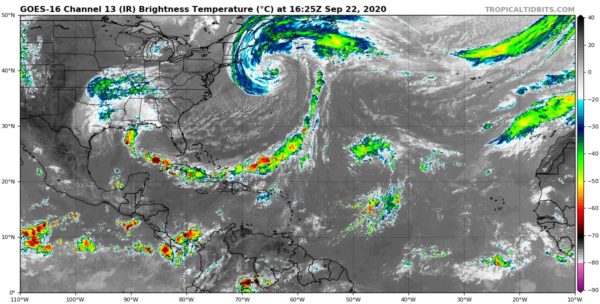 THE TROPICS STAY BUSY
Beta: At 1000 AM CDT (1500 UTC), the center of Tropical Storm Beta was
located by surface observations, satellites, and NOAA Doppler weather radars near latitude 28.9 North, longitude 96.7 West, or about 15 miles east-northeast of Victoria, Texas. The depression is drifting toward the northeast near 2 mph (4 km/h). A slow motion toward the east-northeast is expected by this afternoon and tonight. An east-northeastward to northeastward motion with increasing forward speed is expected Wednesday through Friday. On the forecast track, the center of Beta will move inland over southeastern Texas through Wednesday and then over Louisiana and Mississippi Wednesday night through Friday. Data from surface observations and NOAA Doppler weather radars indicate that maximum sustained winds have decreased to near 35 mph (55 km/h) with higher gusts. Little change in strength is expected today with gradual weakening anticipated through Friday.
Significant flash and urban flooding is occurring and will continue for the middle and upper Texas coast today. The slow motion of Beta will continue to produce a long duration rainfall event from the middle Texas coast to southern Louisiana. Flash, urban, and minor to isolated moderate river flooding is likely. Periods of rainfall will spread east into the Lower Mississippi Valley and portions of the Southeast through the end of the week. Flash, urban, and isolated minor river flooding is possible on smaller rivers. Persistent onshore flow will continue to result in above normal high tides, and coastal flooding over the next few days will be slow to recede.
Teddy: At 1100 AM AST (1500 UTC), the center of Hurricane Teddy was located by a NOAA Hurricane Hunter aircraft near latitude 39.6 North, longitude 63.7 West, or about 345 miles south of Halifax, Nova Scotia. Teddy is moving toward the north-northwest near 16 mph (26 km/h), and a turn toward the north-northeast is expected by early Wednesday. On the forecast track, the center will move over eastern Nova Scotia on Wednesday, and then near or over Newfoundland by Wednesday night and east of Labrador on Thursday. Maximum sustained winds are near 105 mph (165 km/h) with higher gusts. Although some weakening is likely later today and Wednesday, Teddy should be a strong post-tropical cyclone when it moves near and over Nova Scotia.
Teddy is expected to transition to a powerful post-tropical cyclone as it moves near or over portions of Atlantic Canada late today through Thursday. The most significant hazard expected from Teddy is large destructive waves forecast along the southern coast of Nova Scotia through Wednesday. Tropical Storm Watches and Warnings are in effect for portions of Nova Scotia, Prince Edward Island, and Newfoundland, and heavy rainfall across Atlantic Canada is expected with Teddy through Thursday. Very large swells produced by Teddy are expected to affect portions of Bermuda, the Leeward Islands, the Greater Antilles, the Bahamas, the east coast of the United States, and Atlantic Canada during the next few days. These swells are expected to cause life-threatening surf and rip current conditions.
Tropical Storm Paulette: At 300 PM GMT (1500 UTC), the center of Tropical Storm Paulette was located near latitude 35.0 North, longitude 22.3 West, or about 335 miles southeast of The Azores. Paulette is moving toward the east near 14 mph (22 km/h). An east to east-northeast motion is expected through Wednesday. A slowing of forward motion along with turns to the southeast then south is expected Wednesday night through Thursday. A southwestward motion is forecast to begin by late this week. Maximum sustained winds are near 40 mph (65 km/h) with higher gusts. Slow weakening is forecast, and Paulette is expected to become a remnant low within the next day or so.
ON THIS DATE IN WEATHER HISTORY
1989 – Hurricane Hugo quickly lost strength over South Carolina, but still was a tropical storm as it crossed into North Carolina, just west of Charlotte, at about 7 AM. Winds around Charlotte reached 69 mph, with gusts to 99 mph. Eighty percent of the power was knocked out to Charlotte and Mecklenburg County. Property damage in North Carolina was 210 million dollars, and damage to crops was 97 million dollars. The strongest storm surge occurred along the southern coast shortly after midnight, reaching nine feet above sea level at ocean Isle and Sunset Beach. Hugo killed one person and injured fifteen others in North Carolina. Newport, Rhode Island received some of the effects of Hugo with .18 inches of rain, 45 mph wind gust, and a barometer of 29.51 inches.
2005 – For the first time in the historical record, two hurricanes reached Category 5 intensity in the Gulf of Mexico in a single season as Hurricane Rita intensified before making landfall (Katrina and Rita).
Category: Alabama's Weather, ALL POSTS, Tropical
Scott Martin is an operational meteorologist, professional graphic artist, musician, husband, and father. Not only is Scott a member of the National Weather Association, but he is also the Central Alabama Chapter of the NWA president. Scott is also the co-founder of Racecast Weather, which provides forecasts for many racing series across the USA. He also supplies forecasts for the BassMaster Elite Series events including the BassMaster Classic.