We cannot stress the importance enough of being ready for Zeta to move through the area as a strong tropical storm or possibly as a weak hurricane later tonight and through the overnight hours. Secure any loose objects outside or even bring them inside temporarily until daylight on Thursday. Watch those trampolines as they may potentially take flight in these winds. These continued strong winds along with the ground becoming soggy will allow for many trees to fall and potentially knocking out the power and damaging property. Here is the latest timing on the strongest wind gusts across Central Alabama: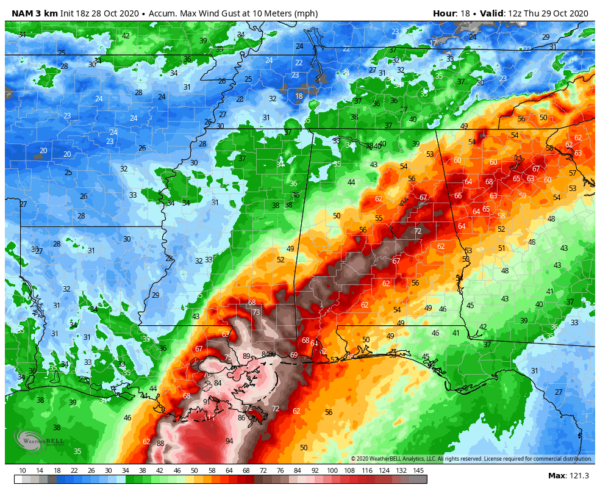 Southwest of a line from Fayette to Tuscaloosa to Troy, the timing for the worst of the weather will be from 8:00 pm to 3:00 am. Peak wind gusts can range from 20 MPH in the northwest to near 70 mph in the south-central parts of this area.
Northeast of that line to a line from Cullman to Anniston to Roanoke, the timing for the worst of the weather will be from midnight to around 4:00 am with peak wind ranging from 20 MPH in the northwestern parts to near 70 mph in the central and east-central parts of the area.
For the northeast corner of Central Alabama (northeast of a line from Cullman to Anniston to Roanoke), we can expect peak wind gusts of 40 to 65 MPH in the window of 2:00 am to 6:00 am.
Potential significant wind impacts across Central Alabama include:
Some damage to roofing and siding materials, along with damage to porches, awnings, carports, and sheds. A few buildings experiencing window, door, and garage door failures. Mobile homes damaged, especially if unanchored. Unsecured lightweight objects become dangerous projectiles.
Several large trees snapped or uprooted, but with greater numbers in places where trees are shallow-rooted. Several fences and roadway signs blown over.
Some roads impassable from large debris, and more within urban or heavily wooded places. A few bridges, causeways, and access routes impassable.
Scattered power and communications outages, but more prevalent in areas with above-ground lines.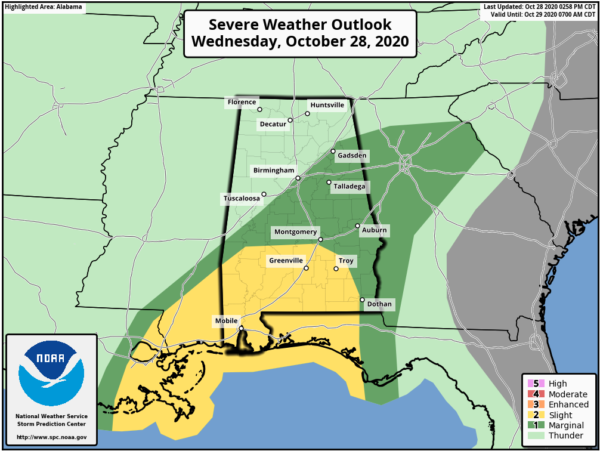 An isolated brief spin-up tornado or two will be possible south of I-59. Potential tornadic impacts include:
The occurrence of isolated tornadoes can hinder the execution of emergency plans during tropical events.
A few places may experience tornado damage, along with power and communications disruptions.
Locations could realize roofs peeled off buildings, chimneys toppled, mobile homes pushed off foundations or overturned, large tree tops and branches snapped off, shallow-rooted trees knocked over, moving vehicles blown off roads, and boats pulled from moorings.
Stay tuned for updates throughout the evening as Zeta rapidly heads in our direction. Have those batteries charged in your phones and fresh batteries in your flashlights. We are only a few hours away.
Category: Alabama's Weather, ALL POSTS, Severe Weather, Tropical
Scott Martin is an operational meteorologist, professional graphic artist, musician, husband, and father. Not only is Scott a member of the National Weather Association, but he is also the Central Alabama Chapter of the NWA president. Scott is also the co-founder of Racecast Weather, which provides forecasts for many racing series across the USA. He also supplies forecasts for the BassMaster Elite Series events including the BassMaster Classic.