Our surface low near New Orleans is indeed strengthening and moving northeast.
Wind shear will be increasing, but the limiting factor will be instability.
But there could be a tornado or two late this afternoon or early this evening in Southwest Alabama and later tonight in Southeast Alabama.
For North and Central Alabama, there is no threat of severe weather north of a line from Monroeville to Troy to Eufaula with the best chance over coastal Alabama, Northwest Florida, and extreme Southeast Alabama.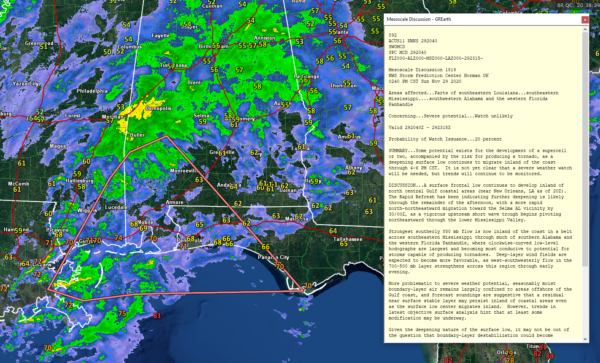 Mesoscale Discussion 1819
NWS Storm Prediction Center Norman OK
0240 PM CST Sun Nov 29 2020
Areas affected…Parts of southeastern Louisiana…southeastern
Mississippi….southwestern Alabama and the western Florida
Panhandle
Concerning…Severe potential…Watch unlikely
Valid 292040Z – 292315Z
Probability of Watch Issuance…20 percent
SUMMARY…Some potential exists for the development of a supercell
or two, accompanied by the risk for producing a tornado, as a
deepening surface low continues to migrate inland of the coast
through 4-6 PM CST. It is not yet clear that a severe weather watch
will be needed, but trends will continue to be monitored.
DISCUSSION…A surface frontal low continues to develop inland of
north central Gulf coastal areas (near New Orleans, LA as of 20Z).
The Rapid Refresh has been indicating further deepening is likely
through the remainder of the afternoon, with a more rapid
north-northeastward migration toward the Selma AL vicinity by
30/00Z, as a vigorous upstream short wave trough begins pivoting
northeastward through the lower Mississippi Valley.
Strongest southerly 850 mb flow is now inland of the coast in a belt
across southeastern Mississippi through much of southern Alabama and
the western Florida Panhandle, where clockwise-curved low-level
hodographs are largest and becoming most conducive to potential for
storms capable of producing tornadoes. Deep-layer wind fields are
expected to become more favorable, as west-southwesterly flow in the
700-500 mb layer strengthens across this region through early
evening.
More problematic to severe weather potential, seasonably moist
boundary-layer air remains largely confined to areas offshore of the
Gulf coast, and forecast soundings are suggestive that a residual
near surface stable layer may persist inland of coastal areas even
as the surface low center migrates inland. However, trends in
latest objective surface analysis hint that at least some
modification may be underway.
Given the deepening nature of the surface low, it may not be out of
the question that boundary-layer destabilization could become
sufficient to support an intensifying warm sector storm or two late
this afternoon. If this occurs, the wind profiles will be conducive
to the evolution of supercells, with the potential to produce a
tornado.
..Kerr/Hart.. 11/29/2020
Category: Alabama's Weather, ALL POSTS, Spacey Stuff
Bill Murray is the President of The Weather Factory. He is the site's official weather historian and a weekend forecaster. He also anchors the site's severe weather coverage. Bill Murray is the proud holder of National Weather Association Digital Seal #0001
@wxhistorian