**NO VIDEO THIS AFTERNOON AS WE REMAIN ON A VACATION SCHEDULE**
We have adjusted our timing for tomorrow night's potential severe weather event. There is a risk of damaging winds and isolated tornadoes in the marginal risk (level 1/5) areas, highlighted in green on this map. There is a higher risk (level 2 out of 5) in the yellow highlighted area. There is still a great deal of uncertainty in how this system will evolve, so stay tuned.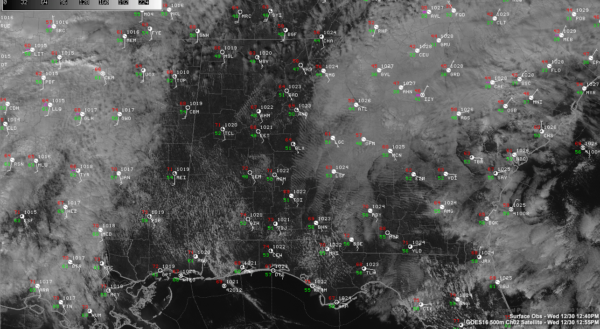 Sunshine is now prevalent across most of North and Central Alabama this afternoon as areas of low clouds that formed late last night have eroded into stratocumulus this afternoon. Temperatures have really responded in areas that have seen substantial sunshine. The mercury has reached 70F at Birmingham and 72F at Tuscaloosa. It is 73F at Montgomery.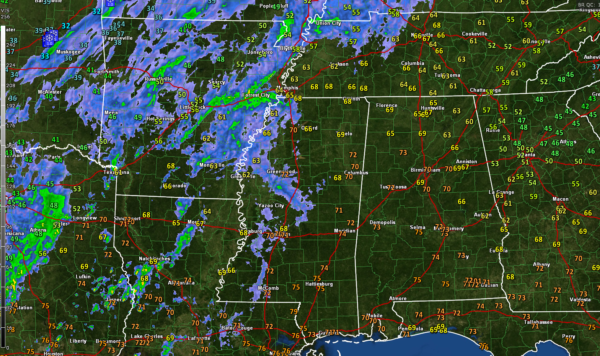 Rain now covers wide areas to the west and northwest of Alabama. Extensive lightning is occurring from thunderstorms over eastern Texas. Tyler TX has 53F with a thunderstorm in progress. There is some snow over eastern Oklahoma. 1-2 inches of snow is on the ground around Tulsa.
TONIGHT
It should be dry across Central Alabama, with just a few showers across northwestern sections. Lows will range from 50F over the Tennessee valley to 58F around Montgomery.
THURSDAY MORNING
The day should start out mostly cloudy in most locations. A few showers will break out during the morning, mainly over South Central Alabama. You will notice a freshening southeasterly breeze averaging 10 mph and occasionally gusting higher.
THURSDAY AFTERNOON
The afternoon should be mainly mild, dry, and mostly cloudy with just a few showers popping up. Highs will look something like this.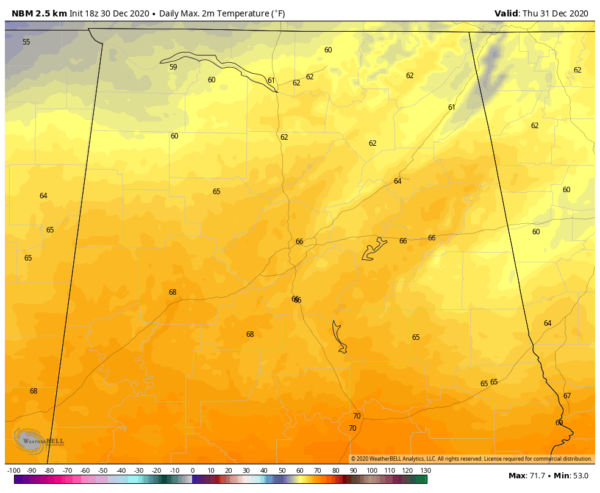 Severe weather will be ramping up by late afternoon over Louisiana. Tornadoes and damaging winds will be possible by mid to late afternoon in places like Alexandria, Lafayette, and eventually, Baton Rouge as a slightly unstable airmass is overlain by a powerful low-level jet. Backed low level winds out o the southeast will enhance the tornado threat. This threat will move into southern Mississippi during the evening hours and eventually into Southwest portions of South and Central Alabama.
THURSDAY NIGHT
Pre-frontal storms will spread into Southwest Alabama between 6-9 p.m. Thursday night.
Conditions over Southwest Alabama in places like Thomasville, Jackson, and Mobile may be conducive to severe weather, including damaging winds, and isolated tornadoes. This band will spread up into Central Alabama between 10 p.m. and midnight. It is uncertain whether conditions will result in severe weather with this activity, but it is still too early to tell.
FRIDAY MORNING
The system seems to be slowing now, which may extend the window severe weather potential. Here is the 3km NAM for 6 a.m. Friday morning showing the storms along the front in West and Southwest Alabama.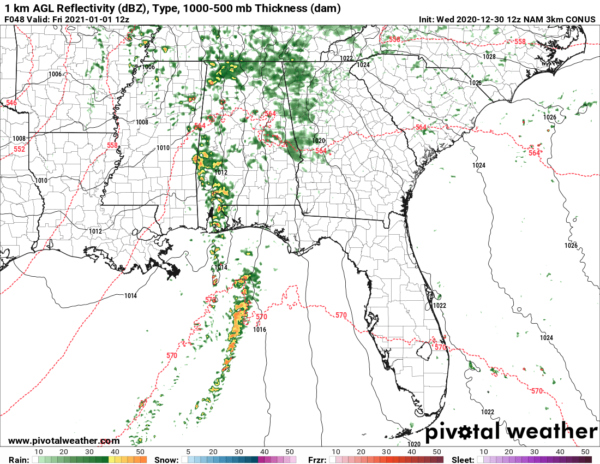 By 9 a.m., the storms will have moved rapidly up into Central Alabama. But instability will have weakened substantially by that time and damaging winds would not be as likely. They should exit the state by mid-afternoon. It appears that temperatures will warm into the upper 60s to lower 70s Friday with some sun reappearing.
COULD THERE BE A RESURGENCE?
Any additional delay in the system's speed could lead to a resurgence in the storms late Friday morning and early afternoon over southeastern sections of Central Alabama, most likely in the I-85 Corridor and points south. We will be monitoring for the possibility.
HEAVY RAIN
Rainfall forecasts have backed off a bit, but heavy rain could produce local flooding. The threat is just less than it was thought to be earlier.
WIND ADVISORIES
Wind advisories will likely be required for Thursday and Thursday night for parts of Central and North Alabama. Winds will gust to 35 mph at times even outside thunderstorms. This could bring down tree limbs or topple weaker trees.
BOTTOM LINE
This is still a fluid, uncertain situation as to the timing and extent of severe weather. For now, it appears that strong to severe thunderstorms will occur much of Alabama, including the threat of damaging winds of 60 mph or greater and a few tornadoes. The higher threat is over southwestern sections of the state, with the highest threat back over Louisiana and Southwest Mississippi.
CALL TO ACTION: Bottom line is that everyone needs to be weather aware Thursday night and early Friday morning. Be prepared and make sure you have all aspects of your severe weather safety plan ready for action. Be sure you have a way of hearing severe weather warnings, and an action plan if you are in a tornado warning polygon, take severe thunderstorm warnings seriously too. Have a NOAA Weather Radio in your home and business, properly programmed with a fresh battery in case of power failure. Be sure WEA (Wireless Emergency Alerts) enabled on your phone… this is not an app, but built into every phone sold in the U.S. Check settings, and notifications, and be sure emergency alerts are on. Have the free ABC 33/40 weather app on your phone as a secondary way of getting warnings. Search the App Store for "ABC 33/40 Weather" if you don't have it already.
In a site built home, identify the safe place. Small room, lowest floor, near the center of the house, away from windows. And, in that safe place, have helmets for everyone in the family (including adults!), portable air horns, and hard sole shoes. You CANNOT stay in a mobile home if you are in a tornado warning polygon. Know the closest shelter, and how to get there quickly.
Sheltering from a tornado is first priority when it comes to the COVID-19 situation. A tornado is an immediate threat to life; get to your safe place or shelter and do the best you can to protect yourself from exposure to the virus.
WEEKEND
A few showers could impact North Alabama Saturday, but Central Alabama looks like it will be dry. Highs will range from 52-58F. Sunday will be dry and slightly cooler.
BOWL UPDATE
Miserable weather in the Dallas Metroplex for the Rose Bowl Playoff game between Alabama and Notre Dame. Rain and storms through tonight with rain continuing for much of New Year's Eve despite temperatures in the 40s and 30s. New Year's Day will be dry, cool, and windy, with highs in the mid-40s.
In Orlando, much more pleasant weather for Auburn and Northwestern. Partly sunny conditions through Friday. Highs will be in the lower 80s. Lows will be in the middle 60s.
ON THIS DATE IN 1917
Major cold wave across the East known as the "Great World War I Cold Wave." Mercury plunged to 13 degrees below zero at New York City and 15 below at Boston. The temperature would drop below zero for five nights in a row at Boston. Berlin NH would record 44 degrees below zero. Tennessee recorded its coldest temperature ever (-32F) as did West Virginia (-17F).
Category: Alabama's Weather, ALL POSTS, Severe Weather
Bill Murray is the President of The Weather Factory. He is the site's official weather historian and a weekend forecaster. He also anchors the site's severe weather coverage. Bill Murray is the proud holder of National Weather Association Digital Seal #0001
@wxhistorian