Here is an update on the Alabama weather situation just after 8 p.m.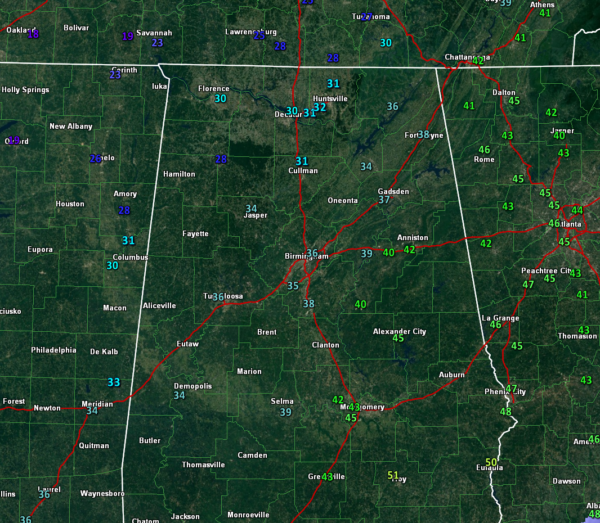 All is calm across North and Central Alabama tonight with just cloudy and cold conditions. Temperatures are in the 30s over the northern half of the state, with readings below freezing over North and Northwest Alabama. It is already 29F at Haleyville.
Temperatures are expected to look like this by morning: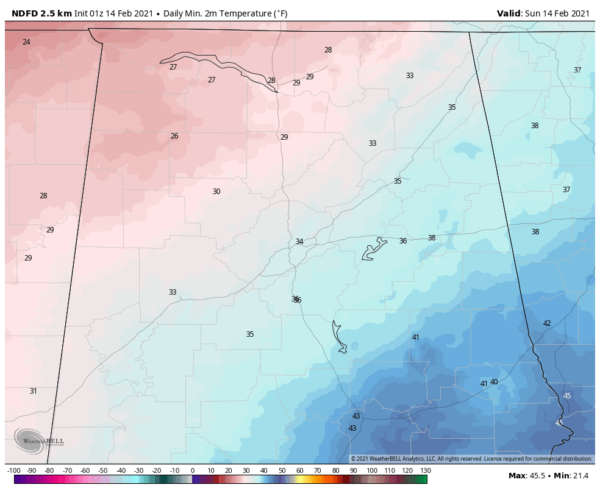 There could be a little freezing fog over the Tennessee Valley tonight.
We will be cloudy and cold again on Sunday. Highs will look like this: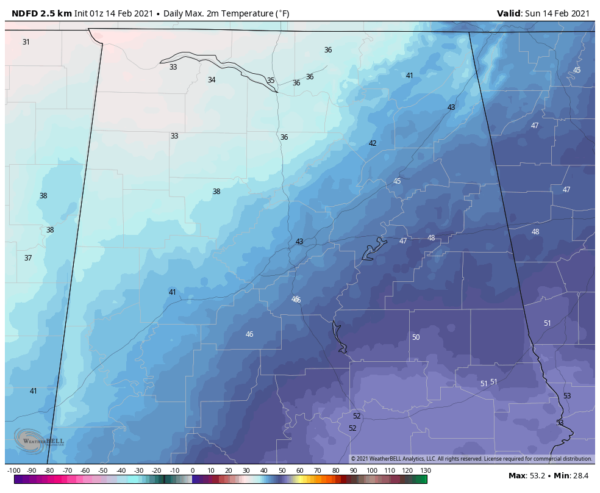 Winter storm warnings cover ALL of Oklahoma and Arkansas, and 80% of Texas, as well as northern Louisiana, western Tennessee, and much of Mississippi. Winter storm watches and weather advisories extend across all of the remainder of Texas! There is even a winter storm watch for Brownsville and McAllen and the Rio Grande Valley where freezing rain is expected tomorrow night.
Here in Alabama, no advisories tonight, but winter weather advisories will go into effect tonight at 6 p.m. Sunday for Marion, Lamar, and Winston counties. A winter storm watch begins at the same time for northwestern Alabama including Lauderdale, Colbert, Franklin, Lawrence, and Limestone counties.
Precipitation will reach Northwest Alabama by late this afternoon. Temperature profiles will be critical to precipitation type. There will be shallow cold air near the surface, with much warmer air aloft. This profile produces freezing rain and precipitation aloft melts and falls into temperatures near or below freezing. We will be watching thermometers intently minute by minute tonight and again on Monday.
Near the surface, temperatures will fall to near or below freezing early Sunday evening for areas across Northwest Alabama, including parts of Lamar, Marion, and Winston counties where a Winter Weather Advisory will go into effect at 6 p.m. Sunday, and Lauderdale, Colbert, Franklin, Limestone, and Lawrence counties where a Winter Storm Watch will commence at the same time. In these areas, the precipitation will fall as freezing rain Sunday night. Lows Sunday night will be in the upper 20s to near freezing in the advisory and watch areas, with upper 30s near I-59, and lower 40s to the southeast when the precipitation will fall as all rain. The precip will end by Monday morning.
The second wave of precipitation will follow quickly Monday morning. Freezing rain will commence over western Alabama counties between 9 a.m. and noon. It will increase during the afternoon with periods of freezing rain and sleet. To the south, a cold rain will fall in the I-59 corridor and points southeast. It will be a close call for snow in the northwestern corner of the state, with freezing rain and snow mixed around the Shoals.
A Winter Watch will also go into effect for these counties in the NWS Birmingham warning area at 6 a.m. Monday: Marion, Lamar, Winston, Fayette, Walker, Pickens, Tuscaloosa, Sumter, and Greene. The North Alabama counties will still be in a Winter Storm Watch all of Monday with Madison, Morgan, and Cullman Counties coming into the Watch starting at 3 p.m. Monday.
Ice accumulations will range from 1/10 of an inch to three-tenths of an inch in the Winter Storm Watch areas before the precipitation moves out late Monday night. There could be up to three inches of snow and sleet over Northwest Alabama.
Anytime you get any freezing rain, you can have significant travel problems, with travel becoming extremely hazardous to impossible when accumulations reach one-tenth of an inch. When accumulations surpass one-tenth of an inch, you begin to see significant damage to trees along with power outages. This will be in the case in the Winter Storm Watch areas.
Here are expected ice accumulations in Alabama: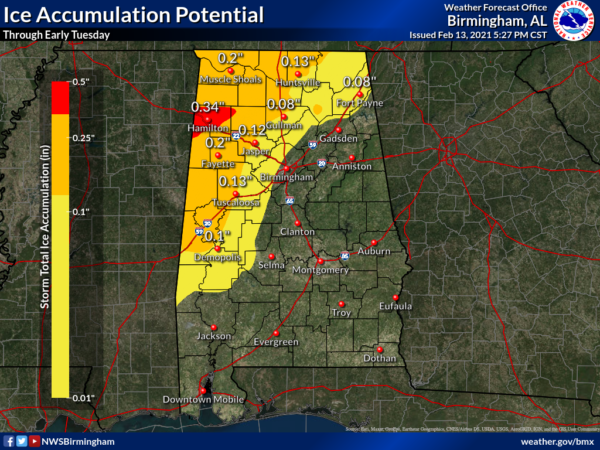 Of course, any ice accumulations can cause travel issues, and accumulations of one-tenth of an inch or greater can cause significant travel problems. Accumulations of greater than one-quarter of an inch can start causing significant tree damage and power outages.
Colder air will spill in from the west Monday night, with lows in the teens and lower 20s for areas northwest of I-59, and middle and upper 20s southeast of there. Winds will become gusty out of the northwest Monday afternoon and night, reaching 20 mph at times, making it even more miserable. Wind chills could reach 10-20F over Central Alabama with readings between 0-10F.
Rain returns Wednesday evening, and there could be some mixed precipitation over the extreme Northwest, around the Shoals. The precipitation will continue into Thursday, and again will be mostly rain over the northwestern half of Alabama. There will be storms to the southeast of the track of the low-pressure center. Some of the storms could end up being strong over Southeast and East Central Alabama, southeast of I-59.
I will have an update on the latest thinking and a forecast update by 10 p.m. and early updates starting at 5 a.m. on any watch/warning/advisory changes.
Category: Alabama's Weather, ALL POSTS, Winter Weather
Bill Murray is the President of The Weather Factory. He is the site's official weather historian and a weekend forecaster. He also anchors the site's severe weather coverage. Bill Murray is the proud holder of National Weather Association Digital Seal #0001
@wxhistorian