As we mentioned earlier, freezing fog is possible across the Tennesee valley overnight.
Current temperatures look like this: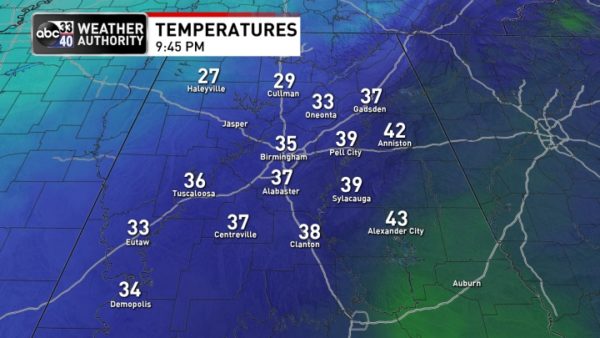 …Significant Weather Advisory for Patchy Freezing Fog across most
of northern Alabama and southern middle Tennessee…
Patchy freezing fog has formed across much of northern Alabama and
southern middle Tennessee this evening. Visibility reductions of two
to four miles were common across the area, with some locations
visibilities reduced to one mile.
As temperatures fall below freezing overnight, moisture within this
fog could produce a thin layer of ice on elevated and exposed
surfaces. This could result in a few slick spots on elevated roadways
such has bridges and overpasses. Locations in southern middle
Tennessee and much of northern Alabama, especially locations west of
Huntsville will be subject to freezing fog.
Motorists are urged to drive with extreme caution, especially across
elevated roadways, as patchy ice formation is possible. Reduce your
driving speed as needed, and allow for plenty of room between you
and other vehicles.
Conditions should slowly improve after daybreak Sunday morning.
Temperatures in some areas may not rise to or above freezing until
the late morning.
Stay tuned to NOAA Weather Radio, or a favorite local media outlet,
for further statements or updates from the National Weather Service
in Huntsville.
Category: Alabama's Weather, ALL POSTS, Winter Weather
Bill Murray is the President of The Weather Factory. He is the site's official weather historian and a weekend forecaster. He also anchors the site's severe weather coverage. Bill Murray is the proud holder of National Weather Association Digital Seal #0001
@wxhistorian