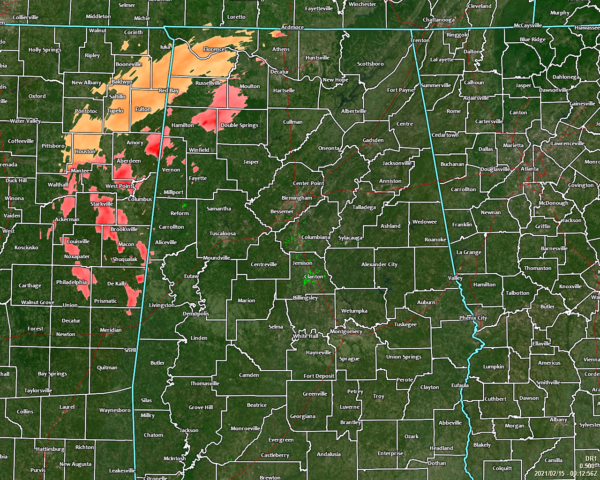 The first round of sleet and freezing rain is moving through the northwestern parts of North/Central Alabama at this time, and the potential for accumulations have started. Freezing rain along with sleet is being reported in Florence. Roads are just wet for now, but a glaze of ice has already accumulated on vehicles.
Several accidents have been reported in Lauderdale and Colbert counties due to icy conditions on roadways.
There is a possibility that this activity may transition into more of a mix of sleet and snow as we go through the evening. Accumulations of 0.10 to 0.15 inches of ice are possible mainly west of I-65 and as far south as Lamar, Fayette, and Pickens counties. When the additional wintry precipitation moves in on Monday, that action will accumulate on what occurs tonight due to temperatures staying below freezing. Temperatures are not expected to get above freezing again until Wednesday afternoon.
For the rest of North/Central Alabama, radar is free of precipitation for locations south of the I-20 corridor in the western parts of the area, along with the eastern half of the area east of the I-65 corridor. Temperatures were in the upper 20s to the lower 50s across the area. Locations such as Huntsville, Decatur, Cullman, Muscle Shoals, Florence, and Haleyville were already below freezing. Birmingham and Tuscaloosa were sitting at 36 degrees. Not surprising, Troy was the warm spot at 52 degrees.
A WINTER STORM WARNING continues in effect until 12:00 am Tuesday for most counties in North Alabama (Colbert, Cullman, Franklin, Lauderdale, Lawrence, Limestone, Madison, Morgan), and for a good chunk of counties in Central Alabama (Fayette, Greene, Lamar, Marion, Pickens, Sumter, Tuscaloosa, Walker, Winston). Hale and Marengo counties in Central Alabama will go into effect at 6:00 am Monday morning, and Dekalb, Jackson, and Marshall counties will go into effect at 3:00 pm Monday afternoon.
A WINTER STORM WATCH continues for Bibb, Blount, Jefferson, Perry, and Shelby counties in Central Alabama until Tuesday at 12:00 am.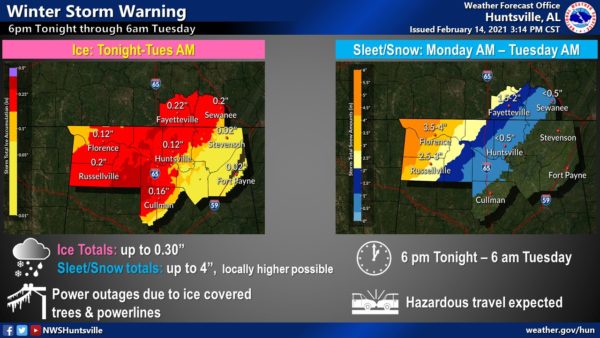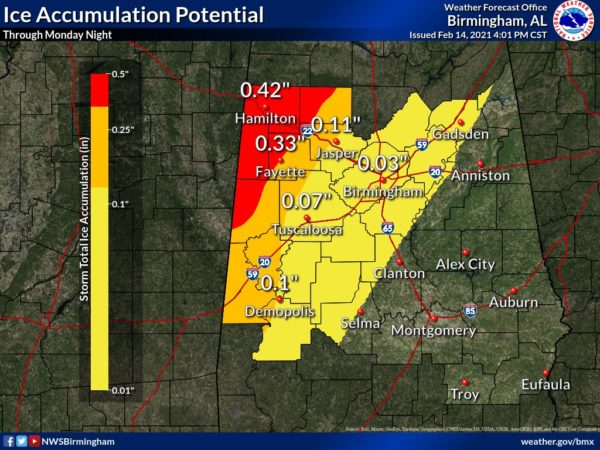 Ice accumulations from a light glaze up to close to 0.50 inches will be possible across North/Central Alabama before all is said and done with on Monday night. Even after all the precipitation moves out of the area, more slick spots will form due to the remaining moisture on the roadways as overnight lows will fall into the lower teens to the upper 20s across the area from northwest to southeast. The bad news is that some of those locations in the northwestern parts of Central Alabama may not get above freezing again until Wednesday morning, as Tuesday's highs are projected to reach the upper 20s to the upper 40s across the area from northwest to southeast. Wednesday's highs will be in the lower 40s to the upper 50s across the area from northwest to southeast.
Make sure your phones, tablets, and other devices are fully charged.
Travel is highly discouraged, but if you have to travel due to an emergency, be sure to pack an emergency kit (jumper cables, sand or kitty litter, flashlight, warm clothes and blankets, bottled water, and non-perishable snacks).
Set your refrigerator and freezer to the coldest settings.
If you lose power and need to use a generator, be sure to turn the main off in the breaker box before you plug it in.
Have a safe alternate heat source. Some may lose power for more than 24 hours and overnight lows are expected to be in the teens and 20s.
We'll continue with updates throughout this wintry event.
Category: Alabama's Weather, ALL POSTS, Winter Weather
Scott Martin is an operational meteorologist, professional graphic artist, musician, husband, and father. Not only is Scott a member of the National Weather Association, but he is also the Central Alabama Chapter of the NWA president. Scott is also the co-founder of Racecast Weather, which provides forecasts for many racing series across the USA. He also supplies forecasts for the BassMaster Elite Series events including the BassMaster Classic.