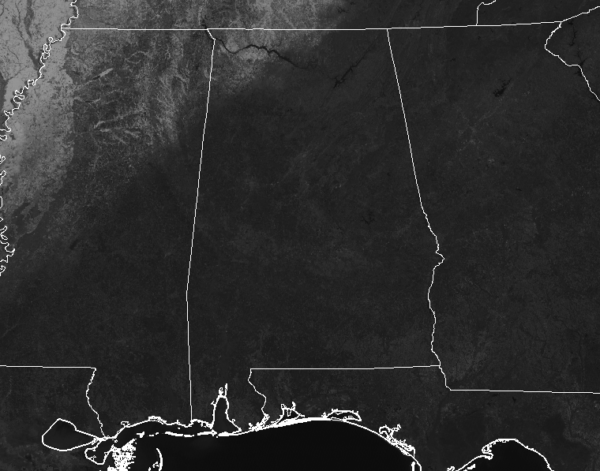 AT 11:00 AM: Skies are at maximum sunshine across all of Alabama as we start to make our run-up to the midday hour. We can still see some snow and ice cover over the northwest corner of North Alabama, but hopefully, that will melt away through the remainder of the day. Temperatures were in the upper 30s to the lower 50s across the area. Haleyville was the cold spot at 37 degrees. The warm spot was Troy at 53 degrees. Birmingham was sitting at 45 degrees.
REST OF TODAY: Skies will remain sunny through the rest of the daylight hours on your Saturday with afternoon highs reaching the upper 40s to the upper 50s from northwest to southeast across Central Alabama. For tonight, skies will be clear and lows will dip down into the mid-20s to the lower 30s.
SUNDAY: It will be another sunny day during the daylight hours, but it will be quite breezy at times as winds could gust as high as 20 mph out of the south. A disturbance will move in late that will bring an increase of clouds during the evening with the potential for showers after midnight. Highs will be in the upper 50s to the mid-60s.
SEVERE WEATHER AWARENESS WEEK STARTS TOMORROW: Alabama is no stranger to severe weather, including tornadoes. They can happen any month of the year and any time, day or night. However, our primary severe weather season is considered to be from November to May. Last year, 73 tornadoes touched down across Alabama. Unfortunately, four lives were lost, and over a dozen were injured. Advanced planning and increased awareness will help residents of Alabama survive these deadly storms. Throughout the week, we'll have special posts and infographics on the blog about severe weather awareness and safety.
At the end of the week, the state of Alabama will hold a sales tax holiday for severe weather preparedness items. Don't miss this great opportunity to purchase any items you may be missing from your emergency kit. For more information, including tax-exempt items and participating counties and municipalities, please visit https://revenue.alabama.gov/sales-use/sales-tax-holidays.
ON THIS DAY IN WEATHER HISTORY: 1989 – Thunderstorms developing during the early afternoon produced severe weather from eastern Texas to Alabama and northwest Florida. Thunderstorms spawned a dozen tornadoes during the afternoon and evening. Thunderstorms also produced 90 mph winds around Vicksburg MS, and 100 mph winds around Jackson MS.
Category: Alabama's Weather, ALL POSTS
Scott Martin is an operational meteorologist, professional graphic artist, musician, husband, and father. Not only is Scott a member of the National Weather Association, but he is also the Central Alabama Chapter of the NWA president. Scott is also the co-founder of Racecast Weather, which provides forecasts for many racing series across the USA. He also supplies forecasts for the BassMaster Elite Series events including the BassMaster Classic.