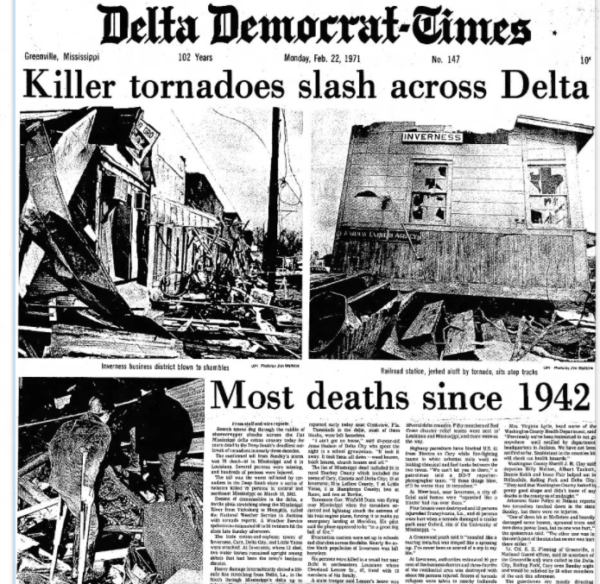 On the morning of Sunday, February 21, 1971, a surface low was over Central Texas near Waco. The low had caused severe weather overnight in the Hill Country. A warm front extended east from the low across northern Louisiana, Central Mississippi, into Alabama. South of the boundary, winds were southerly and dewpoints were in the middle 60s at moist air surged northward.
At Jackson, Mississippi, thunderstorms were occurring with a temperature of 68F and a dew point of 66F. At New Orleans, it was 71F over 67F.
In the upper atmosphere, a highly amplified pattern was in place across the U.S. with a huge full latitude trough extending from North Dakota to New Mexico. The trough was progressing eastward. Ahead of it, a diffluent pattern aloft was in place over the Lower Mississippi Valley. This upper divergence would be a key factor in a significant tornado outbreak.
At the National Weather Service in Jackson, forecasters knew it was going to be a bad day. But Sundays in Mississippi were a sleepy time. Forecasts and statements highlighted the threat, but radio stations were broadcasting recorded programs. Most didn't have a NOAA Weather Wire teletype drop anyway. Some had the Associated Press wire. The news departments in most television stations were not staffed. There was no NOAA Weather Radio.
By early afternoon, sunshine had driven surface temperatures to near 80 degrees across the Mississippi Delta. Instabilities were sky high and the diffluent pattern aloft made for an explosive situation. Just before 3 p.m. CST, an F5 tornado touched down near Delhi, Louisiana. It roared northeast, crossing the Mississippi River into Mississippi. Eleven people died in Louisiana and another thirty-six in Mississippi. The town of Inverness was completely obliterated. Twenty-one people died there.
Around 4 p.m., a family of tornadoes started in Issaquena County, Mississippi. It would produce damage along a 160-mile path all the way to north of Oxford. F4 damage was caused along much of the path. The town of Cary was destroyed and eleven people died in the area. A total of fifty-eight fatalities were reported with these tornadoes. Thirteen people died in an F4 tornado that cut a 70-mile path of destruction through Warren, Yazoo, and Holmes County.
A total of 121 fatalities were reported in Mississippi and Louisiana, making it one of the deadliest tornadoes outbreaks in United States history.
Category: ALL POSTS, Met 101/Weather History
Bill Murray is the President of The Weather Factory. He is the site's official weather historian and a weekend forecaster. He also anchors the site's severe weather coverage. Bill Murray is the proud holder of National Weather Association Digital Seal #0001
@wxhistorian