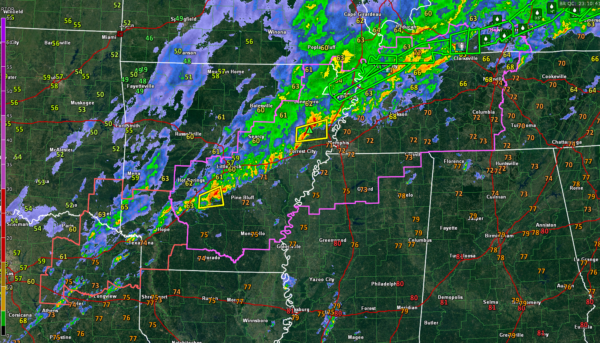 A line of strong storms continues to push southeastward late this afternoon, intensifying as it goes.
It is approaching Longview, TX, Texarkana, Memphis, and Jackson, Tennessee at this hour.
Numerous flash flood warnings are in effect from northeastern Arkansas through northwest Tennessee and into southern Kentucky. The rainfall reports across southern Kentucky are quite impressive, including several reports between 3-4 inches, like 3.98 inches at hays, Kentucky, east of Bowling Green.
A tornado watch continues until 10 p.m. for the southeastern half of Arkansas, northwestern Mississippi, southern Kentucky, and much of western Tennessee. A severe thunderstorm continues until 6 p.m. CST for Northeast Texas, Southeast Oklahoma, and southwestern Arkansas.
It is warm and humid across North and Central Alabam tonight, although afternoon mixing lowered dewpoints a bit. Still, preciptable waters are expected to increase into the 1.5-1.8 inches range later this evening ahead of a cold front that is currently just behind the line of storms.
Instability values are expected to increase to between 500-750 joules/kg over West Central and Central Alabama after midnight with 40-50 knots of bulk shear. Storms dropping into this environment will have the potential to become severe, with damaging winds and hail. Storm relative helicity values will be above 200 m2/s2 in spots and this could result in a couple of tornadoes.
There is a risk of severe weather including damaging winds, hail, and a couple of tornadoes along and northwest of a line from Tuscaloosa to Birmingham to Gadsden overnight.
But I have become concerned about areas along and northwest of I-20 from Marion, Lamar, and Pickens Counties east-northeastward across Winston, Fayette, Tuscaloosa, then into Cullman, Blount, Jefferson, and St. Clair Counties between 10 p.m. and 5 a.m. The ingredients may come together to produce a tornado or two in this area during the late-night hours.
This underscores the fact that you have to have a reliable source of warnings that will wake you up if you are asleep. And you should have multiple ways to get warnings layered on top of one another, starting with a NOAA Weatheradio. Review your tornado safety plan and know where you will go the instant a warning is issued for your location.
In addition, flood watches continue for North and West Central Alabama through Monday morning.
Category: Alabama's Weather, ALL POSTS, Severe Weather
Bill Murray is the President of The Weather Factory. He is the site's official weather historian and a weekend forecaster. He also anchors the site's severe weather coverage. Bill Murray is the proud holder of National Weather Association Digital Seal #0001
@wxhistorian