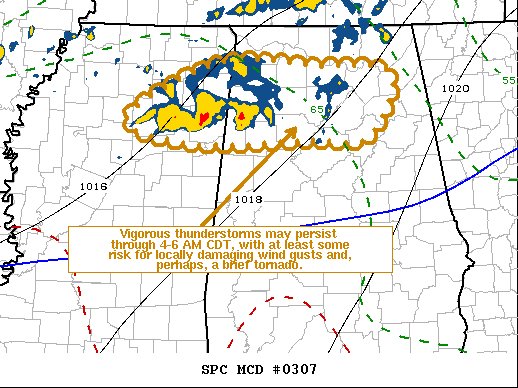 SUMMARY… Vigorous thunderstorm development may persist and continue to spread east-northeastward across the region through 4-6 AM CDT, with at least some continuing risk for potentially damaging surface gusts and, perhaps, an isolated, brief tornado.
DISCUSSION… An eastward advancing zone of low/mid-level warm advection (mostly in the 850-700 mb layer) continues to support a developing area of thunderstorm activity across northern Mississippi into Alabama. Ascent is being enhanced by high-level divergence downstream of the base of amplified large-scale troughing, which is forecast to spread toward the southern Appalachians through 11-12Z.
This convection includes a small, but organizing cluster of storms (currently north of Columbus, MS), preceded by an isolated supercell, supported by inflow of weak to moderate CAPE on the order of 500-1000 J/kg. Stronger convection probably has become rooted close to the surface, where hodographs within the inflow layer may be moderately large and clockwise curved beneath a 30-40 southwesterly 850 mb jet. Otherwise, activity appears mostly rooted above weakly unstable to neutral near surface lapse rates which trend at least a bit more stable with eastward extent into the southern Appalachians. This seems likely to continue to inhibit tornado potential, although an isolated, brief tornado may not be completely out of the question. However, with weak mid-level lapse rates expected to continue to minimize the potential for severe hail, locally damaging wind gusts appears the primary potential severe hazard, aided by heavy precipitation.
Category: Alabama's Weather, ALL POSTS, Severe Weather
Scott Martin is an operational meteorologist, professional graphic artist, musician, husband, and father. Not only is Scott a member of the National Weather Association, but he is also the Central Alabama Chapter of the NWA president. Scott is also the co-founder of Racecast Weather, which provides forecasts for many racing series across the USA. He also supplies forecasts for the BassMaster Elite Series events including the BassMaster Classic.