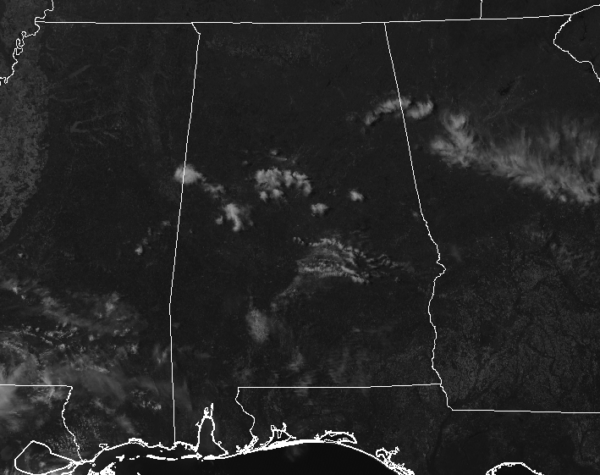 Other than a few rogue clouds floating over head, we have a great deal of sunshine on this first Saturday in April. Temperatures are running in the 60s across the area. Troy was the warm spot at 67 degrees while Gadsden was the cool spot at 61 degrees. Birmingham was at 62 degrees.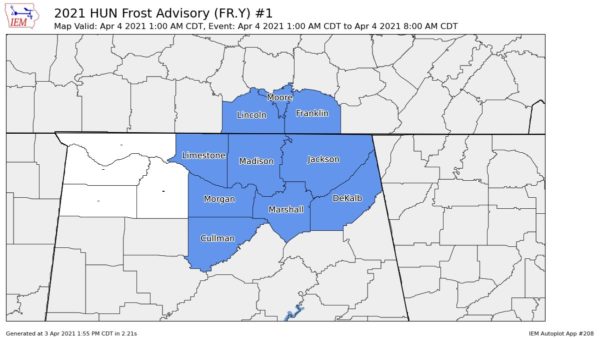 A Frost Advisory has been issued for the central and eastern parts of North Alabama starting at 1 am Sunday morning and is set to expire at 8 am. Just like in the previous couple of mornings where the temperatures dipped below freezing, take steps to protect your sensitive plants and animals from the cold.
With clear skies, all the daytime radiation from the sunshine today will be able to mostly escape back up into the atmosphere and into space, which will allow overnight lows to dip into the mid to upper 30s across all of North/Central Alabama.
Easter Sunday will be an absolute fabulous day across the area with tons of sunshine and daytime highs in the mid-60s to the lower 70s across North Alabama, and in the lower 70s across Central Alabama.
ON THIS DAY IN WEATHER HISTORY
1974 – A "Super-Outbreak" of tornadoes ravaged the Midwest and the eastern U.S. Severe weather erupted early in the afternoon and continued through the next day. Severe thunderstorms spawned 148 tornadoes from Alabama to Michigan, most of which occurred between 1 pm (CST) on the 3rd and 1 am on the 4th. The tornadoes killed 315 persons, injured 5300 others, and caused 600 million dollars in damage. Alabama, Kentucky and Ohio were especially hard hit in the tornado outbreak. One tornado destroyed half of the town of Xenia OH killing 34 persons. Another tornado, near the town of Stamping Ground KY, produced a path of destruction a record five miles in width. A tornado raced through Guin AL at a speed of 75 mph. Two powerful tornadoes roared across northern Alabama during the early evening hours, killing fifty persons and injuring 500 others. Some rescue vehicles responding to the first tornado were struck by the second.
Category: Alabama's Weather, ALL POSTS
Scott Martin is an operational meteorologist, professional graphic artist, musician, husband, and father. Not only is Scott a member of the National Weather Association, but he is also the Central Alabama Chapter of the NWA president. Scott is also the co-founder of Racecast Weather, which provides forecasts for many racing series across the USA. He also supplies forecasts for the BassMaster Elite Series events including the BassMaster Classic.