Happy Father's Day first!
Everything is on track this morning with Alabama's weather.
Satellite: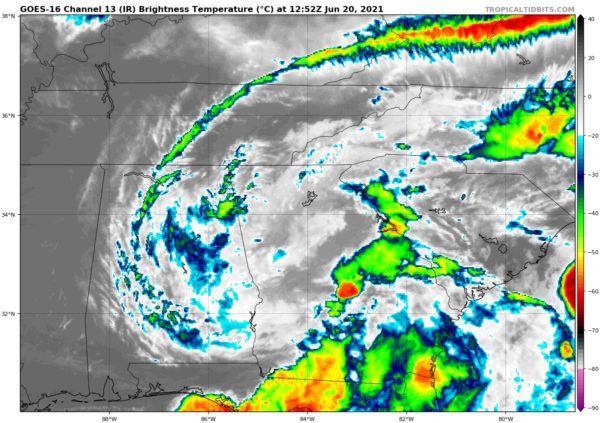 Radar: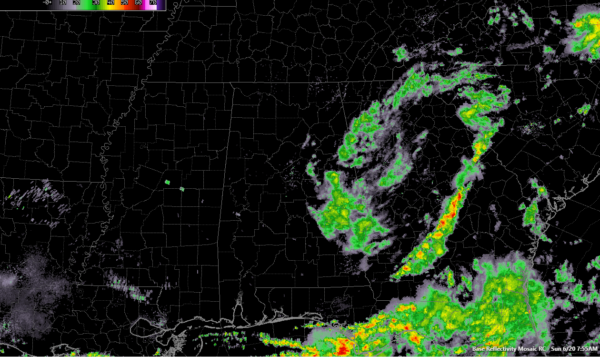 As you can see, we have heavy showers still over East Central Alabama, They will be exiting into Georgia shortly.
After a night of intense tropical rainfall in spots that created major flooding issues, everything has calmed this morning.
Village Creek in Ensley on Birmingham's west side is dropping below flood stage. There were numerous water rescues overnight in the hardest-hit areas, including Birmingham Tuscaloosa, and Fort Payne. There are no Flash Flood Warnings in our state.
The center of Tropical Depression Claudette is over western Georgia west of Atlanta.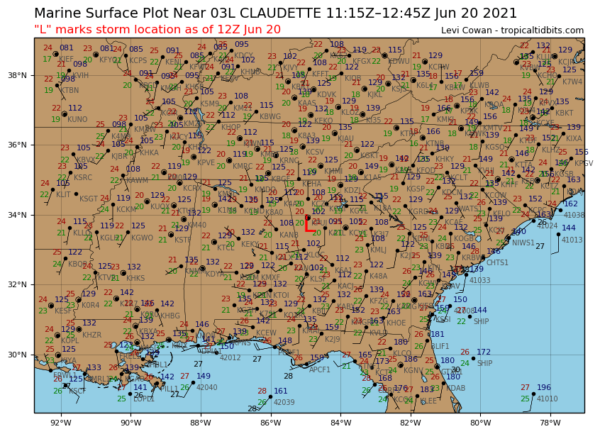 Top winds are still listed at 30 mph. Anniston is gusting to 19 mph this hour, Macon GA to 24 mph, and Cochran GA to 26.
I realized I said on the video early this morning that there was no tropical development expected over the next two weeks. I meant NEW tropical development since Claudette is expected to emerge off the coast of NorthCarolina and became a tropical storm again before moving off to the northeast. It will eventually cause some impact to Newfoundland as a subtropical storm. The HWRF takes it to near hurricane strength though, which will be interesting.
I do note also that there is some development hinted at by the GFS over the Yucatan and the southwestern Gulf of Mexico by July 1, with the system heading into Mexico.
There is a Tornado Watch for just 2 counties in Southeast Alabama, along with several in the eastern Florida Panhandle and several in Southwest Georgia. A new watch will likely be added soon for much of the area from Charleston to Jacksonville in South Carolina, Georgia, and Northeast Florida. The main band of thunderstorms is now extending from just west of August to the west of Dublin to near Albany GA to near Tallahassee to just east of Panama City. The SPC has a large area outlookhed from eastern North Carolina to northern Florida, with a larger marginal risk area surrounding a smaller slight risk area. Here's the Day One: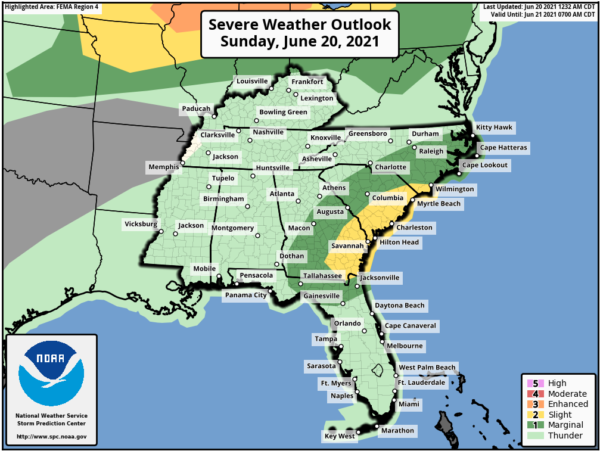 A cold front will approach Monday night and early Tuesday. Some of the storms northwest of I-59 could be strong to severe Monday night, mainly after midnight. So it could be another late night. The storms should cross I-59 around sunrise, with the severe weather risk pushing into South Alabama Tuesday afternoon. Here is the Day Two Outlook from the SPC: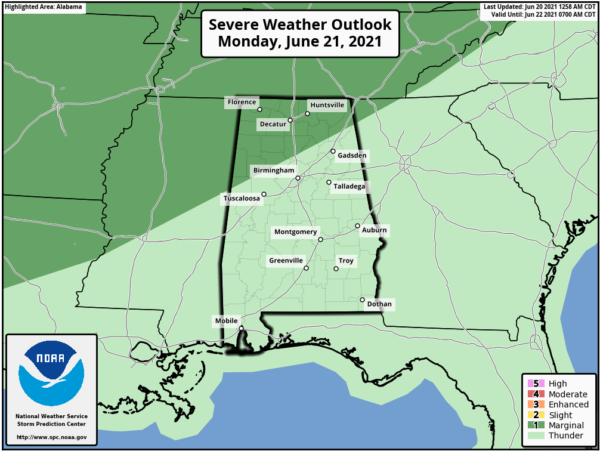 Some of the more impressive rain totals from the NWS:
…TUSCALOOSA COUNTY…
TUSCALOOSA 7.40 IN 0847 PM 06/19 COOP
2 N UNIVERSITY OF ALABAMA 7.39 IN 0710 AM 06/20 AWS
TUSCALOOSA 6.95 IN 0710 AM 06/20 CWOP
OLIVER LOCK AND DAM 6.58 IN 0500 AM 06/20 HADS
LAKE TUSCALOOSA DAM 5.93 IN 0615 AM 06/20 HADS
UNIVERSITY OF ALABAMA 5.09 IN 0710 AM 06/20 AWS
COKER 4.68 IN 0701 AM 06/20 CWOP
NORTHPORT 4.55 IN 0703 AM 06/20 CWOP
HOLT LOCK AND DAM 3.24 IN 0700 AM 06/20 HADS
The Airport at Tuscaloosa stopped reporting at 7:30 p.m. so their data is currently unavailable. I do not know if we will be able to get it eventually.
Some of the other big reports:
JASPER 4.65 IN 0707 AM 06/20 CWOP
HELENA 4.75 IN 0706 AM 06/20 CWOP
PELHAM 4.25 IN 0700 AM 06/20 CWOP
MOUNTAIN BROOK 4.84 IN 0710 AM 06/20 AWS
SPRINGVILLE 4.61 IN 0710 AM 06/20 CWOP
BIRMINGHAM AIRPORT 4.55 IN 0653 AM 06/20 ASOS
TRUSSVILLE 6.6 NNE 4.43 IN 0630 AM 06/20 COCORAHS
ARAB 7.0 S 4.34 IN 0627 AM 06/20 COCORAHS
1.7 W CENTRE 4.20 IN 0530 AM 06/20 COOP
Here's a link to all the reports. Many thanks to the dedicated coop and CoCoRaHS observers who tirelessly report their rainfall totals day in and day out. It is a huge help. And many thanks to Gary Goggins and the staff at the NWS for compiling and reporting them.
Andy Jula at the NWS Huntsville reports that CoCoRaHs observer has measured 9.83 inches of rainfall south of Fort Payne. This matches very well with radar estimates he says. A couple of other impressive totals from HUN's area: 6.65 inches measured 2 miles north of Crossville in DeKalb County and 5.54 inches measured 3 miles east southeast of Guntersville.
The forecast has been updated. More notes on here later this morning and on the forecast page. Have a great Father's Day!
Category: Alabama's Weather, ALL POSTS, Tropical
Bill Murray is the President of The Weather Factory. He is the site's official weather historian and a weekend forecaster. He also anchors the site's severe weather coverage. Bill Murray is the proud holder of National Weather Association Digital Seal #0001
@wxhistorian