Saturday was a picture-perfect weather day across Alabama. Lots of blue skies, a comfortable start, a warm afternoon, and relatively low humidities. We had seen it coming and it was sure nice to get outside and enjoy it. As Saturday went, so will Sunday go across Alabama.
FOR YOUR SUNDAY: We're starting off very nice again this morning with temperatures in the lower and middle 50s. There is a little patchy fog, but it is hardly of any consequence. Skies will become partly cloudy as we go through the day. Humidities will remain low today and highs will range between 79-83F.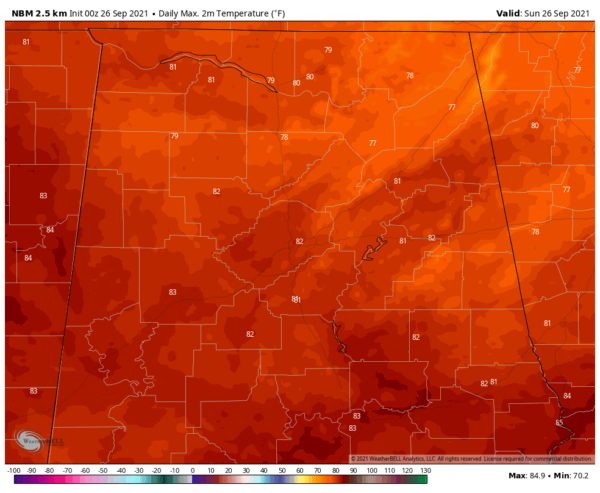 Lows overnight will be in the 50s again.
CHECKING OUT THE UPPER AIR PATTERN: The upper trough that delivered on the promises of cooler temperatures and lower humidities is beginning to move out to the northeast, ceding ground to an expanding ridge of high pressure. That high will remain in place until the end of the first week of October.
YOUR FORECAST: There may be a dry cold front around the first of the month, but really no rain chances through the next seven days at least. Highs over the next two weeks will be in the 80s. Lows will be in the 60s starting Tuesday morning.
VOODOO COUNTRY: Out toward the of the period, October 10th, it appears that we might see a cold front with some rain for Alabama.
MAJOR HURRICANE SAM: More rapid intensification on Saturday brought Sam up to category four status by late in the day. It may strengthen a bit more this morning, but a very slow weakening trend is expected to begin today.
TROPICS: Elsewhere in the tropical Atlantic, Subtropical Storm wasn't with us for very long. Eighteen hours to be exact. The system weakened to a depression yesterday morning and to a remnant by late afternoon. The remnants of Peter are south-southwest of Bermuda now. There is some chance that it could re-organize, but not much of one.
GULF COAST WEATHER: In my book, mid to late September is the best time of year along the beautiful beaches of Alabama and Northwest Florida. Dry weather is expected for the next week, with sunny to partly cloudy skies. Highs will be in the middle 80s. Lows will be in the 60s tonight, Monday night and Tuesday night. The recent respite from the humidity will be a mere memory by Monday afternoon. Gulf water temperatures are running in the upper 70s.
DANCING WITH THE STATS: 1.8 inches of snow fell on Friday at Fairbanks AK. Not only a sign of things to come but also a record for the date.
ADVERTISE WITH US: Deliver your message to a highly engaged audience by advertising on the AlabamaWX.com website. The site enjoyed 29 MILLION page views in the past 12 months. Don't miss out! We can customize a creative, flexible, and affordable package that will suit your organization's needs. Contact me, Bill Murray, at (205) 687-0782 and let's talk.
WEATHERBRAINS: We've had a run of truly great guests on WeatherBrains lately, but tomorrow night's may take the cake! Dr. Neil Frank, who still holds the mark as the longest-running National Hurricane Center Director, will join us for lots of talk about his career, hurricanes, and even a little secret the next time you are being interviewed by Dan Rather! Check out the show at www.WeatherBrains.com. You can also subscribe on iTunes. You can watch the show live at: http://live.bigbrainsmedia.com/ You will be able to see the show on the James Spann 24×7 weather channel on cable or directly over the air on the dot 2 feed.
ON THIS DATE IN 1955: A U.S. Navy Neptune P2V-3W took off from the Jacksonville Naval Air Station during the predawn hours. Its mission: to obtain observations in dangerous Hurricane Janet in the Caribbean south of Jamaica. The crew of nine prepared their instruments and chatted with two journalists from the Toronto Daily Star newspaper, who was given permission to fly along on the mission. At about 8:30 a.m., the crew reported their first set of observations by radio back to the National Hurricane Center and Commander G.B. Windham prepared to fly his aircraft into the eyewall at an altitude of about 700 feet. No other communication was ever received from the flight. No trace of the aircraft or the 11 people aboard was ever found. Now we know that the storm had deepened explosively, increasing from a Category 1 to a Category 4 hurricane in less than 24 hours. Perhaps the plane's altimeter gave the pilots an incorrect reading because of the extremely low pressure and they flew the plane into the ocean. Reconnaissance planes now use a radar altimeter to prevent such problems from occurring. Follow my weather history tweets on Twitter. I am @wxhistorian at Twitter.com.
Category: Alabama's Weather, ALL POSTS
Bill Murray is the President of The Weather Factory. He is the site's official weather historian and a weekend forecaster. He also anchors the site's severe weather coverage. Bill Murray is the proud holder of National Weather Association Digital Seal #0001
@wxhistorian