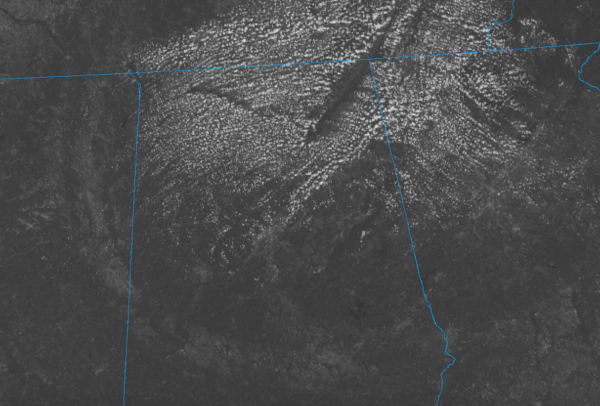 It was another gorgeous morning across North and Central Alabama. Under clear skies, temperatures cooled quickly into the 50s overnight.
Fog formed in the river valleys of Northeast Alabama but burned off slowly as temperatures warmed under an early fall sun.
Overnight readings included 53F at Anniston, and 56F at Birmingham, Tuscaloosa, and Calera. Skywatchers Rick Robbins in Weaver and Brett Wyatt in Morris reported 51F. It was also 51F at Sylacauga and the award for lowest Central Alabama reading went to Gadsden, where 50F was reported at the Airport. The state's cool spot went to valley Head, where the temperature fell to 45F.
FOR YOUR SUNDAY: Cumulus clouds started to dot the landscape by late morning across the area. They will continue through the afternoon as temperatures warm into the upper 70s North to lower 80s Central. It will be another fabulous day to get out and enjoy the sunshine. This evening, temperatures will cool into the 50s again under mostly clear skies. Readings will range between 55-59F for the most part.
THE WEEK AHEAD: The upper-level trough that brought all the cooler air and lower humidities to Alabama is lifting out to the northeast over the northeastern United States this afternoon. High pressure will build in behind it over the Southeast. That and the surface subtropical ridge that will set up just to the east of Alabama will keep us high and dry for the next several days.
The high's influence will barely protect us though, with the ring of fire around it setting up over the Lower Mississippi Valley, just to our west. Showers and storms will be present by late Tuesday through the rest of the week over Mississippi, Louisiana, and eventually, Tennessee as the high slowly breaks down.
A few showers could impact our far western or northwestern counties at points during the week, but we mostly stay dry. Otherwise, expect partly cloudy skies, with highs trending back into the middle 80s. Lows will be in the lower 60s.
Humidities will be slowly trending upwards. Look for dewpoints in the lower 60s by Tuesday.
Category: Alabama's Weather, ALL POSTS
Bill Murray is the President of The Weather Factory. He is the site's official weather historian and a weekend forecaster. He also anchors the site's severe weather coverage. Bill Murray is the proud holder of National Weather Association Digital Seal #0001
@wxhistorian