The weather in Central and North Alabama doesn't get much better than what it will be this week. Sunny, pleasant days, and clear, cool nights will be with us through midweek. Let's dig into the details.
FOR YOUT SUNDAY: We are starting off in the 40s across much of North and Central Alabama this morning. A few of the normally colder spots are in the upper 30s. Skies were clear overnight, and will be clear all day today as well. With lots of blue skies, temperatures will warm into the 68-72F range. Lots tonight will be in the 40s generally, with some upper 30s over Northeast Alabama.
ON THE WEATHER MAPS: The strong trough that delivered the cooler, and drier air to Alabama over the past 24 hours is becoming negatively tilted to our east. But across Alabama and points to the west, big high pressure is in charge. This high pressure will be our major weather maker until late in the week.
MONDAY THROUGH WEDNESDAY: High pressure will lead to plenty of sunshine through the period, with excellent radiational cooling allowing for refreshing nights. Highs will be in the 70s. Lows will be in the 40s Tuesday morning, with 50s on Wednesday. Highs will be in the 70s.
END OF THE WEEK FRONT: A cold front will approach Thursday and Friday, and there should be sufficient moisture return for the re-introduction of rain chances. The rainfall and coverage doesn't look heavy or widespread. Stay tuned for forecast fine tuning.
WEEKEND SNEAK PEEK: More dry and cool air will return by Saturday. Both Saturday and SUnday should be really pleasant days, with highs in the 70s and lows in the 40s and 50s again.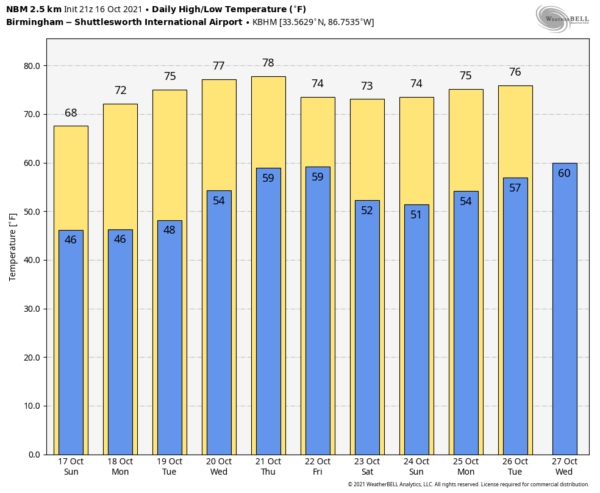 VOODOO TERRITORY: Halloween is waiting out at the end of the forecast period. The GFS depicts a similar situation to the weekend, with a cold front having just passed through the area. This signals clear skies and highs in the 60s and 70s, with lows in the 40s. Perfect weather for trick or treating, which I suppose will be mostly on Saturday night the 30th.
FROM TONY RICE: The WeatherBrains astronomer alerts us that the Orionid Meteor Shower will peak this coming Wednesday night into Thursday morning. Hopefully, clouds will not interfere. The full moon certainly will not help things. Still, lucky skywatchers in rural areas could be treated to 10-15 meteors.
WEATHERBRAINS: This week's show will feature a visit with author and motivational speaker Dick Brundage. Dick helps organizations communicate hazardous weather information. You know the drill: www.WeatherBrains.com, James' YouTube Channel, or any place that you consume your podcasts.
Category: Alabama's Weather, ALL POSTS
Bill Murray is the President of The Weather Factory. He is the site's official weather historian and a weekend forecaster. He also anchors the site's severe weather coverage. Bill Murray is the proud holder of National Weather Association Digital Seal #0001
@wxhistorian