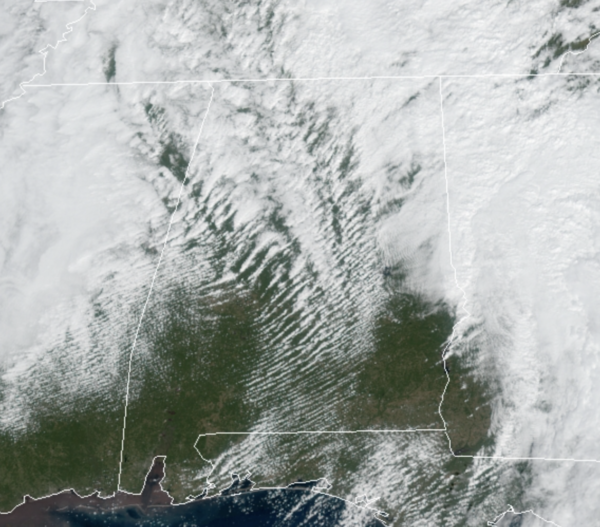 It is breezy across Alabama today as winds are sustained at 15-25 mph. We are seeing a bit of a dry slot over the state, which is allowing for some peeks of sunshine at the midday hours, but clouds will win the day and the sky will become overcast this afternoon as the upper-level low approaches from the west. Temperatures today are in the 60s and 70s across the state. With the clouds, showers will return as well and will continue through the overnight hours as lows fall into the upper 40s and lower 50s.
RAW, WINTER-LIKE DAY: The deep, upper low will be just north of Alabama tomorrow and the day will remain cloudy, chilly, and blustery day with temperatures in the low to mid 50s. Areas of light rain will persist across the area as well and with those gusty winds of 10-20 mph, it will feel much chillier. With temperatures twenty or so degrees below average, tomorrow will look and feel more like a late December day verses a late October Day.
HALLOWEEN WEEKEND: Clouds and some light rain will linger into Saturday, especially over the northern half of the state. Across South Alabama, we will forecast gradual clearing Saturday afternoon as the upper low lifts away. Saturday will stay cool with a highs holding in the 50s for much of North/Central Alabama. Sunday will be a much better day of weather as sunshine returns in full , we are forecasting temperatures to return to the upper 60s and lower 70s statewide.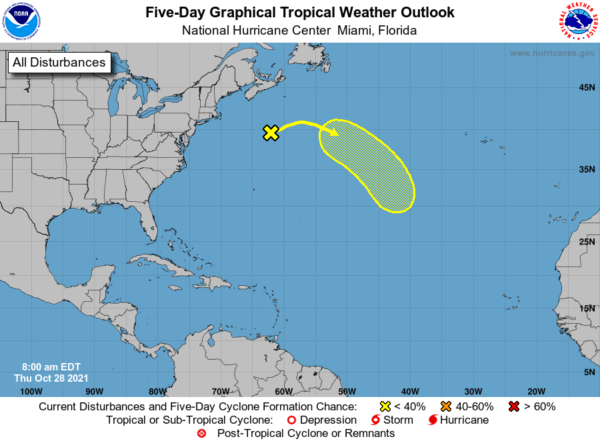 IN THE TROPICS: A non-tropical low pressure system producing gale-force winds is located a few hundred miles south of Halifax, Nova Scotia. The low should continue moving eastward at about 15 mph through Friday, away from shore. The low is then expected to turn southeastward on Saturday toward slightly warmer waters, and it could acquire some subtropical characteristics over the weekend or early next week while over the central Atlantic. Formation chance through 5 days…low…30 percent.
BEACH FORECAST CENTER: Get the latest weather and rip current forecasts for the beaches from Fort Morgan to Panama City on our Beach Forecast Center page. There, you can select the forecast of the region that you are interested in visiting.
WORLD TEMPERATURE EXTREMES: Over the last 24 hours, the highest observation outside the U.S. was 108.9F at Jervois, Australia. The lowest observation was -65.7F at Dome A, Antarctica.
CONTIGUOUS TEMPERATURE EXTREMES: Over the last 24 hours, the highest observation was 97F at McAllen and Falcon Lake, TX. The lowest observation was 10F at Wolf Creek Pass, CA.
WEATHER ON THIS DATE IN 1971: A severe early season blizzard raged across the Plateau Region and Rocky Mountain Region. Heavy snow blocked railroads and interstate highways, and record cold accompanied the storm. Lander WY received 27 inches of snow, and the temperature at Big Piney WY plunged to 15 degrees below zero.
Category: Alabama's Weather, ALL POSTS
Montgomery Television Meteorologist and long time Contributor on AlabamaWX. Stormchaser. I did not choose Weather, it chose Me. College Football Fanatic.
@Ryan_Stinnet