The heat is on today and in coming days across much of the United States, including Alabama and the Deep South as anomalous early-season heat ridge sets in across much of the country. Just how hot and where? Let's go see….
YESTERDAY was a warm one across the area. 88's were wild, as that was the high temperature at Tuscaloosa, Birmingham, and Anniston. It was 92F at Eufaula and Tuskegee. A few showers developed over East Central Alabama late in the afternoon. The heaviest was near Wedowee in Randolph County, but it was small and isolated. The shower over my home in southern Jefferson County managed to produce 0.08" of rain. Not much, but it did cool things off a bit.
THE HEAT IS THE STORY: Nationally, heat advisories and excessive heat warnings, as well as fire weather watches and red flag warnings cover much of the southern United States from California to northern Mississippi. Lots of record highs will fall today. A couple of projected records for today include 113F at Phoenix and 104F at Dallas. The record heat will spread eastward on Monday, enveloping the Central Plains into the Ohio and Tennessee Valleys. It should be 98F tomorrow at Nashville. The heat moves into the Midwest Tuesday where St. Louis is forecast to hit 101F. By Wednesday, the heat will be centered from Michigan to Florida. Fort Wayne, IN will hit 98F if the forecast holds true. It will still be hot Thursday and Friday, but the record heat should ease a tad.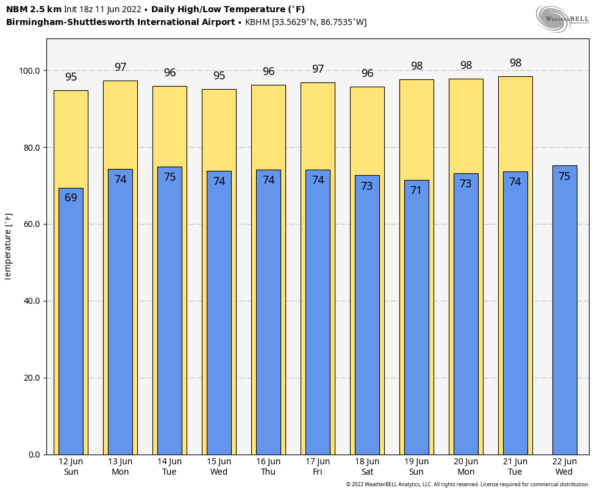 HERE IN ALABAMA: Today will be dry, with highs between 91-95F. Heat index values will be between 100-102F over western Alabama. Isolated storms are in the forecast Monday and Tuesday, mainly over South Alabama. Highs will range between 94-96F. Heat Index values these two days will be near heat advisory criteria levels for Central Alabama. Isolated showers and storms will occur Wednesday with highs between 92-95. A slug of moisture on Thursday coming in from the east will allow rain chances to ratchet up just a bit, but the showers and storms will be scattered at best. Friday will see a few showers and storms again. Highs at week's end will still be well in the middle and upper 90s.
A LITTLE DRIER AIR FOR THE WEEKEND: Partly cloudy conditions on Saturday and Sunday will allow temperatures to soar into the middle and upper 90s.
VOODOO COUNTRY: Drier air will continue into the following week. Upper 90s will be common as hot weather remains the story.
TROPICAL MISCHIEF: A little system tried to spin up in the northern Gulf of Mexico yesterday, but it really never had a chance. Just another reminder that a warm Gulf will be a problem all summer. The global models, at least the GFS, have been sporadically trying to spin up a tropical storm or hurricane in the western Caribbean or southwestern Gulf of Mexico later this week or into the following week. It does not appear to be a threat to the United States, if it happens at all.
BEACHCAST: It's a preview of summer fare along the beautiful beaches of Alabama and Northwest Florida in the coming days. Scattered late morning and early afternoon showers and storms will be the daily offering, thanks to high temperatures, high humidity, and the seabreeze. High temperatures will be in the upper 80s. Overnight lows will be in the upper 70s to near 80 degrees. Heat index values will be consistently between 105-110F. Water temperatures are in the lower 80s. The rip current risk will be moderate through Monday and lower for the remainder of the week.
Click here to see the Beach Forecast Center page.
NATIONALLY: On the flip side of the coin, a big trough out west will bring wintry weather to the northern Rockies. Winter storm watches are in effect for Monday evening through Tuesday night across western Montana, including the West Glacier region and Marias Pass and Logan Pass, where 2-6 inches of snow is likely above 5,000 feet. Highs on Tuesday won't get out of the 40s in Kallispell MT, even as the Midwest bakes.
DANCING WITH THE STATS: If you were standing on a corner in Winslow AZ, you were probably such a fine sight to see. But you were sweating to be sure. The high of 102F at Winslow established a new record for the date, breaking the previous record of 101F.
ADVERTISE WITH US: Deliver your message to a highly engaged audience by advertising on the AlabamaWX.com website. The site enjoyed over 29 MILLION page views in the past 12 months. Don't miss out! We can customize a creative, flexible, and affordable package that will suit your organization's needs. Contact me, Bill Murray, at (205) 687-0782 and let's talk.
WEATHERBRAINS: This week, the panel will entertain Larry Snow Fleury. Yes that's his real name. He recently delivered a Ted talk on storm chasing and we will talk about the ethics of the activity. Check out the show at www.WeatherBrains.com. You can also subscribe on iTunes. You can watch the show live at live.bigbrainsmedia.com or on James' YouTube Channel You will be able to see the show on the James Spann 24×7 weather channel on cable or directly over the air on the dot 2 feed.
ON THIS DATE IN 1982: Famed tornado researcher Theodore "Ted" Fujita had been studying the destructive storms since 1948. He had made many important scientific discoveries but had never seen a tornado in person until this date. He caught his first "live" twister in Colorado. Follow my weather history tweets on Twitter. I am @wxhistorian at Twitter.com.
Category: Alabama's Weather, ALL POSTS
Bill Murray is the President of The Weather Factory. He is the site's official weather historian and a weekend forecaster. He also anchors the site's severe weather coverage. Bill Murray is the proud holder of National Weather Association Digital Seal #0001
@wxhistorian