August 14th is the date by which we have seen at least one hurricane in the Atlantic Basin, but that has not happened yet in the 2022 season. There are signs that the tropics may be waking up just a bit, but no signs of any significant storms at least over the next weeks. It was back on this date in 1969 that a tropical storm formed in the western Caribbean. It would be a hurricane by that afternoon. Its name? Camille. More about that in today's look at weather history.
SHOWERS SPARSE AGAIN TODAY: Drier air over the northern two-thirds of Alabama led to quiet radars across our area on Saturday and I dare say that will be the case again today. Under partly cloudy skies, highs will rise into the lower 90s except over the more mountainous areas of Northeast Alabama where highs will remain in the upper 80s. Lows tonight will be in the
ON THE WEATHER MAPS: We find a deep trough along the East Coast of the United States. That will be a persistent feature over the next 7 days, even backing up a bit place Alabama even more under its influence. Let's go day by day to track what will happen with Alabama's weather.
MONDAY: It looks like the trough will propel a boundary into Alabama late tonight and early Monday. It doesn't look like the boundary will be able to manage much in the way of showers, although a few rogue ones could show up late tonight or Monday morning across the northern half of the state. Don't count on it. Highs on Monday will be in the lower and middle 90s.
TUESDAY: A little drier air follows the boundary on Tuesday, which means few showers. Can't rule out a rogue shower or storm, but isolated at best. Highs will be in the lower 90s.
WEDNESDAY: Keeping an eye out for an MCS in the northwesterly flow on Wednesday. That just means a complex of storms that could come charging in on fairly strong northwesterly winds aloft. They sometimes can pack a punch and severe weather would not be out of the questions. It will be cooler, with highs in the middle 80s.
THURSDAY/FRIDAY: The sharpening East Coast trough could keep us in higher rain chances at the end of the week. Highs will be in the 80s. Wait, is it already September?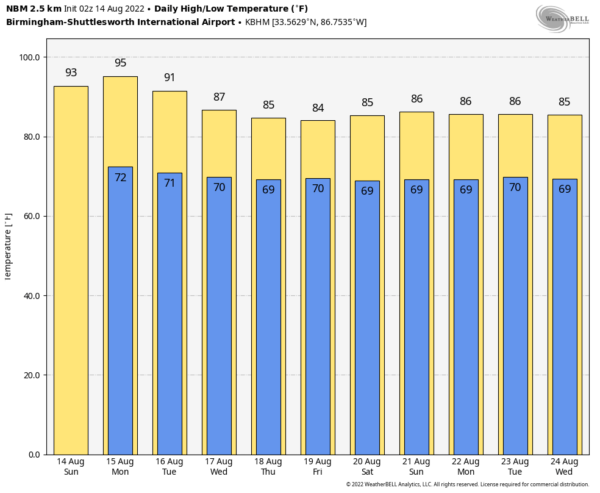 WEEKEND: More showers and thunderstorms it looks like with the trough still hanging around.
BEACHCAST: Into each beachgoer's life, a little rain must fall in August. But a rainy day at the beach beats any other day every time. Highs in the upper 80s. Lows in the upper 70s. Water temperatures in the middle 80s. The rip current risk was high along eastern beaches on Saturday, but should be low along the entire coast.
Click here to see the Beach Forecast Center page.
ADVERTISE WITH US: Deliver your message to a highly engaged audience by advertising on the AlabamaWX.com website. The site enjoyed over 29 MILLION page views in the past 12 months. Don't miss out! We can customize a creative, flexible, and affordable package that will suit your organization's needs. Contact me, Bill Murray, at (205) 687-0782 and let's talk.
WEATHERBRAINS: The current show is a masterpiece. We were joined by an awesome group of people from the Lakeland Weather Club, a high school weather club that existed from 1962 until 1986 in Shrub Oak, NY. It was a cross between weather nerd heaven and a vocational school for some weather luminaries like Dr. Frank Marks, Mike Steinberg, and Greg Tripoli. We had the teacher behind the program, Jim Witt, who is 85 and still sharp as a tack, and several of his students. Check out the show at www.WeatherBrains.com. You can also subscribe on iTunes. You can watch the show live at iyr WeatherBrains YoutTube channel or on James' YouTube Channel You will be able to see the show on the James Spann 24×7 weather channel on cable or directly over the air on the dot 2 feed.
ON THIS DATE IN 1969: Tropical Storm Camille forms near the island of Grand Cayman. From the beginning, it was evident that Camille would be an explosive storm. National Hurricane Center Director Robert Simpson was concerned because the Navy had most of its reconnaissance aircraft in Puerto Rico for missions into Hurricane Debbie, which was a candidate for seeding in Project Stormfury. Satellite pictures showed Camille, but in 1969 they were too primitive to provide sufficient information. Only two older Navy Super Constellation planes were left in Jacksonville and the Navy was reluctant to fly them into strong storms. First reports from the first reconnaissance plane indicated the storm had already reached tropical storm strength and was too strong for the plane to penetrate. So Camille, with a central pressure of 999mb and winds of 55 mph was christened, bypassing the tropical depression stage. By afternoon, the storm would already be classified as a hurricane with a central pressure of 964 mb. Follow my weather history tweets on Twitter. I am @wxhistorian at Twitter.com.
Category: Alabama's Weather, ALL POSTS
Bill Murray is the President of The Weather Factory. He is the site's official weather historian and a weekend forecaster. He also anchors the site's severe weather coverage. Bill Murray is the proud holder of National Weather Association Digital Seal #0001
@wxhistorian