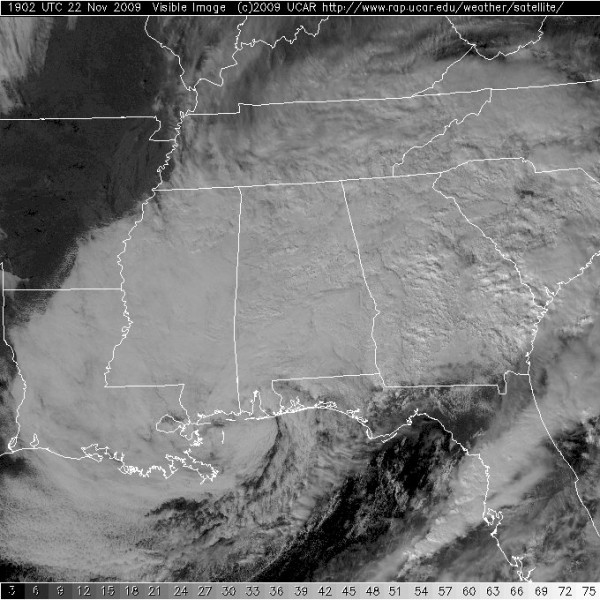 ALABAMA WEATHER UPDATE
A dreary November Sunday is in progress across Alabama. Temperatures are in the 50s statewide, except along the Gulf Coast, where temperatures are in the 60s south of a stationary front. You can probably find a few 40s over Northeast Alabama still, where rain was exiting the state. A breezy easterly wind was averaging 7-14 mph but occasionally gusting over 20 mph. The breezes are the result of a surface low over Southwest Alabama that is lifting to the north. The low was producing new showers over parts of Central Alabama. These showers will continue to grow and expand through the afternoon and into the overnight hours. Rainfall will generally be light, but if you will be out and about, you might get wet.
SOME DECENT RAINFALL OVERNIGHT: Amounts across Central Alabama were generally in the one quarter to just over one half inch of rain. Heavier rainfall fell over South Central and South Alabama were over an inch was reported in spots. Alston Keith reported exactly one inch of rain at his hunting camp in Industry. Not sure where industry is? Neither was I. He says it is near Georgiana in Butler County. Evergreen was the winner in the rainfall sweepstakes, with 1.68 falling in the past 24 hours. Tennessee Valley locations saw most of their rain this morning, with early returns coming in just under a quarter of an inch through noon.
CLOUDS TO HANG TOUGH: The upper level low is weakening as it lifts out in the form of a trough. It will gradually take the moisture with it, but not before clouds hang tough through most of the day Monday. Skies will clear gradually from the south, with most places seeing sun by at least late afternoon. Monday night will see skies becoming partly cloudy with lows in the upper 40s. This will set the stage for a nice Tuesday, with a good supply of sunshine and highs in the upper 60s.
Category: Uncategorized
Bill Murray is the President of The Weather Factory. He is the site's official weather historian and a weekend forecaster. He also anchors the site's severe weather coverage. Bill Murray is the proud holder of National Weather Association Digital Seal #0001
@wxhistorian