The GFS has shifted a little further east, which seems to make sense and the official track is now solidly in Apalachee Bay. All the earlier discussed factors of increasing shear and dry air entrainment will help weaken the storm before landfall, but the large wind field will cause widespread wind and water issues along the west coast of Florida and the Florida Panhandle.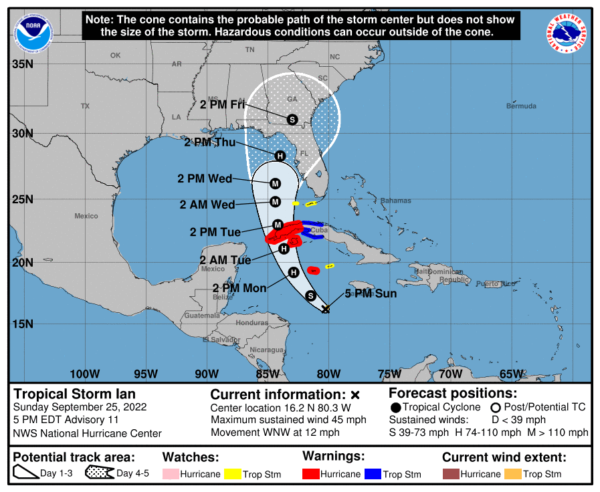 A tropical storm watch has been issued for the lower Florida Keys.
SUMMARY OF 500 PM EDT…2100 UTC…INFORMATION
———————————————-
LOCATION…16.2N 80.3W
ABOUT 220 MI…355 KM SSE OF GRAND CAYMAN
ABOUT 495 MI…795 KM SE OF THE WESTERN TIP OF CUBA
MAXIMUM SUSTAINED WINDS…45 MPH…75 KM/H
PRESENT MOVEMENT…WNW OR 300 DEGREES AT 12 MPH…19 KM/H
MINIMUM CENTRAL PRESSURE…1003 MB…29.62 INCHES
Here is the tropical cyclone discussion:
WTNT44 KNHC 252057
TCDAT4
Tropical Storm Ian Discussion Number 11
NWS National Hurricane Center Miami FL AL092022
500 PM EDT Sun Sep 25 2022
The organization of Ian has not changed much since this morning.
There have been some small bursts of convection closer to the center
of the storm this afternoon, but the activity has not yet led to any
notable changes in its structure. In fact, the most persistent
convection has been in outer rainbands well to the northeast of the
circulation near Jamaica. The SFMR wind data and adjusted
flight-level winds from the earlier reconnaissance flights supported
surface winds of 35-40 kt, and the initial intensity is set at 40 kt
for this advisory. A NOAA Hurricane Hunter aircraft is scheduled to
investigate Ian later tonight.
The center of Ian has jogged a bit northward this afternoon, but its
longer-term motion is west-northwestward at 300/10 kt. A generally
northwestward motion is expected tonight, followed by a
north-northwestward motion on Monday and early Tuesday as it moves
across the northwestern Caribbean Sea and near or over western Cuba.
From there, the track guidance still diverges at days 3-5 as Ian is
forecast to move northward across the eastern Gulf of Mexico. The
ECMWF and UKMET models still lie on the eastern edge of the guidance
and bring the center of Ian over the coast of west-central Florida,
while the HWRF and HMON models are on the western side of the
envelope and show Ian approaching the central Florida panhandle.
Notably, the GFS has trended slightly eastward for the past few
cycles, which has brought the multi-model consensus aids a bit
eastward as well. The latest NHC track forecast has been adjusted in
this direction, but only on the order of 15-20 n mi in the extended
range. Users are reminded not to focus on the details of the track
forecast at longer time ranges, since uncertainty is still high and
future adjustments may be required.
Although the storm has yet to develop an inner core, the conditions
over the northwestern Caribbean Sea appear very likely to support
strengthening once it becomes better organized. Some dry
environmental air may have limited convection today, but the GFS-
and ECMWF-simulated satellite imagery indicate that deep convection
will increase during the diurnal maximum period overnight. Then,
significant strengthening is expected with low deep-layer shear and
high oceanic heat content along the forecast track. There is still
strong support for rapid intensification in the latest intensity
guidance, and the NHC intensity forecast shows Ian becoming a
hurricane on Monday and a major hurricane on Tuesday. This forecast
remains close to the IVCN multi-model consensus, with some model
aids including HCCA showing even higher peak intensities. Strong
southwesterly shear develops over Ian by 72 h related to interaction
with an upper-level trough, and the structure of the cyclone could
significantly degrade before landfall given these hostile
conditions. However, Ian is likely to have an expanding wind field
and will be slowing down by that time, which will have the potential
to produce significant wind and storm surge impacts across portions
of the Florida west coast and the Florida panhandle.
Key Messages:
1. Ian is expected to produce heavy rainfall, flash flooding, and
possible mudslides in areas of higher terrain, particularly over
Jamaica and Cuba. Flash and urban flooding is possible with
rainfall across the Florida Keys and the Florida peninsula through
the middle of the week. Additional flooding on rivers across
northern Florida and parts of the southeast U.S. cannot be ruled out
later this week.
2. Life-threatening storm surge and hurricane-force winds are
expected in portions of western Cuba beginning late Monday, and Ian
is forecast to be at or near major hurricane strength when it is
near western Cuba. Efforts to protect life and property should be
rushed to completion.
3. Ian is expected to be a major hurricane in the eastern Gulf of
Mexico during the middle of this week, but uncertainty in the track
and intensity forecasts remains higher than usual. Regardless of
Ian's exact track and intensity, there is a risk of dangerous storm
surge, hurricane-force winds, and heavy rainfall along the west
coast of Florida and the Florida Panhandle by the middle of this
week, and residents in Florida should ensure they have their
hurricane plan in place. Follow any advice given by local officials
and closely monitor updates to the forecast.
FORECAST POSITIONS AND MAX WINDS
INIT 25/2100Z 16.2N 80.3W 40 KT 45 MPH
12H 26/0600Z 17.3N 81.5W 50 KT 60 MPH
24H 26/1800Z 19.2N 82.9W 70 KT 80 MPH
36H 27/0600Z 21.1N 83.7W 90 KT 105 MPH
48H 27/1800Z 23.0N 84.2W 105 KT 120 MPH
60H 28/0600Z 24.8N 84.4W 115 KT 130 MPH
72H 28/1800Z 26.2N 84.4W 110 KT 125 MPH
96H 29/1800Z 28.3N 84.0W 85 KT 100 MPH
120H 30/1800Z 31.0N 83.0W 50 KT 60 MPH…INLAND
$$
Forecaster Reinhart
Category: Alabama's Weather, ALL POSTS, Tropical
Bill Murray is the President of The Weather Factory. He is the site's official weather historian and a weekend forecaster. He also anchors the site's severe weather coverage. Bill Murray is the proud holder of National Weather Association Digital Seal #0001
@wxhistorian