First, let me say that we do not expect any severe weather in Alabama from this system except for a marginal low-end risk for damaging winds in extreme Southwest Alabama tomorrow.
Here are the Storm Prediction Center Day One outlooks from now until 7 a.m. CDT Saturday: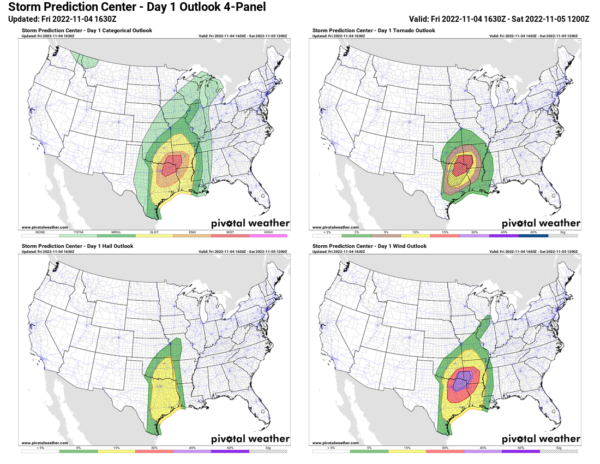 There is a Moderate Risk (Level 4/5)over Northeast Texas, extreme SE Oklahoma, Southwest Arkansas, and extreme Northwest Louisiana. It is surrounded by a larger Enhanced Risk area (level 3/5) from Dallas and College Station to Fort Smith, Pine Bluff, and Ruston.
There is a large slight risk area around that as far east as Vicksburg for late tonight, and as far west as Oklahoma City and Austin.
A big bowling ball low and upper trough is over New Mexico this afternoon and is ready to eject eastward. This will bring the upper dynamics needed for severe weather with it.
A warm moist airmass covers the risk area, with dew points in the middle 60s to lower 70s and even some middle 70s across much of Texas into Oklahoma, Arkansas, and over much of Louisiana.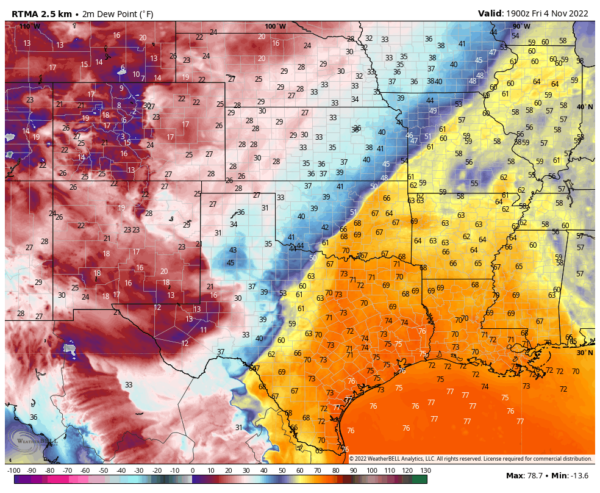 Temperatures are in the 80s over a wide area as well.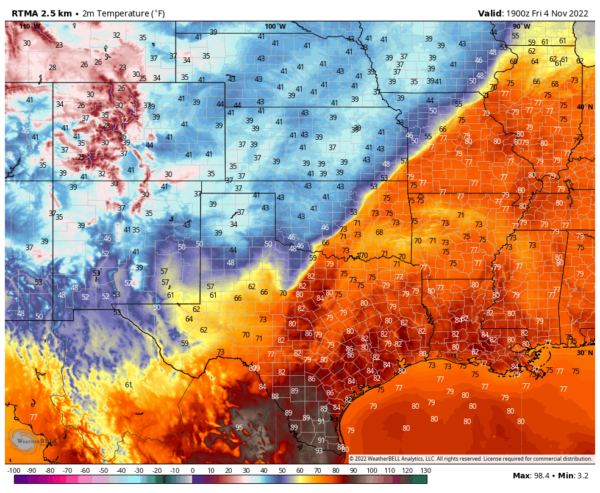 The area has been overlain with a strong capping inversion all morning, evidenced by a low layer of stratus clouds. That is changing already as there are big breaks in the overcast now across the area. This will allow enhanced heating, which will destabilize the atmosphere. The approaching trough has cooler temperatures aloft as well, which will also assist in the destabilization process. The approaching trough will also increase lift which will help to break the cap. The cap is like a lid on a boiling pot. Once removed, it allows convection to develop rapidly.
Surface winds are backed (out of the southeast) as well across the risk area, but especially just east of the surface low which is near Wichita Falls. This imparts more low level helicities, which is evident in 0-1 km helicities exceeding 300 m2/s2 over SE Oklahoma and Northeast Texas.
Lifted Condensation Levels are very low as well, which is favorable for tornado development.
So a lot of factors are in place to foretell a significant severe weather outbreak as forecast.
A tornado watch has already been issued: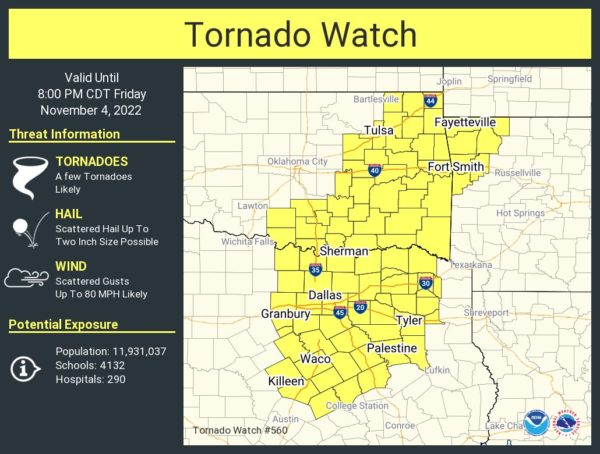 The event is already underway with two lines of thunderstorms already in progress. Here is the radar and warnings and surface winds: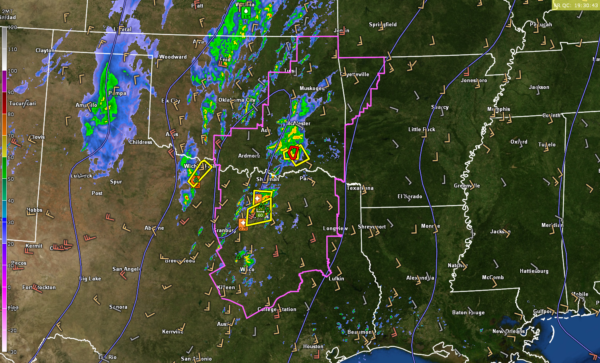 The lead line extends from southern Oklahoma from McAlester and Atoka back to Sherman and the Dallas Fort Worth area in Texas. Mobile homes were damaged near Platter and Calera around 1:30 in Bryan County, Oklahoma. 1 inch hail was reported with this same storm near the Red River between Texas and Oklahoma. There is a tornado warning right now but downstream the NWS in Norman has issued a severe thunderstorm warning for it.
Severe thunderstorm warnings blanket the Dallas Fort Worth Metroplex right now. Nickel-sized hail was reported southwest of Arlington.
Strong storms southwest of Wichita Falls have prompted a severe thunderstorm warning that includes Wichita Falls. Those storms on that back line are moving rapidly to the enortheast at 55 mph. That line of storms extends from west of Oklahoma CZity to Wichita Falls to east of Abilene.
As destabilization occurs this afternoon, one of our reliable parameters, the Significant Tornado Parameter off the HRRR Model exceeds 5 and approaches and even exceeds 10 in parts of Northeast Texas this afternoon, and translates over into southwestern Araknsas and Louisiana this evening.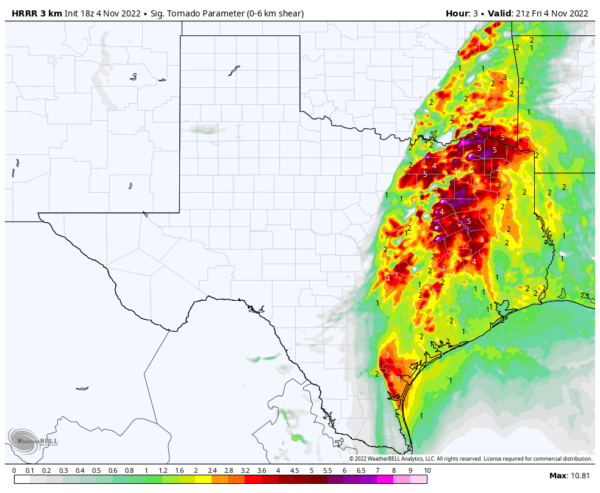 Most of the convection congeals into a solid squall line that pushes into Arkansas and Louisiana tonight. but discrete cells that remain in front of the line will have an enhanced tornado threat until late tonight in Arkansas and Louisiana.
The line of storms will reach the Mississippi River around 2 a.m. and be into western Alabama between 8-10 a.m. in the morning, limping into the Tuscaloosa/Birmingham area around 11 am – noon.
Category: Alabama's Weather, ALL POSTS, Headlines, Severe Weather
Bill Murray is the President of The Weather Factory. He is the site's official weather historian and a weekend forecaster. He also anchors the site's severe weather coverage. Bill Murray is the proud holder of National Weather Association Digital Seal #0001
@wxhistorian