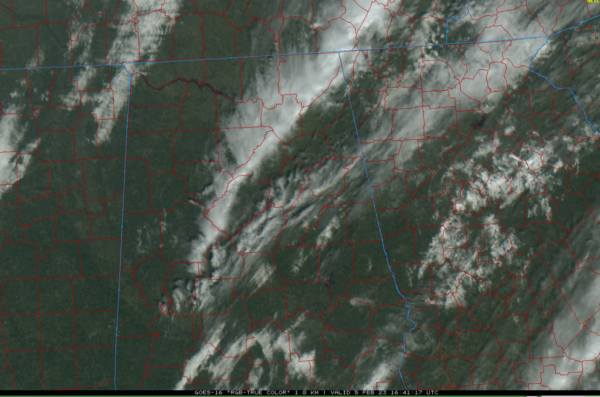 It's been a pretty morning across North and Central Alabama. Depending on your location, it has been either clear, partly cloudy, partly sunny, or mostly cloudy, and sometimes more than one of those conditions.
High clouds are moving across North and North Central Alabama at this hour. Low clouds have been more prevalent in the south. The high clouds should move out quickly by mid-afternoon giving most locations a good amount of sunshine. More clouds will move into northwestern sections during the afternoon and will hang around through tonight. They could give some areas in the I-59 Corridor a decent sunset this evening.
There was quite a range in temperatures across the state last night. The northern portion of the area was the coldest, with lows in the lower and middle 20s. 21F at Russellville was the state's cold spot. Earlier clearing in that area led to better radiational cooling and colder reading.
It was 33F at Tuscaloosa, 36F at Calera, 40F at Anniston, and 43F at the Birmingham Heat Island. Troy and Eufaula checked in at 47F apiece. Andalusia was the state's warm spot overnight with a morning low of 48F.
Highs today will be in the upper 50s across the Tennessee Valley, with 60s elsewhere.
High temperatures will be in the 60s areawide tomorrow. The southern half of the state could hit 70F Tuesday with the North in the upper 60s. Most everyone will be in the 70s Wednesday. That of course raises the specter of severe weather with a storm system moving in. Morning model data is not especially convincing for Alabama, but there will be severe storms to our west Wednesday afternoon. Those will move into Northwest Alabama Wednesday evening where they could be strong to severe. They should weaken by the time they reach I-59 though places like Tuscaloosa, Birmingham, and Gadsden and weaken further as they push into East Alabama.
It's been a familiar refrain this winter with the weakening system moving in at the most stable part of the day, with the exception of January 12th. So, the timing could change, and the expected severity could as well, so please pay attention to later forecasts and updates. This is Severe Weather Awareness Week in Alabama (how appropriate!) and a good time to take stock of your severe weather readiness.
Category: ALL POSTS
Bill Murray is the President of The Weather Factory. He is the site's official weather historian and a weekend forecaster. He also anchors the site's severe weather coverage. Bill Murray is the proud holder of National Weather Association Digital Seal #0001
@wxhistorian