The SPC is monitoring conditions over South Alabama, southern Mississippi, Southwest Georgia, and the Florida Panhandle for gradual intensification of the storms that are dropping south.
They will likely issue a tornado watch over the next few hours for parts of this area for the potential for damaging wind gusts and the risk of brief tornadoes.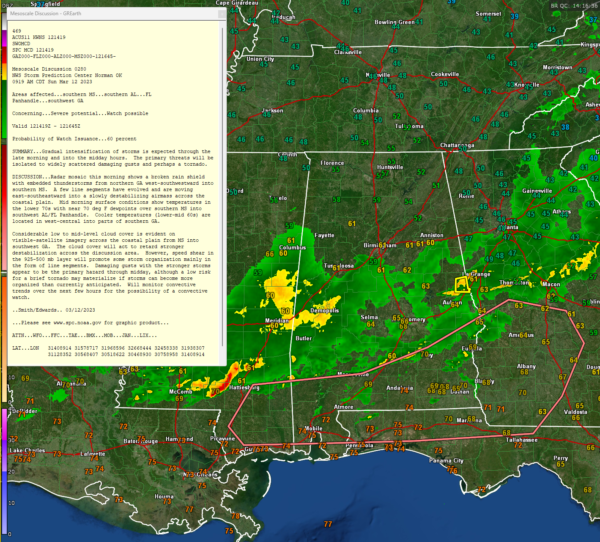 Here is the text of the MCD (Mesoscale Convective Discussion)…
Mesoscale Discussion 0280
NWS Storm Prediction Center Norman OK
0919 AM CDT Sun Mar 12 2023
Areas affected…southern MS…southern AL…FL
Panhandle…southwest GA
Concerning…Severe potential…Watch possible
Valid 121419Z – 121645Z
Probability of Watch Issuance…60 percent
SUMMARY…Gradual intensification of storms is expected through the
late morning and into the midday hours. The primary threats will be
isolated to widely scattered damaging gusts and perhaps a tornado.
DISCUSSION…Radar mosaic this morning shows a broken rain shield
with embedded thunderstorms from northern GA west-southwestward into
southern MS. A few line segments have evolved and are moving
east-southeastward into a slowly destabilizing airmass across the
coastal plain. Mid morning surface conditions show temperatures in
the lower 70s with near 70 deg F dewpoints over southern MS into
southwest AL/FL Panhandle. Cooler temperatures (lower-mid 60s) are
located in west-central into parts of southern GA.
Considerable low to mid-level cloud cover is evident on
visible-satellite imagery across the coastal plain from MS into
southwest GA. The cloud cover will act to retard stronger
destabilization across the discussion area. However, speed shear in
the 925-500 mb layer will promote some storm organization mainly in
the form of line segments. Damaging gusts with the stronger storms
appear to be the primary hazard through midday, although a low risk
for a brief tornado may materialize if storms can become more
organized than currently anticipated. Will monitor convective
trends over the next few hours for the possibility of a convective
watch.
..Smith/Edwards.. 03/12/2023
Category: Alabama's Weather, ALL POSTS, Severe Weather
Bill Murray is the President of The Weather Factory. He is the site's official weather historian and a weekend forecaster. He also anchors the site's severe weather coverage. Bill Murray is the proud holder of National Weather Association Digital Seal #0001
@wxhistorian