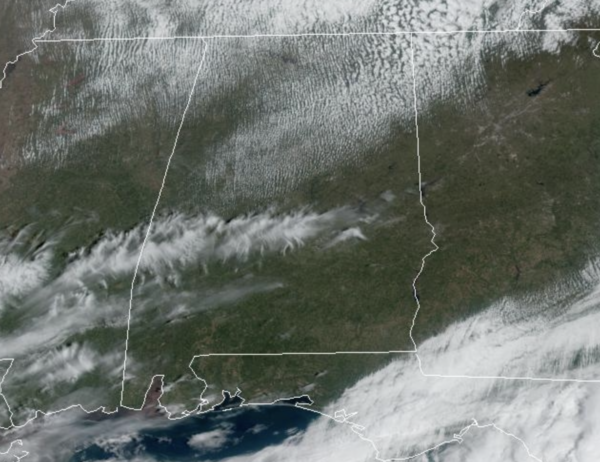 Stepping outside today, you can feel we are not done with winter yet. The cold front that pushed through the state yesterday has delivered a drier, and much colder air mass into Alabama. Across the state today, the sky is partly to mostly sunny today with temperatures in the upper 50s to lower 60s. There remains a brisk northerly wind as well, making it feel cooler. For tonight, the northern half of Alabama is under a freeze warning as temperatures drop into the 25-35 degree range.
Expect sunshine full supply tomorrow with highs again in the 50s and 60s. Tomorrow night should be our coldest as the freeze warning will continue, and in fact the freeze warning extends farther south tomorrow night, extending as far south as Jackson, Greenville, Troy, and Eufaula, as temperatures early Wednesday will be in the sub-freezing range again. Some frost is possible Wednesday morning down into South Alabama, perhaps as far south as the Interstate 10 corridor. Wednesday will be sunny, and a bit warmer with highs in the 60s.
WARMER, MORE STORMS: Temperatures reach the 70s Thursday afternoon with a good supply of sunshine. Clouds return Thursday night, and rain arrives Friday ahead of another cold front. Some storms are possible, but for now, severe storms are not expected over most of Alabama due to the lack of surface based instability. We will watch trends in the coming days as the forecast could change. Rain amounts Friday will be around one inch.
COLDER WEEKEND: Another shot of colder air arrives Saturday, behind the Friday front. The sky will be mostly sunny with highs in the 50s and 60s. Then, another late season freeze seems likely for much of North/Central Alabama by early Sunday morning with lows back in the 25-35 degree range. Sunday will be sunny and cool with highs in the 50s for North Alabama, with 60s for the southern counties of the state.
BEACH FORECAST CENTER: Get the latest weather and rip current forecasts for the beaches from Fort Morgan to Panama City on our Beach Forecast Center page. There, you can select the forecast of the region that you are interested in visiting.
WORLD TEMPERATURE EXTREMES: Over the last 24 hours, the highest observation outside the U.S. was 113.7F at Matam, Senegal. The lowest observation was -73.1F at Vostok, Antarctica.
CONTIGUOUS TEMPERATURE EXTREMES: Over the last 24 hours, the highest observation was 103F at Falcon Lake, TX. The lowest observation was -17F at Bismarck, ND.
Category: Alabama's Weather, ALL POSTS
Mobile, Alabama Television Meteorologist and long time Contributor on AlabamaWX. Stormchaser. I did not choose Weather, it chose Me. College Football Fanatic.
@Ryan_Stinnet