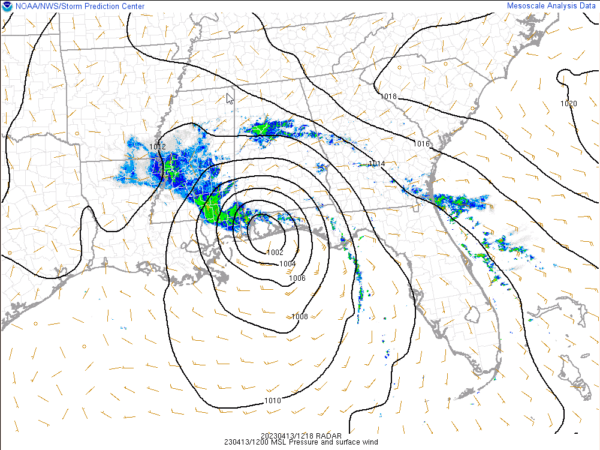 A 1002 mb surface low is located near Orange Beach and Perdido along the Gulf Coast this morning. The system will move inland over the next few hours and gradually weaken.
It is producing a large area of rain over Arkansas, Louisiana, and Mississippi, with a couple of large bands of thunderstorms extending to its east, northeast, and southeast. A large area of rain and some thunder is affecting the I-20 Corridor this morning. It is raining moderately to occasionally heavily in Tuscaloosa, Birmingham, Talladega, Anniston, and Lineville. That rain will continue for a couple of hours. There will be a small break and then a couple of other periods of rain later in the day as additional bands move through. There will be thunder at times with this activity.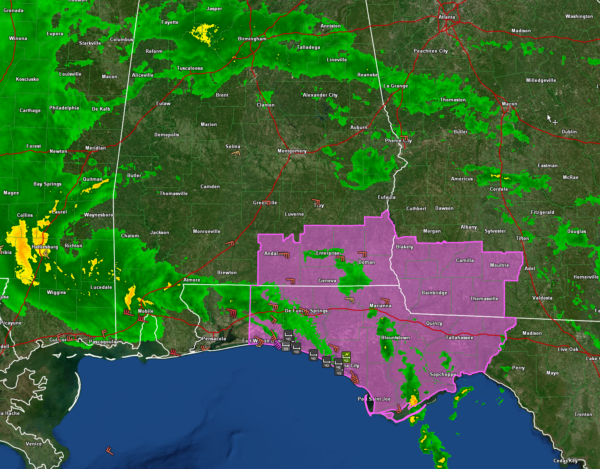 The SPC has now included the southern tow thirds of Alabama in their Marginal Risk (level 1/5) with a Slight Risk (level 2/5) for the soutehastern third of the state.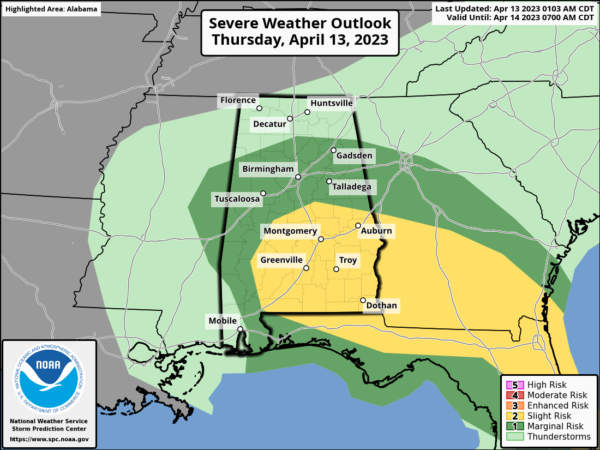 A tornado watch is in effect for Southeast Alabama, Southwest Georgia, and the Florida Panhandle for the low-topped storms in the band along the Gulf Coast. There was a severe thunderstorm for a time in parts of Bay and Washington Counties north of Panama City.
Winds are gusty over southern Mississippi, southern Alabama, and Northwest Florida. Here are a few of the more interesting wind gusts…
…WNW 15 G 37 mph at Mobile Downtown Airport (formerly Brookley Field)
…Jack Edwards Airport Gulf Shores…WNW G 39
…Valparaiso (Eglin AFB) Florida…SE 28 G 38 mph
…Gusts to 43 mph at Mesonet station near Blue Mountain Beach
…Gusts to 46 mph at Gulf Coast State College Weatherstem near Magnolia Beach in Bay County
…Gusts to 43 mph at St. Andrews Bay mesonet site
40 mph gusts are common along the coast in Okaloosa, Walton, and Bay Counties in Northwest Florida.
Category: Alabama's Weather, ALL POSTS, Severe Weather, Tropical
Bill Murray is the President of The Weather Factory. He is the site's official weather historian and a weekend forecaster. He also anchors the site's severe weather coverage. Bill Murray is the proud holder of National Weather Association Digital Seal #0001
@wxhistorian